Über LearnWorlds
LearnWorlds ist eine cloudbasierte Plattform, mit der Unternehmen Online-Kurse und -Lernerfahrungen erstellen können. Die Plattform eignet sich unter anderem für Unternehmer, E-Learning-Unternehmen, Unternehmensausbilder und Bildungsorganisationen. Diese Lösung bietet integrierte Marketing- und Vertriebstools, mit denen Unternehmen ihre Zielgruppe ausbauen und ihre Umsatzchancen steigern können. Zu diesen Tools gehören Zielseiten, Lead-Magnete, Conversion-Pixel, integrierte SEO, Zahlungsgateways, nutzerdefinierte native App-Erstellung und mehr. LearnWorlds hilft Unternehmen, Kursinhalte und Websites zu erstellen, die das Engagement der Lernenden erhöhen. Kursersteller können Titel, Bilder, Zeiger, Hotspots, Links und Fragen zu Videos hinzufügen. Darüber hinaus kann ein synchronisiertes Transkript automatisch aus Videos extrahiert werden, um die Barrierefreiheit zu erhöhen. Zu den weiteren Funktionen gehören ein anpassbarer Kursplayer, Drip-Feeds, verschiedene Aufgaben- und Testformate, digitale Zertifikate mit Branding und vieles mehr. Diese Lösung lässt sich in andere Plattformen wie Zapier, Zoom, Mailchimp, HubSpot, FreshDesk und andere integrieren. Die Preise basieren auf einem monatlichen Abonnement. Support ist über ein Online-Helpcenter, Video-Tutorials und andere Ressourcen verfügbar.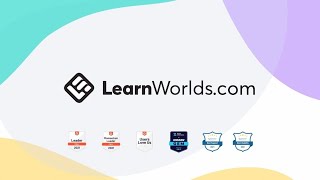 LearnWorlds bietet keine Gratisversion, aber eine kostenlose Testversion. Die kostenpflichtige Version von LearnWorlds ist ab $ 24,00/Monat verfügbar.
Alternativen für LearnWorlds
Täglich

für

1-5 Monate

genutzt
Quelle der Bewertung
Preis-Leistungs-Verhältnis
5
---
Their initial proposal to switch hosts was the ultimate in a professional academic offer.
This software makes it possible to me to have an international school, to interact with a widely diverse platform of students without the "brick and mortar"overhead that continues to make education too expensive for many students. It also allows me the one-on-one contact with students who have very specific questions that I want to throughly answer, instead of sitting in a typical lecture hall with hundreds of others holding onto their unanswered questions.
Vorteile
There's nothing wrong with making a fortune selling courses on using a hula hoop, but I've been professional field researcher outside the USA for nearly 13 years.
I have five professional degrees in subjects that I am passionate about to my core. I want to attract self-directed students. All the other online hosts that I thoroughly researched or used focused on what I call "recreational learning." My courses are serious investigations to make a sizable income.
LearnWorlds has so many professionals on staff that they understood that concept and are helping me to attract those who need CPD credits as an ESL teacher or a respectable career as an English Tutor in as little as a week."
Branche: Non-Profit-Organisation Management
Unternehmensgröße: 201–500 Mitarbeiter

Täglich

für

Mehr als 1 Jahr

genutzt
Quelle der Bewertung
Preis-Leistungs-Verhältnis
4
---
A great product for a remote workforce.
I think the overall experience we have had with LearnWorlds has been very positive, and there are many features we have yet to explore and use to its full potential.
Vorteile
As a company that has a large remote workforce, we needed the flexibility to move to an online learning platform. We have a lot of resources that, prior to 2020, would be delivered in a face to face classroom or on site. Now, we can offer resources, more widely, not only to equip our workforce, but to be used by others. Support is great, and when we have questioned a particular feature that hasn't been available, they have often sent our query to product development and it soon pops up.
Nachteile
We do use this platform as our main website. As it is primarily designed to be an online learning platform, it can sometimes be a little clunky in places. Having said this, benefits far outweigh the inconveniences and most 'drag and drop' style of website building platforms don't have the complete flexibility of bespoke sites either. I would, as the overall administrator, love to be able to 'lock' the theme so other users can't pick other colours and styles for various things such as backgrounds and buttons.
Branche: E-Learning
Unternehmensgröße: 2–10 Mitarbeiter

Täglich

für

Mehr als 1 Jahr

genutzt
Quelle der Bewertung
Preis-Leistungs-Verhältnis
2
---
No Student Authentication
I have spend 2 years developing the drivers ed program that still needs to be approved by the state of Nevada. But lack of student authentication leaves me no choice but to find another platform elsewhere. Stubborn developers dont think its important !
Vorteile
Pretty easy to use. The customer service answers questions within 24 hours generally.
Nachteile
No student authentication. No challenge questions for students taking quizzes and exams. No way to authenticate who is actually doing the coursework.
Its more for a hobby or crafts school. Not serious accredited curriculum you may be offering.
Branche: Informationstechnologie & -dienste
Unternehmensgröße: Selbstständig

Täglich

für

6-12 Monate

genutzt
Quelle der Bewertung
Preis-Leistungs-Verhältnis
5
---
The best LMS I worked with in years
Just the best LMS I used in years. It is so easy and quick to create a site, add courses and content and sell them.
Vorteile
It is really easy to get started, start your design from a wide choice of templates and create courses to upload your content. Learners can very quickly log in and get started. Really an awesome platform.
Nachteile
This is a LMS platform that has tons of options to allow academic like schools to get online and share courses, but also small and medium size businesses to sell their courses. One of the task is to go through a lot of options to turn off to suit your needs.
Gründe für den Wechsel zu LearnWorlds
The range of options is the widest for the best price
Branche: E-Learning
Unternehmensgröße: 2–10 Mitarbeiter

Täglich

für

1-5 Monate

genutzt
Quelle der Bewertung
Preis-Leistungs-Verhältnis
4
---
My Review of Learnworlds (Pro Trainer)
I have had a very good experience with Learnworlds overall - special praise goes to the support team who have been a great help.
Vorteile
I like the way my online school looks to prospective clients.
I like the number of features that I can add to engage my learners
Nachteile
It is not always intuitive but the Learnworlds support team have been excellent when I have reached out to them.
I was expecting to be able to have different versions of my school (this was highlighted in the sales materials) but I have found out this is only available in the most expensive option.
It's not always easy to navigate to get to where I want to go from where I start - but I usually get there in the end.
Gründe für den Wechsel zu LearnWorlds
I liked the design that Learnworlds allowed - my school would look more attractive to prospective students and the courses would be more engaging using the various features and integrations.