Über LearnWorlds
LearnWorlds ist eine cloudbasierte Plattform, mit der Unternehmen Online-Kurse und -Lernerfahrungen erstellen können. Die Plattform eignet sich unter anderem für Unternehmer, E-Learning-Unternehmen, Unternehmensausbilder und Bildungsorganisationen. Diese Lösung bietet integrierte Marketing- und Vertriebstools, mit denen Unternehmen ihre Zielgruppe ausbauen und ihre Umsatzchancen steigern können. Zu diesen Tools gehören Zielseiten, Lead-Magnete, Conversion-Pixel, integrierte SEO, Zahlungsgateways, nutzerdefinierte native App-Erstellung und mehr. LearnWorlds hilft Unternehmen, Kursinhalte und Websites zu erstellen, die das Engagement der Lernenden erhöhen. Kursersteller können Titel, Bilder, Zeiger, Hotspots, Links und Fragen zu Videos hinzufügen. Darüber hinaus kann ein synchronisiertes Transkript automatisch aus Videos extrahiert werden, um die Barrierefreiheit zu erhöhen. Zu den weiteren Funktionen gehören ein anpassbarer Kursplayer, Drip-Feeds, verschiedene Aufgaben- und Testformate, digitale Zertifikate mit Branding und vieles mehr. Diese Lösung lässt sich in andere Plattformen wie Zapier, Zoom, Mailchimp, HubSpot, FreshDesk und andere integrieren. Die Preise basieren auf einem monatlichen Abonnement. Support ist über ein Online-Helpcenter, Video-Tutorials und andere Ressourcen verfügbar.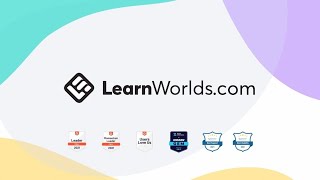 LearnWorlds bietet keine Gratisversion, aber eine kostenlose Testversion. Die kostenpflichtige Version von LearnWorlds ist ab $ 24,00/Monat verfügbar.
Startpreis:
$ 24,00/Monat
Kostenlose Testversion:
Ja
Alternativen für LearnWorlds
Branche: Verbraucherdienste
Unternehmensgröße: 2–10 Mitarbeiter

Täglich

für

Kostenlose Testversion

genutzt
Quelle der Bewertung
Preis-Leistungs-Verhältnis
5
---
Thus far, the best course platform
Vorteile
I love the product is created from an authoring view instead of a marketing one. You have all the tools you need to create a learning environment and powerful tools to enhance your videos directly.
Nachteile
There is an option to change the language, but it's not really that great. As a spanish native and implementor of learning programs for third parties it would be really useful to make a native spanish conversion for the UX:
Branche: E-Learning
Unternehmensgröße: 11–50 Mitarbeiter

Täglich

für

Mehr als 1 Jahr

genutzt
Quelle der Bewertung
Preis-Leistungs-Verhältnis
5
---
Perfect Solution for our Online School
The data we can pull from our courses is above and beyond. Learnworlds has given us everything we need to create innovative, engaging online courses that people LOVE taking. The interface is user-friendly and integrates with several other programs like Zapier and Mailchimp. They have constantly improved the platform and have gone the extra mile to help make our school successful with professional development offerings. We couldn't be more happy with our LMS selection!
Vorteile
I love so many things about this software. I think first and foremost the best part is the team behind it. From every aspect of using this software they have been helpful and forward thinking. Everything they have promised, they have delivered. They are extremely helpful and responsive throughout the entire process. I researched over 100 LMS options when I began our school and I have never once regretted choosing Learnworlds.
Nachteile
I wish there were more prebuilt templates in the ebooks. I also wish the built in assessment tool offered more question formats. They have recently added multiple selection answers which is great! I am also looking forward to more updates in the extra sections for users involving social interaction and communication in addition to what they already offer. For example, I'd like to be able to easily email users in a course directly from the LMS.
Gründe für den Wechsel zu LearnWorlds
The ability to import SCORM files, price and user support.
Antwort von

LearnWorlds

Thank you so much for taking the time to leave us this insightful review, Alicia! We work hard to meet expectations like yours, continuously adding new features, and we are happy to hear we hit the mark for you! We are constantly working on new features or advancing the existing ones, so stay tuned.

Beantwortet am 3.3.2021
Branche: Bildungsmanagement
Unternehmensgröße: 2–10 Mitarbeiter

Täglich

für

6-12 Monate

genutzt
Quelle der Bewertung
Preis-Leistungs-Verhältnis
1
---
They sepnd a lot of time getting your business then ignore the problems
They are really responsive in the first couple of months so you can invest your time and money setting up in their system. Then once you're invested they ignore you and spend their time trying to grow their business model with new clients. If you have a long term plan for online learning I'm not sure they're ready to cater to any other businesses than their own.
Vorteile
It has a nice look, and is user friendly.
Nachteile
The software has problems. Tabulation of reports and certificates are something I have been going back and forth with the development and customer service team about, they have been incorrect. They apologise for the problems, come back to me every 4 days when they can be bothered and just say we are super busy growing our business due to the surge in online application due to Covid. That doesn't solve my problems, nor does it justify my subscription. My problems are still outstanding and months, weeks later they are still looking into it. Very poor.
Branche: E-Learning
Unternehmensgröße: 2–10 Mitarbeiter

Täglich

für

1-5 Monate

genutzt
Quelle der Bewertung
Preis-Leistungs-Verhältnis
3
---
It is a good option to create your own course management platform
We were evaluating several platforms, starting with MoodleCloud but it was not very attractive for the user. We tried LearnWorlds and it convinced us, we hired it for several months because it had all the features we were looking for and it was a cheap option. Currently we do not use them because we have not achieved the desired user number, but we think it is one of the best applications to create your own e-learning platform.
Vorteile
It is very easy to use, it is very complete with all the functions that are needed, it includes integrations with other tools. The technical support is very fast and they always solve incidents or queries very quickly.
Nachteile
Might be missing a few more integrations
Branche: Informationstechnologie & -dienste
Unternehmensgröße: Selbstständig

Täglich

für

6-12 Monate

genutzt
Quelle der Bewertung
Preis-Leistungs-Verhältnis
5
---
The best LMS I worked with in years
Just the best LMS I used in years. It is so easy and quick to create a site, add courses and content and sell them.
Vorteile
It is really easy to get started, start your design from a wide choice of templates and create courses to upload your content. Learners can very quickly log in and get started. Really an awesome platform.
Nachteile
This is a LMS platform that has tons of options to allow academic like schools to get online and share courses, but also small and medium size businesses to sell their courses. One of the task is to go through a lot of options to turn off to suit your needs.
Gründe für den Wechsel zu LearnWorlds
The range of options is the widest for the best price