Über Vagaro
Vagaro is a cloud-based salon, spa and fitness business management solution that allows professionals to book appointments and manage various facility roles. It offers an integrated solution to manage bookkeeping, payroll, client databases and inventory management, as well as featuring email and text notifications to clients and automated email marketing. Users can list available appointment slots, and customers can then look for salon facilities nearby and book appointments through Vagaro's website or the Vagaro app. VagaroPro, the business app, is available for Android and iOS smartphones. Users can create customizable promotional web pages to showcase upcoming events and special offers through Vagaro's website or connect with their customers through email and social media platforms. Customers can also create personalized profiles with their contact information, booking history and feedback. Users can keep records of their customer service histories and generate customizable reports with graphs and charts to track business performance, customer retention and more.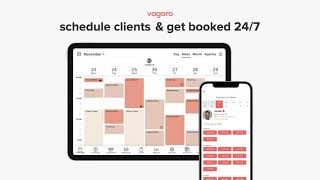 Vagaro bietet eine Gratisversion und eine kostenlose Testversion. Die kostenpflichtige Version von Vagaro ist ab 25,00 $/Monat verfügbar.
Startpreis:
25,00 $/Monat
Kostenlose Testversion:
Ja
Branche: Medizinische Praxis
Unternehmensgröße: Selbstständig
Verwendet:

Wöchentlich

für

Mehr als 2 Jahre

Quelle der Bewertung
Preis-Leistungs-Verhältnis
5
---
VAGARO FOR MEDICAL AESTHETICS PRACTICE
I love that Technical Support Staff are knowledgeable, patient and available when I need them.
Vorteile
I LOVE the ease of scheduling clients from my hand held devices. Love the Colors, design; very user friendly.
Nachteile
Honestly need to play around more with the Features, which I hear a many (from a friend whom I referred for her Yoga Business. She switched from Mind Body and LOVES Vagaro).
Wish Vagaro would invest in NICE Modern looking POS devices like Square and Clover.
Branche: Einzel- & Familiendienstleistungen
Unternehmensgröße: 2-10 Mitarbeiter
Verwendet:

Täglich

für

Mehr als 2 Jahre

Quelle der Bewertung
Preis-Leistungs-Verhältnis
5
---
Vagaro at Take Two Salon
What I appreciate most is the great customer service. I also appreciate that the "request for a feature" is actively monitored and new features are constantly rolled out. I appreciate that we are able to speak to the same support reps consistantly vs calling a call center where you can get different reps on each call and often need to explain your issue from the beginning. And they are super friendly.
Vorteile
Vagaro iseasy to use, easy to train, and offers fair pricing.
Nachteile
If a client has a Vagaro profile but is new to my salon I have no choice but to accept their existing profile because you can not use the same email for a new profile. That should be an option as some clients may need a new profile for these services vs other service they obtain elsewhere
Antwort von

Vagaro

Hi Michele, we just wanted to thank you for your kind feedback. We are so glad that you are enjoying the software, and thankful to have you as one of our Vagaro Businesses!

Beantwortet am 4.5.2021
Verwendet:

Täglich

für

1-5 Monate

Quelle der Bewertung
Preis-Leistungs-Verhältnis
1
---
TERRIBLE customer service and point of sale!
Vorteile
Online booking was a nice perk, although if a client didn't know how to book the first time(new online website) they would add themselves again so deleting a profile found to be quite an ordeal.
TERRIBLE TERRIBLE TERRIBLE customer service. I've been a user for the past 2 months and can't wait to find a new software company. It started great, so much easier that square appointments, online booking, the works! Wow... no. The booking service works okay, when it wants to open. I have better luck on my phone but being that I have an iPhone X I don't have a headphone jack so to swipe a card I use my iPad. It never works the first, or usually the second time so I have to pull out he reader and plug it back in. Any issues or questions I have leads to me having to wait on hold for customer service for 20+ minutes or waiting for an email response. There are a ton of hidden fees every month that we're never discussed(of course in the fine print but never but an agent) for card processing and I am beyond disgusted at how they are handeling a gift card order I purchased for my new, small business. I paid for perfect gift cards that were designed incorrectly because of me, but because I was told the wrong information by their team during the beginning stages of the ordering process. They are beyond condescending and unwilling to work with me in this issue and even went to the length the add up what both orders plus shipping would cost me if I decide to fix my issue
Nachteile
I was willing to get past the slower, unreliable point of sale and I can't start to explain how much time and effort went into setting this up and transitioning from another booker is so I'm so discusted to have to do it again due to in my opinion an easy fix by the company. I still can't believe how this matter was handled and how I was spoken to over a small order of gift cards.
Antwort von

Vagaro

You didn't report issues accessing any of the account functions. If you had we would have advised on how to correct any connectivity issues. The mobile CC reader which operates with the Vagaro Pro app does use a headphone jack which works with the iPhone X adapter; we have no issues w/ compatibility/connection reliability. The report of a 20-minute hold time is inaccurate. Even including high call volumes, our average time to answer is 2 mins. We are also hiring more staff as we would rather it be even less time. Rates & fees were disclosed on the merchant services signup page & you had a screen to review the application before signing, disclosing everything. You called 1x regarding merchant services and had all of your questions answered accurately. The call record was reviewed.
Gift card order: design, proofing, and approval process completed. You never told the graphics team you wanted a foil inlay on gift cards and you approved the proof. Mgmt professionally told you all of this.

Beantwortet am 22.1.2018
Branche: Gesundheit, Wellness & Fitness
Unternehmensgröße: 2-10 Mitarbeiter
Verwendet:

Täglich

für

Mehr als 1 Jahr

Quelle der Bewertung
Preis-Leistungs-Verhältnis
5
---
Vagaro is an INCREDIBLE deal & service!
Vagaro is hands down the best!! We thought we needed to switch to Mindbody recently (because a handful of nearby studios used them), and we were back in just TWO weeks because Mindbody's software and customer service were unbelievably awful. Vagaro has superior customer service, intuitive system use, MUCH better user-interface, and overall an excellent staff and customer experience! Our clients were SO happy when we switched back to Vagaro :)
Vorteile
It's easy to use, customer service is always available and helpful (even if they can't solve your request right away, they get back to you), our customers LOVE the ease of the program, and it's actually affordable!
Nachteile
I do wish you could check people in to a class and if someone didn't show, it would register as like 7/8 in the class count after checkout so we could see the "realtime" class attendance.
Antwort von

Vagaro

Hi Melinda, we just wanted to thank you for your kind feedback. We are so glad that you and your clients love the software, and thankful to have you as one of our Vagaro Businesses!

Beantwortet am 9.3.2021
Branche: Einzelhandel
Unternehmensgröße: 2-10 Mitarbeiter
Verwendet:

Täglich

für

6-12 Monate

Quelle der Bewertung
Preis-Leistungs-Verhältnis
3
---
Everything you need to know about Vagaro
Overall I am getting used to it. Vagaro is like driving a stock car. I think they can use some improvements that will make the world of difference. Everytime I call customer service I learn of a secret "work around" that seems like it should just be included in the feature. I do not dislike the software I just know there are some major improvements that can be made to make this software so much better.
Vorteile
What I like the most about Vagaro is the user friendly mobile app. I like how easy it is for clients to receive text confirmations and book on the mobile app within a few clicks. I also like the fact that I trust the email system sending emails out successfully. Other email marketing softwares I have used seem less successful in reaching the customers inbox.
Nachteile
The overall navigation of the site on the business end. Its alot of clicking around. The windows are hard to find. The search menu is annoying. If you are working in one window then have to edit something else you cannot continue or modify the edit within the same window you must leave that window enter another page then come back. Its too much back and forth for no reason. I do not like the reporting I think that could use alot of improvement. I do not like how I feel lost within Vagaro alot of times I find myself staring at the screen thinking "where do I go?" "How can I find this info?" These are not huge changes but I think with a few adjustment Vagaro's business user side can be more user friendly. Con: Marketing tool difficult to use. Con: when booking with multiple employees does not show all screens must click the name every time. Con: IOU feature, autopayments, editing packages and memberships for past and future sessions and costs.
Antwort von

Vagaro

Hello, we just wanted to say thank you so much for your feedback. We hope that you are enjoying our software and are happy to help any time you have questions. You can also reference our help site at support.vagaro.com which has many articles with step by step instructions. Thank you!

Beantwortet am 17.3.2021