Über Zoho Desk
Zoho Desk ist eine cloudbasierte Helpdesk-Lösung von Zoho Corporation, die Unternehmen jeder Größe bedient. Zu den wichtigsten Funktionen gehören die Verwaltung von Kundenbetreuungstickets, ein Kundenbetreuungsportal, die Vertragsverwaltung und Erstellung von Berichten. Zoho Desk sammelt Interaktionen aus verschiedenen Medien (E-Mail, Telefon, Chat, sozialen Medien, ein Self-Service-Portal, Foren und Formulare) und präsentiert sie an einem Ort. Aufgaben wie Ticketzuweisung, Service-Eskalationen, Benachrichtigungsregeln und zeitbasierte Aktionen können durch Festlegen von Workflowregeln automatisiert werden. Die Lösung bietet anpassbare und geplante Berichte, Zufriedenheitsbewertungen und ein grafisches Dashboard zur Analyse der Kundenzufriedenheit. Die Integration mit Zoho CRM erleichtert die Einspeisung von Kundeninformationen in Tickets, die in Zoho Desk protokolliert werden, sodass Serviceagenten mehr über die Kunden erfahren können. Mit der Lösung können Nutzer auch nutzerdefinierte Änderungen vornehmen, z. B. Registerkarten umbenennen, neue Abteilungen hinzufügen, E-Mail-Vorlagen anpassen, Geschäftszeiten definieren und Hilfeordner hinzufügen. Zoho Desk kann auch in die internen Systeme der Kunden integriert werden.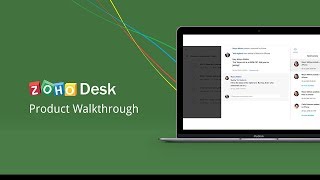 Zoho Desk bietet eine Gratisversion und eine kostenlose Testversion. Die kostenpflichtige Version von Zoho Desk ist ab $ 14,00/Monat verfügbar.
Startpreis:
$ 14,00/Monat
Kostenlose Testversion:
Ja
Alternativen für Zoho Desk
Branche: Gastgewerbe
Unternehmensgröße: 51-200 Mitarbeiter

Täglich

für

1-5 Monate

genutzt
Quelle der Bewertung
Preis-Leistungs-Verhältnis
5
---
Wir sind soweit zufrieden testen gerade
Wir sind soweit sehr zufrieden und für unsere Zwecke ist das eine sehr gute Software
Vorteile
Dass man viele Möglichkeiten hat und sich relativ schnell in die Software einfindet
Nachteile
Die Stimme der anrufaufzeichnung klingt meist etwas Roboter mäßig aber nicht schlimm
Branche: Informationstechnologie & -dienste
Unternehmensgröße: 10 000+ Mitarbeiter

Täglich

für

Mehr als 2 Jahre

genutzt
Quelle der Bewertung
Preis-Leistungs-Verhältnis
4
---
The gold standard in customer service!
Invaluable progress has been made in facilitating communication. Helping us more effectively assist and guide customers who have questions or concerns about our offerings. Because of the faster resolution of customer issues, we have also seen a rise of at least 10% in the number of new customers requesting our services.
Vorteile
Currently, we're using the Zoho Desk application to aid our customers and foster deeper connections between our products and services. And in this way, we can speed up the resolution of any issues or complaints our users may have inside the service.
Nachteile
If we were using an issue tracking application, the ability to drag and drop items across categories would be really helpful. To my knowledge, the ability to receive and transmit voice memos has also been introduced. What you propose is novel in the extreme.
Branche: Psychische Gesundheitsfürsorge
Unternehmensgröße: 201-500 Mitarbeiter

Täglich

für

1-5 Monate

genutzt
Quelle der Bewertung
Preis-Leistungs-Verhältnis
5
---
Helpdesk internal ticketing system - life changing!
Our business has found that Zoho Desk has even more functionality than we thought. We are able to add several departments to make our work much more efficient thanks to Zoho desk!
Vorteile
We have started using Zoho desk and love it. It has way more functionality than SysAid and is way cheaper!
Nachteile
My only complaint about the software is that it is kind of difficult to set up initially.
Warum Zoho Desk gewählt wurde
SysAid is not as flexible as we need our ticketing software to be, our annual fee was approaching, and we figured that we needed to go ahead and make the move to something more robust.
Zuvor genutzte Software
SysAid
Gründe für den Wechsel zu Zoho Desk
The cost was much higher with Salesforce and was also not nearly as robust.
Branche: Computer-Software
Unternehmensgröße: 2-10 Mitarbeiter

Täglich

für

6-12 Monate

genutzt
Quelle der Bewertung
Preis-Leistungs-Verhältnis
2
---
Zoho. Un software para gestionar ticket de soporte.
Es un software que introdujeron en mi empresa y me encontré con que tiene muchas funciones y tal vez por ignorancia o falta de capacitación no podemos darle el cien por ciento del uso.Generalmente es útil si se tienen a todas las áreas atentas y capacitadas en la gestión de tickets y así conocer el estado de cada uno de esos inconvenientes o soportes que se van generando.
Vorteile
La posibilidad de crear áreas para el correcto manejo y seguimiento de tickets.
Nachteile
El ingreso, engorroso y poco funcional. La verificación por mensaje atrasa y si no tienes el móvil cerca no puedes ingresar.
Branche: Bankwesen
Unternehmensgröße: 10 000+ Mitarbeiter

Täglich

für

Mehr als 1 Jahr

genutzt
Quelle der Bewertung
Preis-Leistungs-Verhältnis
4
---
Zoho Desk: easy to use, customizable, and evolving service desk suite
We looked at a few others (Salesforce, FreshDesk, and others) and were surprised by many of the features. There were many Zoho branded products and services available that seemed to work well during testing. The interface and mobile apps were fairly intuitive and we were able to get a fully functional demo up and running in a matter of hours without much trouble. We evaluated it with other software at the same time, so let's compare how long it took us to get it up and running and use it functionally with other systems.
Vorteile
The initial setup wizard worked smoothly. Navigation through the configuration menus is simple and intuitive. The customer access portal home page is in place and ready for further customization of content. A clean design that displays the functions that are needed at this time.
Nachteile
The initial 14-day trial period is fine for "getting started", but trying to juggle a new set of desktop services and day-to-day work seems to work against the clock. A 30 to 45-day trial period would be excellent, as it allows you to become so familiar with the software that you are more willing to use it.
Warum Zoho Desk gewählt wurde
We are creating the first in-house service solution for the company. Having a managed solution to handle requests that other team members can monitor and resolve is much better than trying to handle email support requests that sit in an inbox with many other unrelated emails.
Gründe für den Wechsel zu Zoho Desk
We are a growing company and we need to track our issues not only by the customer but also by specific serial number. We had a very rudimentary system to do this, but our size is pushing us to modernize to stay on top of everything. This system should help us.