Über Easygenerator
Easygenerator ist eine cloudbasierte Lernmanagementsystemlösung, die Unternehmen jeder Größe bedient. Mit der Lösung können Nutzer Lernkurse erstellen. Zu den wichtigsten Funktionen gehören Kurserstellung, Co-Authoring, Nutzerverwaltung und Kundenerfolgsmanagement. Nutzer können ihre Kurse erstellen, indem sie Inhalte erstellen und Lernziele definieren. Autoren können ihre eigenen Unterrichts- und grafischen Designs auf die von ihnen entworfenen Kurse anwenden. Es sind auch Publishing-Tools verfügbar, mit denen Autoren den Kurs anbieten können. Darüber hinaus können Autoren vordefinierte Vorlagen und Farbanpassungen verwenden, um Kurse zu entwerfen. Mit Easygenerator können Lernende Ziele festlegen und Bewertungen ablegen. Die Lernenden können ihre Lernleistung verfolgen, indem sie Bewertungen analysieren. Außerdem steht eine benutzerfreundliche Oberfläche zur Verfügung, mit der Anwender Kurse ohne Skripting oder Programmierung entwerfen können. Easygenerator wird auf monatlicher Abonnementbasis berechnet. Support erfolgt per E-Mail, eine Wissensdatenbank, Videos, über einen Online-Helpdesk, Live-Chat und per Telefon. Darüber hinaus bietet die Lösung auch eine mobile App.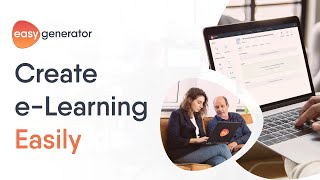 Easygenerator bietet eine Gratisversion und eine kostenlose Testversion. Die kostenpflichtige Version von Easygenerator ist ab $ 108,00/Monat verfügbar.
Alternativen für Easygenerator
Easygenerator Erfahrungen
Branche: Elektrische/elektronische Fertigung
Unternehmensgröße: 201–500 Mitarbeiter

Täglich

für

Mehr als 1 Jahr

genutzt
Quelle der Bewertung
Preis-Leistungs-Verhältnis
5
---
Great software tool for e-learning modules with your own company brand
A lot of fun!
Vorteile
Very easy to use.
Good variety of tools
Possibility to include your own company brand
Nachteile
Would love to see more options for questions
Antwort von

Easygenerator

Hi Meta, thank you for your review. We're happy to hear you're having such a positive experience with our product and support team. We have significantly increased our question type offer in recent years. You can view it here: https://help.easygenerator.com/en/articles/677432-question-types.

Beantwortet am 10.2.2023
Branche: Immobilien
Unternehmensgröße: 201–500 Mitarbeiter

Täglich

für

Mehr als 1 Jahr

genutzt
Quelle der Bewertung
Preis-Leistungs-Verhältnis
5
---
Create high quality learning content quickly and efficiently!
We have been able to take a more holistic approach to our training delivery. A benefit of Easy Generator to meet this goal is the ability to incorporate documents, videos, images, content, and assessment all in a single course. As we include our SMEs in content development, Easy Generator also solves the problem that our experts, while knowledgeable, are not content creators by nature. Easy Generator makes it an intuitive process and allows for collaboration between users and oversight from our L&D team to ensure that all content is of high quality prior to delivery to our learners.
Vorteile
The best part about Easy Generator is how fast it can be learned to immediately start creating content from the first day. Everything is user friendly and it was easy to keep our training content on brand. In addition to the ease of use, the customer service we have experienced so far has been incredible. They understand our needs and have worked with us to maximize our plan while staying within our budget.
Nachteile
It can be tedious to find and upload external stock images and other content to include in our training courses, where similar programs may offer a content library internally. Also the layout options are limited. These are minor inconveniences however and do not detract from the overall positive experience that we have had so far! The only true dislike we have is the inability to require learners to view video content in order to move on. Currently, learners can skip the video entirely which limits our ability to track overall effectiveness.
Antwort von

Easygenerator

Thanks for your review Rebecca! We're happy to hear you're having such a positive experience with our product and support team.

Beantwortet am 10.2.2023
Branche: Marktforschung
Unternehmensgröße: 10 000+ Mitarbeiter

Täglich

für

Mehr als 1 Jahr

genutzt
Quelle der Bewertung
Preis-Leistungs-Verhältnis
5
---
Fantastic eLearning tool that is only getting better. They're actively improving this daily!
It has allowed us to create a blended learning environment while at the same time easing our curriculum writers into online course building with a very simple and effective tool.
Vorteile
I like the ease of use of this software. It is very very easy to become proficient and the options and customization are constantly being updated and tweaked. The question types are widely varied which allows for a wealth of engagement. The interface is smooth and intuitive and the overall look and feel of the site is fantastic.
Nachteile
It only exports SCORM 1.2 files while other eLearning software exports in SCORM 2004 files. The text editor can be temperamental and the Branchtrack tool is neat but impractical for heavy use. The results data is also very clunky with limited ability to run reports.
Antwort von

Easygenerator

Hi Ryan, thank you for sharing about your experience with Easygenerator! We're thrilled you enjoy the ease of use. Over the years, we've upgraded our tool significantly so you can now download courses as SCORM 1.2 and SCORM 2004 files (https://www.easygenerator.com/en/features/scorm-and-xapi/) and we've expanded our results tracking options (https://help.easygenerator.com/en/articles/3828496-results-tracking-options). We hope this has helped you continue to make the most out of the tool!

Beantwortet am 10.2.2023
Branche: Einzelhandel
Unternehmensgröße: 51–200 Mitarbeiter

Wöchentlich

für

6-12 Monate

genutzt
Quelle der Bewertung
Preis-Leistungs-Verhältnis
5
---
Extremely easy to use , interactive, engaging, and fun.
Vorteile
The name is no lie. It's an incredibly efficient and easy to use tool as both a content builder and as a lesson taker. It's a million times more interactive and engaging than any other solution we've used before with all the different types of question and content options. Since we moved to EasyGenerator almost a year ago, our agents are more engaged and excited to get into lessons than ever. Learning has become fun as well as necessary.
Love the integration with Branchtrack. Scenarios are a great way to really speak to the nuances of language and how to speak to a customer, especially when trying to gauge their emotion throughout a conversation.
The support is also exceptional, especially considering they are in a completely different time zone across the world from us. Super friendly, helpful anytime we have a question, and receptive to feedback.
When we knew we had to improve our current learning ethos and software, we set forth on an exhaustive search to find a better solution. We set up trials with various eLearning tools and created lessons that we presented to our agents before asking for feedback on all of them at the end. Our agents overwhelmingly voted for EasyGenerator, our content building team overwhelmingly voted for it, and with such a great price and value, EasyGenerator was a no brainer from the agent level to C-level.
Nachteile
We certainly have things on our wishlist, like more study-based questions, such as flashcard functionality, simple games for even more fun learning options, and more robust reporting, especially the ability to track learners across various courses. But none of these things are truly cons as it stands. Especially since the EasyGenerator team is so receptive to feedback and genuinely interested in new ideas to make their solution even better.
Antwort von

Easygenerator

Hi Sawyer, thank you for taking the time to leave such a detailed review. We're glad you're having such a positive experience with our product and support team. Indeed, we've taken your feedback and now offer +10 customizable question types and have significantly boosted our results tracking and reporting features. You can find out what's new in our Help Center: https://help.easygenerator.com/en/.

Beantwortet am 10.2.2023
Branche: Lebensmittelproduktion
Unternehmensgröße: 1 001–5 000 Mitarbeiter

Täglich

für

Mehr als 1 Jahr

genutzt
Quelle der Bewertung
Preis-Leistungs-Verhältnis
5
---
Powerful and easy to use
Vorteile
What I like the most about EasyGenerator is how smooth the user experience is. It is so intuitive that you can master the tool in just a few minutes.
You can feel they have designed it with the end user in mind, there are many functionalities that just made my life so much easier.
I really enjoy the possibility to customize the theme colours to make a elearning on brand which makes the elearning look very professional towards our customers.
Their customer support is always available and super helpful, I really enjoy the fact to be able to chat with them live when I have an issue, they have gone the extra mile multiple times to support me.
I'd recommend it to anyone, and I actually did already several times, and the feedback was always extremely positive.
Nachteile
To be honest, nothing I can think of. I feel EasyGenerator is always ahead of my needs.
Antwort von

Easygenerator

Hi Loris, thanks for leaving a review. We're happy to hear you're having such a positive experience with our authoring features and support team!

Beantwortet am 10.2.2023