Über Easygenerator
Easygenerator ist eine cloudbasierte Lernmanagementsystemlösung, die Unternehmen jeder Größe bedient. Mit der Lösung können Nutzer Lernkurse erstellen. Zu den wichtigsten Funktionen gehören Kurserstellung, Co-Authoring, Nutzerverwaltung und Kundenerfolgsmanagement. Nutzer können ihre Kurse erstellen, indem sie Inhalte erstellen und Lernziele definieren. Autoren können ihre eigenen Unterrichts- und grafischen Designs auf die von ihnen entworfenen Kurse anwenden. Es sind auch Publishing-Tools verfügbar, mit denen Autoren den Kurs anbieten können. Darüber hinaus können Autoren vordefinierte Vorlagen und Farbanpassungen verwenden, um Kurse zu entwerfen. Mit Easygenerator können Lernende Ziele festlegen und Bewertungen ablegen. Die Lernenden können ihre Lernleistung verfolgen, indem sie Bewertungen analysieren. Außerdem steht eine benutzerfreundliche Oberfläche zur Verfügung, mit der Anwender Kurse ohne Skripting oder Programmierung entwerfen können. Easygenerator wird auf monatlicher Abonnementbasis berechnet. Support erfolgt per E-Mail, eine Wissensdatenbank, Videos, über einen Online-Helpdesk, Live-Chat und per Telefon. Darüber hinaus bietet die Lösung auch eine mobile App.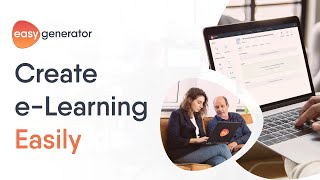 Easygenerator bietet eine Gratisversion und eine kostenlose Testversion. Die kostenpflichtige Version von Easygenerator ist ab $ 99,00/Monat verfügbar.
Alternativen für Easygenerator
Easygenerator Erfahrungen
Industry: Hochschulbildung
Company size: 2-10 Mitarbeiter

Täglich

für

Mehr als 2 Jahre

genutzt
Quelle der Bewertung
Preis-Leistungs-Verhältnis
5
---
A Game Changer!
We are a small textbook publishing company that utilizes Easygenerator as the platform for our online textbooks. After researching software solutions, we chose Easygenerator and have never looked back. The flexibility of the software as well as the ease of use has been a perfect fit for our company. Thank you!
Vorteile
We are a small company that was looking for a solution that we could manage in-house without having to hire new technical staff or utilize a third party. Easygenerator allows us to manage the software with staff that has limited technical skills, thus the "easy" part of the name really lives up to its billing. The development team is always updating the program and very receptive to our ideas for new features. New features are added monthly and the support staff is incredibly personable and talented. We are extremely satisfied with Easygenerator!
Nachteile
We have not learned how to integrate Easygenerator into various learning management systems and it seems that it might be an overwhelming process for our limited skills set.
Industry: Freizeit, Reisen & Tourismus
Company size: 201-500 Mitarbeiter

Monatlich

für

1-5 Monate

genutzt
Quelle der Bewertung
Preis-Leistungs-Verhältnis
5
---
An easy to use authoring tool
Vorteile
An easy to use system for an author of e-learning content, using a drag and drop functionality. It was easy to implement across our team and the ability to brand the learning pages is great. The customer support team are quick to respond and are very helpful.
Nachteile
If the system was able to have an option to create an assessment only section which is the part that is only scored.
The ability to download a report of ALL completed courses rather than the need to run a report for every single course.
Industry: Regierungsbeziehungen
Company size: 1 001-5 000 Mitarbeiter

Wöchentlich

für

1-5 Monate

genutzt
Quelle der Bewertung
Preis-Leistungs-Verhältnis
5
---
Intuitive and Smart Online Training Solution
Easygenerator allowed us to easily develop internal computer-based training courses such as Onboarding, quality management, specialized training and refresher training courses. The ease of use and the intuitive training features help our team to respond equally fast to both planned and add-hoc requests for internal training. There is a learning curve to master EasyGenerator, but their customer service is always there to help.
Vorteile
These are the EG features we like the most so far:
- Robust training environment with powerful learning and testing capabilities
- User-friendly interface and intuitive structure
- Easy to get going, particularly using the provided templates
- Useful add-ons such as PPT conversion
- Good integration capability with other LMS
- Excellent customer support - very friendly and supportive
- Constant improvement and development
Nachteile
The product could be enhanced in the following areas:
- Give users more content formatting tools
- Add more fonts or let users upload their own fonts
- Provide optional training image and video library to build content easier
- Keep adding more templates based on typical training models/subjects, e.g. software training.
- Add LMS capabilities eventually
Industry: Konsumgüter
Company size: 10 000+ Mitarbeiter

Weitere

für

1-5 Monate

genutzt
Quelle der Bewertung
Preis-Leistungs-Verhältnis
2
---
Easygenerator Review
Customer support from [SENSITIVE CONTENT HIDDEN] was 5star. She is calm, attentive and hardworking with a great can do attitude. thank you [SENSITIVE CONTENT HIDDEN] for all your help too.
Nachteile
The most frustrating element of the software is that you need to 'log out' in order for the system to recognise and count as 'complete'. Tis should be corrected and be applicable at the results page. This is causing a lot of frustration internally at Unilever where people are completing the course but as they have not clicked out at the end it did not count as completed only started. This is far from ideal and I would look at alternative solutions for learning platforms for further courses.
Industry: Marktforschung
Company size: 10 000+ Mitarbeiter

Täglich

für

Mehr als 1 Jahr

genutzt
Quelle der Bewertung
Preis-Leistungs-Verhältnis
5
---
Fantastic eLearning tool that is only getting better. They're actively improving this daily!
It has allowed us to create a blended learning environment while at the same time easing our curriculum writers into online course building with a very simple and effective tool.
Vorteile
I like the ease of use of this software. It is very very easy to become proficient and the options and customization are constantly being updated and tweaked. The question types are widely varied which allows for a wealth of engagement. The interface is smooth and intuitive and the overall look and feel of the site is fantastic.
Nachteile
It only exports SCORM 1.2 files while other eLearning software exports in SCORM 2004 files. The text editor can be temperamental and the Branchtrack tool is neat but impractical for heavy use. The results data is also very clunky with limited ability to run reports.