Über Nifty
Nifty ist ein New-Wave-Projektmanagement-Tool, das Projektentwicklungszyklen verkürzt und die Teamproduktivität verbessert, indem alle wichtigen Funktionen des Projektmanagements in einer Software kombiniert werden. Das Endergebnis ist ein Meilenstein-gesteuerter Fortschritt, der die Teams inspiriert und sicherstellt, dass die Unternehmensziele innerhalb des Zeitplans erreicht werden. Mit der Software von Nifty kannst du Aufgaben sowohl über die Kanban- als auch über die Listenansicht verwalten. Der Kalender kann in Google integriert werden und die Anwendung bietet zudem Datei- und Dokumentenfreigabe. Die Kollaboration auf Nifty laut ganz natürlich ab, da jedes Projekt einen individuellen Diskussions-Thread hat, der die projektspezifische Kommunikation fördert. Nifty verfügt auch über eine Integration mit GitHub, die Nifty einzigartig macht, da die Anwendung so die abteilungsübergreifende Kollaboration wie keine andere fördert.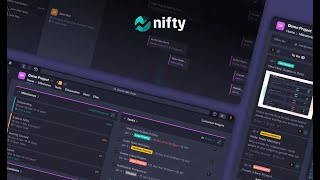 Nifty bietet eine Gratisversion und eine kostenlose Testversion. Die kostenpflichtige Version von Nifty ist ab $ 49,00/Monat verfügbar.
Branche: Non-Profit-Organisation Management
Unternehmensgröße: 2–10 Mitarbeiter

Täglich

für

Mehr als 1 Jahr

genutzt
Quelle der Bewertung
Preis-Leistungs-Verhältnis
5
---
Excellent & affordable project management tool
I use Nifty to run a fairly large team of volunteers and interns, who are essential to helping us get our work done. There is no way we could afford licenses for all these occasional users, so the guest allowance really helps. And besides that, the usability of the tool is excellent.
Vorteile
Nifty is a great tool. Its feature set is comprehensive and intuitive to use. We've tried Clickup, Asana and Monday and for whatever reason, those other tools just never took with our team. I love the collaborative "nifty documents". And the mobile app works great - duplicates the website experience very well.
Nachteile
Guests cannot chat with each other - only the account admin. So it's not quite a Slack replacer, which we really wanted to get away from. They can talk in the Discussions area of a project, however. Also, you have to attach a google document by creating it FIRST inside Nifty. It doesn't work well to try and attached a pre-existing google document when you are in Nifty. Also, I'd like more markup features on the Nifty docs pages - like highlighting, and a better commenting experience.
Warum Nifty gewählt wurde
Monday was unnecessarily complicated and also rather expensive.
Gründe für den Wechsel zu Nifty
Better feature set, better pricing, easier to use - more intuitive
Branche: Marketing & Werbung
Unternehmensgröße: 2–10 Mitarbeiter

Täglich

für

6-12 Monate

genutzt
Quelle der Bewertung
Preis-Leistungs-Verhältnis
5
---
The BEST Project Management Tool; I actually use it!
For me, it houses everything in one place that I regularly reference, so my notes, my links, accounts, reminders, tasks, schedules, everything is all in here so I don't have to go to multiple places to handle client work.
Vorteile
I like the usability; it's very user friendly and my clients love how simple it is.I have used a few other project management software, but Nifty is by far my favorite. All of the features and functions pulled into one place.There are a few features that Nifty does not have like a Gantt chart, but I haven't used that feature in other software often nor have I relied on it, so so far, it's been wonderful for me. I've used it more often than I did my pro Asana account. Sometimes, having too many options leaves you not wanting to use the software at all, so I love the simplicity of Nifty. With that being said, there are still a lot more options and features that can be utilized - for those who use them - I just don't need anything incredible robust for my use.It's also really helpful for my clients to be able to assign tasks and see how far along we're coming 🤗
Nachteile
So far, I don't have any cons from Nifty
Branche: Konsumgüter
Unternehmensgröße: 11–50 Mitarbeiter

Täglich

für

6-12 Monate

genutzt
Quelle der Bewertung
Preis-Leistungs-Verhältnis
1
---
Think well before you buy
Unfortunately the app looks promising but the overall experience wasted a lot of my time and main reason because of customer support.
Vorteile
the user interface is friendly and you can understand it quickly
Nachteile
1-Their database management and recording user data, for example, have an issue of duplication, and if you created a workspace and then deleted you will not be able to use this name again and the nifty system will keep sending you notifications about It like it still exists.
2-Customer support is not professional and most of the time they take around 4-5 days to reply to your questions. This is the main reason I left the App.
In Betracht gezogene Alternativen
Flowlu
Warum Nifty gewählt wurde
The App Really Great and have a lot of options that can manage your work and give your real value for your money.
Zuvor genutzte Software
Flowlu
Gründe für den Wechsel zu Nifty
I choose it because of the reviews and comments on app sumo but actually, it was misleading
Branche: Sport
Unternehmensgröße: 2–10 Mitarbeiter

Täglich

für

Mehr als 1 Jahr

genutzt
Quelle der Bewertung
Preis-Leistungs-Verhältnis
5
---
Best Value Project Management App
Nifty allows us to have a place where we can get all ideas out of our heads, and into a place where they can be prioritized and where we can create action plans for each item. We're so glad to have a tool as robust and powerful as Nifty!
Vorteile
Nifty is more than we could hope for, at the price point. The best part about Nifty is how quickly they are releasing new features to improve their product. Their support team is second to none, as well. We get responses almost instantaneously, every time we need help with something. In terms of features and functionality, this app has it all!
Nachteile
There is only ONE THING that we truly have a gripe about, with Nifty. The SEARCH algorithm is not great. There's so many times we're searching for something and just can't find the thing we're searching for, despite knowing that we're using the correct keyword. I would LOVE to see them implement an Algolia search tool within nifty, or do something to create a better COMPREHENSIVE search function. If a word exists somewhere in a task, comment, native doc, google doc, sub-task, tag, project name, milestone, etc.... we should be able to quickly and easily find it. This is the only CON that we've run into with Nifty, time and time again.
In Betracht gezogene Alternativen
ClickUp
Warum Nifty gewählt wurde
Better value, while not losing any critical functionality
Branche: Verbraucherdienste
Unternehmensgröße: 2–10 Mitarbeiter

Täglich

für

Mehr als 2 Jahre

genutzt
Quelle der Bewertung
Preis-Leistungs-Verhältnis
5
---
Nifty is my best investment
My overall experience has been very positive. The few times that I've had any questions, the support team has been very responsive.
Vorteile
I love having the ability to communicate with my clients and staff all in one application. It's also easy for me to keep track of the various projects and notes.
Nachteile
I wish there was a ready-to-use CRM template that I can use. I think there's a blog posts that tells us how to use Nifty as a CRM, but I haven't had the time to sit there and get it done. So for now, I'm keeping things in a spreadsheet which isn't ideal.
In Betracht gezogene Alternativen
Asana
Warum Nifty gewählt wurde
I didn't like the meeting feature (video was really slow), and projects were kind of cumbersome to handle.
Gründe für den Wechsel zu Nifty
At first, because it was a lifetime deal from Appsumo, but after working with it I purchased more codes and upgraded because it's the best system for me and my business.