Über Sortly
Sortly Pro ist eine cloudbasierte Bestandsverwaltungslösung, die sich an kleine und mittlere Unternehmen in verschiedenen Branchen richtet. Zu den Hauptfunktionen gehören Aktivitätsverfolgung, Standortverfolgung, Bestandsverwaltung, Barcodes und Audit Trails. Sortly Pro ermöglicht es Nutzern, Notizen oder Tags zu Artikeln hinzuzufügen, was dabei hilft, Artikel nach Menge, Preis oder Produktinformationen zu suchen und zu verfolgen. Nutzer können Fotos markieren, um ein bestimmtes Objekt zu lokalisieren und ihre Daten und Ressourcen zu sichern. Mit der Lösung können Nutzer auch anpassbare QR-Etiketten für Artikel drucken und UPC-, ISBN- und EAN-Barcodes scannen, um nach bestimmten Artikeln zu suchen. Zusätzlich können Nutzer Erinnerungen für ausgeliehene Artikel, Rückgabedaten oder Garantieabläufe versenden und CSV-Dateien importieren. Mobile Apps für iOS- und Android-Geräte sind ebenfalls verfügbar. Die Dienstleistungen werden auf monatlicher Abonnementbasis angeboten, einschließlich Support per Telefon und E-Mail.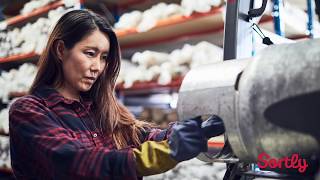 Sortly bietet eine Gratisversion und eine kostenlose Testversion. Die kostenpflichtige Version von Sortly ist ab $ 49,00/Monat verfügbar.
Startpreis:
$ 49,00/Monat
Kostenlose Testversion:
Ja
Branche: Konsumgüter
Unternehmensgröße: 501–1 000 Mitarbeiter

Täglich

für

6-12 Monate

genutzt
Quelle der Bewertung
Preis-Leistungs-Verhältnis
5
---
Totally loving this for our company.
We are able to keep track of all of our inventory & what items are sent out to what locations as well as keep track of what is coming and going within each exact room. We are so happy that we can import from spreadsheet the information on other locations so that we can keep track on them as stock arrives without granting access to those workers to our inventory software.
Vorteile
Customize-able in almost every aspect. Totally tailored to us.
Nachteile
Originally it was not available on Android, but now that it is, we have it on the cell phone too. :)
Branche: Unterhaltung
Unternehmensgröße: Selbstständig

Täglich

für

Mehr als 1 Jahr

genutzt
Quelle der Bewertung
Preis-Leistungs-Verhältnis
3
---
Perfect for Camera Equipment
Sortly pro has been great. I was in the process of designing my own custom app for tracking my equipment, but am glad I didn't go too far down that road before I discovered Sortly.
Vorteile
What I love about this software is how flexible it is... if pressed for time I can quickly snap some pictures of what I need to inventory, and come back later to fill in the details. Also, the custom fields really help me fit it into my own systems. Also, the more you use the software, the less time consuming it becomes because the information tends to be already input... now I mostly am just moving things around.
Nachteile
A lot of what I do is basically "Checking in" and "Checking out" equipment... making sure what SortlyPro says is in the case is actually still there... there's no simple solution for that... but I've worked out my own way of doing it.
I also wish the "History" option worked better for what I do... would be nice to be able to easily see where a piece of equipment has been... but the current format for History is basically a very complicated list.
Branche: Chemikalien
Unternehmensgröße: 11–50 Mitarbeiter

Täglich

für

Mehr als 1 Jahr

genutzt
Quelle der Bewertung
Preis-Leistungs-Verhältnis
1
---
Dishonest company with horrible customer service
If you want to work with a dishonest and shady company…. Look no further than Sortly, they check both those boxes.
Vorteile
The software it's self is good! Functional and easy to use.
Nachteile
After 1 year of using the software Sortly removed key features without notifying us, then required us to pay 4 times what we were paying prior to regain access to those features. I live in the customer support/service world, and the 2 days of emailing back and forth (because they will not provide a phone number to call) was the absolute worst customer service I have ever experienced.
Branche: Forschung
Unternehmensgröße: 51–200 Mitarbeiter

Täglich

für

6-12 Monate

genutzt
Quelle der Bewertung
Preis-Leistungs-Verhältnis
5
---
Sortly in the Laboratory Environment
This was exactly the application that I needed when I started our Laboratory inventory system. It is easy for my staff to look up if we have any chemicals on site, and the ability to add custom fields and tags allows us to keep a list of all of our Hazardous materials and link the SDS(new MSDS) forms to the chemicals, as OSHA and other agencies require.
Vorteile
To be honest, it is 'dumb' software. It has a very basic structure that allowed us to fill in and sort things as we needed to without fighting against any templates or pre-designed structure that got in our way.
It is super easy to integrate the iOS/Android app as a barcode scanner, something that other inventory management software charges *thousands* of dollars for, as well as expensive hardware to use. Most of your employees already have cell phones, or can be issued ones for work easily.
Nachteile
It is not quite as intuitive of an interface as the design would lead you to expect. A few good video/YouTube tutorials would be helpful.
The team is still developing features as clients give them input, so things can change quickly. App does not always push to update versions and old versions can be out of synch with the database.
Uses Avery labels when I would prefer a zebra printer for printing labels.
Täglich

für

1-5 Monate

genutzt
Quelle der Bewertung
Preis-Leistungs-Verhältnis
4
---
The App was easy to use and helpful at first, but in the end it did not do everything needed.
I was able to get a pretty solid list of inventory and was able to manage it manually for a few weeks.
Vorteile
I liked that I was able to take pictures and scan the product into any folder. I liked that i was able to create as many folders as I needed.
I really liked the style and functionality of the app. It just didnt accomplish everything that my bosses needed.
Nachteile
I was not able to search through my items by quantity, I would like to know what I am out of so that I can restock what I do not have.
It would be nice to be able to communicate with the other users on the account. I pay for Users, and it would be nice to be able to message them about specific items arriving, through the same app. Maybe a notification system of some sort.
I also wish that it were easier to move items back and forth from folder to folder. It is not as user friendly as it should be when it comes to searching for the folder to move the item into. Specifically on the mobile app because when searching for the destination folder you have to click on just the arrows on the right hand side of the parent folder. Maybe implement a quick touch and a hold down action.
It would also be nice to be able to receive boxes and deliveries and be able to sort them into specific folders automatically, based on what is scanned. So predetermined folders.