Über UpKeep
Das CMMS (Computerized Maintenance Management System) von UpKeep ist eine moderne Lösung zur Wartungs- und Anlagenverwaltung für dein Team. Von deinem Desktop über dein Handy bis hin zum Tablet ist UpKeep von überall und zu jeder Zeit leicht zugänglich. Erstelle unterwegs Arbeitsaufträge, lass dich benachrichtigen, wenn Aufgaben aktualisiert werden, und erhalte Warnungen direkt von deiner App aus, wenn Anlagen fallen, sodass dein Unternehmen effizienter läuft als je zuvor. UpKeep bietet Kernwartungsfunktionen wie Anlagen-, Inventar- und Arbeitsauftragsmanagement sowie präventive Wartung zur Erstellung von Serviceplänen. Nutzer können eine Aufgabenübersichtsseite nutzen, die anstehende Arbeiten zusammen mit Fälligkeitsterminen, Anlagen und der Priorität oder die der jeweiligen Aufgabe zugeteilten Arbeitskräfte anzeigt. Beim Hinzufügen neuer Aufgaben können Nutzer Notizen, eine farbcodierte Prioritätsbewertung, Bilder, Anlagen und Nutzer hinzufügen. Mit der mobilen App können Nutzer unter anderem Projekte erstellen, Arbeitsaufträge zuweisen und Anlagen verwalten. UpKeep wurde für kleine bis mittlere Unternehmen in verschiedenen Branchen entwickelt. Das Unternehmen bietet seine Services im Rahmen eines Monatsabonnements an, das Support per Telefon, E-Mail und über eine Online-Wissensdatenbank umfasst.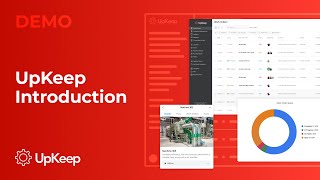 UpKeep bietet eine Gratisversion und eine kostenlose Testversion. Die kostenpflichtige Version von UpKeep ist ab $ 45,00/Monat verfügbar.
Startpreis:
$ 45,00/Monat
Kostenlose Testversion:
Ja
Branche: Essen & Trinken
Unternehmensgröße: 201–500 Mitarbeiter

Täglich

für

6-12 Monate

genutzt
Quelle der Bewertung
Preis-Leistungs-Verhältnis
5
---
Upkeep can change your whole maintenance program
It's as good at the information provided, which is made better because once it's in there, its accessible to anyone and over time, can provide information
Vorteile
Information, details, knowing what was done on a machine last time, it means that you don't necessarily have to do the same job twice. If a problem comes back and was misdiagnosed last time you can review what was done and see if you can find where the actual issue is.
Locations, parts, assets, you can put them all into this software and down to the bolt you can provide details on any of them.
Nachteile
The UI needs work, especially when moving parts around or finding assets in a location. Having a naming standard helps a lot. If you know that an item belongs at a specific site, having a clear site name along with what it is makes a difference.
Antwort von

UpKeep Technologies

Hi Paul!

Thank you for taking the time to leave a review and for all of your feedback! We are so happy to hear UpKeep is providing value to you and your team and helping to improve your maintenance program. Your feedback regarding the UI of the Parts page is valuable and we will make sure to bring it to the attention of our Product team.

Thank you again for taking the time to submit your feedback as we are always looking for ways to improve the app and make our customer's workflows as seamless as possible.

Have a great day!

Beantwortet am 14.11.2019
Branche: Krankenhausversorgung & Gesundheitswesen
Unternehmensgröße: 51–200 Mitarbeiter

Täglich

für

Mehr als 1 Jahr

genutzt
Quelle der Bewertung
Preis-Leistungs-Verhältnis
5
---
Best overall usability
Overall, this is the best CMMS we have used. I did sample the top 10 for a year before deciding and upKeep was the best because of easy of use in the field. This software saves time by reducing paperwork and admin tasks.
Vorteile
I sampled many different CMMS programs and upKeep was the only software that made the cut. This software is actually usable in the field.
Nachteile
There are a few additional features I would like to see. I would like to be able to set exact permissions per user. the amount of administrative data available to Limited Technician renders some functionality not usable. Not everyone needs a list of all vendors and customers. There needs be a permissions checkbox to limit some access and functionality per user. Depending on how this software is used, it could cause an issue. would you want everyone in your company to have a list of our all your customers and vendors? for this reason. We avoid using some features and have not upgraded to the business package.
Warum UpKeep gewählt wurde
MicroMain was not mobile friendly. Their software created a full time position managing CMMS. UpKeep app does most of the work and cuts need of creating this position.
Gründe für den Wechsel zu UpKeep
Usability in the field. Great intuitive interface in browser and app.
Antwort von

UpKeep Technologies

Thank you so much for taking the time to leave us a review! We're glad to hear our software is helping you and your team track work orders!

Our team is always making improvements and adding new features to the application based on customer feedback. Feel free to visit our support page if you ever have any questions:

https://www.onupkeep.com/customersupport/

Thanks again!

Beantwortet am 14.4.2020
Branche: Öl & Energie
Unternehmensgröße: 201–500 Mitarbeiter

Täglich

für

Mehr als 1 Jahr

genutzt
Quelle der Bewertung
Preis-Leistungs-Verhältnis
3
---
Good Entry level CMMS System
A great basic CMMS meant for day to day use, to keep work orders, scheduled maintenance and parts/inventory. Lacks a lot of the higher end features that experienced users would want to impliment.
Vorteile
Very easy to set up and get going, very easy to populated data, and very useful to schedule work orders, etc.
Nachteile
Analytics - the metrics that one needs the most , and use the most often are in basic, but they do take shortcuts in order to achieve numbers. Downtime tracking is a very mportant tool, but can't be used with manual events.
Gründe für den Wechsel zu UpKeep
Pricing of Users (requesters are free) and didn't require additional licenses (technical users and admin are the only paid subscriptions that you need). Initial presentations were well done, and polished,
Branche: Non-Profit-Organisation Management
Unternehmensgröße: 11–50 Mitarbeiter

Täglich

für

Mehr als 2 Jahre

genutzt
Quelle der Bewertung
Preis-Leistungs-Verhältnis
5
---
document and work orders share with upkeep the best application
Vorteile
i like upkeep when handling work orders among team, since i can get all project team inputs to compile general project report , the CMMS feature also makes militance management systems so easy, i also like the user interface. security is another thing which is good since every user is given password for logging
Nachteile
using the application on android phones its very slow and this limits tasks to be accomplished
Branche: Metallabbau
Unternehmensgröße: 51–200 Mitarbeiter

Täglich

für

1-5 Monate

genutzt
Quelle der Bewertung
Preis-Leistungs-Verhältnis
4
---
A great choice for a intuitive CMMS
Immediately we are seeing the benefits of using UpKeep. It has helped to reduce the confusion of where someone left off or waiting for parts to arrive to complete the repair.
Vorteile
Uploading our plant information, including over 4,000 spare parts that we have cataloged was very easy. We were able to keep our spare part numbers and mirrored the layout of UpKeep with our own spare parts system, which in turn helped the plant personnel with the implementation.
Nachteile
I would like to see the ability to add daily equipment checklists, that can be performed at a minimum twice daily and were generated automatically at a predetermined time. We currently make rounds through the plant and require our personnel to record the check.
Warum UpKeep gewählt wurde
It wasn't user friendly and took a tremendous amount of time to manage.
Gründe für den Wechsel zu UpKeep
Hands down, I was impressed with how intuitive UpKeep appeared. I can't say enough about how important it is to have the buy in of the plant personnel who use the platform. My guys were very nervous about another CMMS platform, based on their previous experience. They are excited and I have heard nothing but positive remarks about our new system.