Über Absorb LMS
Absorb LMS ist ein leistungsfähiges cloudbasiertes LMS (Learning Management System), das das Engagement und die Lernergebnisse fördert, aber gleichzeitig unglaublich skalierbar und nutzerfreundlich ist. Kunden sind beeindruckt davon, wie schnell sie loslegen und von der Produktivität durch automatisierte Funktionen und Berichterstattung profitieren können, während sie von internen Experten mit direktem Zugriff auf das Team unterstützt werden, das die Software entwickelt.
Ganz gleich, ob du interne Mitarbeitende, externe Zielgruppen oder internationale Partner schulst, Mitarbeitende einarbeiten oder neue Fähigkeiten entwickeln willst – Absorb LMS ermöglicht es Kunden, durch das Nutzen der Lerntechnologie zu florieren, die sich nachweislich skalieren lässt, während das Unternehmen wächst. Nutzer können ein einzigartiges Branding für verschiedene Abteilungen, Kunden oder Klienten erstellen. Darüber hinaus funktioniert die reaktionsstarke Lernoberfläche auf jedem Gerät, verfügt über eine einsatzbereite und vollständige E-Commerce-Funktion und unterstützt xAPI, SCORM und AICC.
Absorb nimmt Compliance und Datensicherheit sehr ernst und bietet WCAG-2.0-Konformität sowohl für Lernende als auch für Administratoren, SOC-2-Typ-2-Compliance, DSGVO-Compliance und weltweite AWS-Server für den internationalen Schulungsbetrieb.
Schließe dich einer wachsenden Gemeinschaft von Kunden an, die Lernkulturen aufbauen und greifbare Ergebnisse erzielen.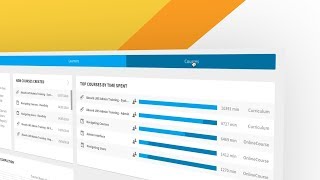 Absorb LMS bietet keine Gratisversion, aber eine kostenlose Testversion.
Startpreis:
Nicht vom Anbieter bereitgestellt
Kostenlose Testversion:
Ja
Alternativen für Absorb LMS
Branche: Konsumgüter
Unternehmensgröße: 201–500 Mitarbeiter

Täglich

für

Mehr als 1 Jahr

genutzt
Quelle der Bewertung
Preis-Leistungs-Verhältnis
4
---
Robust and easy-to-use learning platform
Vorteile
It offers a very pleasant experience when browsing its interface and viewing the content of the learning programs. Its search tool is very precise to quickly find the required courses. It provides a lot of versatility with its mobile app, which allows you to log in from anywhere and at any time. The evaluation process is very intuitive and simple to carry out.
Nachteile
So far, the only thing I think it can add is a better level of personalization of the learning processes, however, this is a versatile and very complete platform.
Branche: Non-Profit-Organisation Management
Unternehmensgröße: 51–200 Mitarbeiter

Täglich

für

Mehr als 1 Jahr

genutzt
Quelle der Bewertung
Preis-Leistungs-Verhältnis
5
---
Finally, an LMS that is Simple and Customizable
We use Absorb for an external audience - volunteers - and they have no complaints. They find it simple to use and don't require an official onboarding process.
Vorteile
I love that this product is customizable according to your organization's needs. The business model is to teach you how to fish so that you own the system and can make branding updates, page templates, email templates, etc. You can customize the Learner Home to your preferences. You're not stuck with an LMS in a box where you have to rely on customer support for everything. In addition, the system is simple to learn administratively. I'm most impressed with its reporting function which has been very complicated in my experience with many other learning systems. Also, the Global Resources field is awesome so you don't have to pretend documents always belong with a course.
Nachteile
The ILC course feature could use more flexibility. Would be great to have users be able to register for more than one ILC session within a course. I end up duplicating a lot of courses just to add the ability to register for more sessions.
Branche: Krankenhausversorgung & Gesundheitswesen
Unternehmensgröße: 1 001–5 000 Mitarbeiter

Täglich

für

Mehr als 2 Jahre

genutzt
Quelle der Bewertung
Preis-Leistungs-Verhältnis
2
---
simple to use, but QA poor and support prioritized by popularity votes on their customer forum...
had it for 3 years. our requirements were basic - no hr integration, no e-commerce, short term users, few courses. yet when we were faced with their sudden requirement for us to move/"upgrade" to their new system that contained functional and design continuity problems from the system version we were using, we were told that our problems would not be fixed due to the fact that not enough other customers had "voted" for the same issues to be fixed. that was a dealbreaker. :(
Vorteile
easy startup, easy to use (provided everything is working properly)
Nachteile
Software is AS-IS product. Difficulty getting help with system problems - first tool for them is interpersonal pleasantry, and email with article links to something that may or may not be addressing the reported problem. If there is not an easy out-of-the box solution (addressed by the link they send you by email), it will take many interactions and possibly a video screener of your problem before your issue is investigated. Individual learner issues are typically not investigated.
Branche: E-Learning
Unternehmensgröße: 2–10 Mitarbeiter

Täglich

für

Mehr als 2 Jahre

genutzt
Quelle der Bewertung
Preis-Leistungs-Verhältnis
5
---
Effortless Success
We have had an absolutely wonderful experience with Absorb thus far. There were a few temporary hiccups along the way with our account manager. This has all been fixed since. The absolute best part of the experience besides the software is our Client Success Manager, Taylor. I do not know if we could have stayed with Absorb as long as we have without him. He is the ultimate reason we have chosen to stay so long.
Vorteile
There are so many great things I can say about Absorb. The absolute best feature of the software itself is the individuality it allows us to create for users. We have some standard courses that clients are interested in, however, the biggest pull is allowing us to make the experience feel custom to them. Our customers can easily navigate their own portals effortlessly. Customizing the templates and organization of courses is the personal touch that makes this software so great.
Nachteile
There are a few key features that I have noticed are not a part of Absorb software that could really be useful. The templates and options on how it is set up are pretty standard, however, certain options such as the calendar for example. Our clients love the calendar. However, you cannot really edit the calendar for full customization. I think if all of the template options had more range in customization it would be a bit better.
Branche: Professionelles Training & Coaching
Unternehmensgröße: 201–500 Mitarbeiter

Täglich

für

1-5 Monate

genutzt
Quelle der Bewertung
Preis-Leistungs-Verhältnis
5
---
Absorb LMS
We had such a fantastic start up team on our project with Absorb. We had a lot of ideas/goals for our LMS and our team seemed to help us meet most of our goals/expectations! Absorb is user friendly and allows for some real great content building in dashboards and online courses! Our learners love the look/design.
Vorteile
Coming from another software, we loved the customizable features of the software!
Nachteile
Only honestly the reports feature. There was only ways to run mass reports, or individual person or courses. I couldn't pick various folks and run it all at once. HOWEVER being able to to download to excel file instead of CSV file was a game changer!!