Über QuickBooks Desktop Enterprise
QuickBooks Enterprise ist eine Buchhaltungslösung für KMU in verschiedenen Branchen wie Bauwesen, gemeinnütziger Vertrieb, Fertigung und Einzelhandel. Mit der QB-Enterprise-Lösung können alle Geschäftsinhabende ihren Geschäftsbetrieb durch fortschrittliche Inventar-, Berichterstattungs- und Rechnungstools erweitern sowie Premium-Support von den Kundenbetreuungs- und Gehaltsabrechnungsteams von Enterprise erhalten. QuickBooks umfasst Multi-User-, Gehaltsabrechnungs- und Inventarmanagement, Inventar- und Ausgabenverfolgung, Rechnungsstellung, erweiterte Berichterstattungstools und mehr. QuickBooks Enterprise bietet anpassbare Berichterstattungstools, mit denen Nutzer Daten analysieren und fundierte Geschäftsentscheidungen treffen können. Mit über 200 automatisch ausgefüllten Vorlagen und 70 branchenspezifischen Berichten hilft diese Buchhaltungssoftware von QuickBooks Unternehmen, QuickBooks-Daten zu finden, um jedes Geschäftsproblem zu lösen. Mit den fortschrittlichen Inventartools von QuickBooks können Unternehmen den Inventarmanagementprozess einsehen und kontrollieren, indem sie Inventarbewegungen verfolgen, Inventarartikel automatisch scannen und aktualisieren, Bestellungen/Verkaufsaufträge von einem Dashboard aus verwalten und vieles mehr. Mit QuickBooks Enterprise können Unternehmen Finanztransaktionen mit Auftragskalkulationstools, Batchfakturierung, Rechnungsverfolgung, Cashflow-Management, Sachanlagen- und Verkaufsverfolgung, Zahlungsabwicklung und anderen Funktionen steuern, anpassen und automatisieren. Unternehmen können auch mehrere Dokumente scannen und anhängen, einschließlich Belegen und Angeboten für mehrere Buchhaltungsaufgaben. Das Tool ermöglicht es Unternehmen, Dokumente in Kategorien einzuteilen und wichtige Buchhaltungsdateien zu verfolgen. Diese Lösung führt auch ein Änderungsprotokoll, um Änderungen in jedem Dokument mit dem richtigen Datum und Zeitstempel aufzuzeichnen. QB bietet auch verschiedene QuickBooks-Software wie QuickBooks Premier und QuickBooks Pro an, die verschiedene Funktionen enthalten.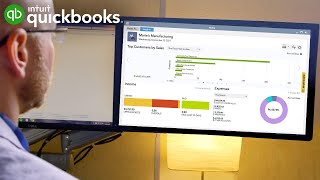 QuickBooks Desktop Enterprise Preis
QuickBooks Desktop Enterprise bietet keine Gratisversion, aber eine kostenlose Testversion.
Startpreis:
Nicht vom Anbieter bereitgestellt
Kostenlose Testversion:
Ja
Alternativen für QuickBooks Desktop Enterprise
QuickBooks Desktop Enterprise Erfahrungen
Branche: Immobilien
Unternehmensgröße: 2-10 Mitarbeiter

Wöchentlich

für

Mehr als 1 Jahr

genutzt
Quelle der Bewertung
Preis-Leistungs-Verhältnis
5
---
Quick books makes it easy to track your business
QuickBooks was easy to set up and we love that our CPA and access everything directly. Ease of use was critical for us in choosing our accounting software and QuickBooks delivers!
Vorteile
Ease of use is at the top of the list. QuickBooks makes a lot of our small business accounting look easy.
Nachteile
Everything could be faster and more automatic with real-time auditing.
Gründe für den Wechsel zu QuickBooks Desktop Enterprise
Partially because of the Intuit brand reputation, but mostly due to the ease of setup and use.
Branche: Computer-Software
Unternehmensgröße: Selbstständig

Täglich

für

Mehr als 2 Jahre

genutzt
Quelle der Bewertung
Preis-Leistungs-Verhältnis
5
---
Quickbooks es lo mejor
Gracias a QuickBooks, el seguimiento de todas las transacciones y datos financieros de la empresa y sus proyectos afiliados se ha vuelto muy fácil, ya que podemos pagar y recibir facturas y registrarlas en nuestros registros de una manera simple y segura
Vorteile
Quickbooks es un sistema muy poderoso, puede hacer casi cualquier cosa a un nivel aceptable. No me he encontrado con un requisito de contabilidad que QuickBooks no pueda manejar por nosotros
Nachteile
Result
El servicio de atención al cliente es muy frustrante. La función de chat es un bot que intenta resolver los problemas de los clientes, pero no es tan útil como un humano que puede escuchar y diagnosticar problemas humanos. Los chatbots tampoco funcionan al 100 %, lo que aumenta la frustración. Existe un sistema automatizado similar a un chatbot cuando se realizan llamadas a la línea directa. Toma mucho tiempo, y cuando los humanos finalmente responden, no tienen la autonomía para ayudar. La función de informes para la nómina podría utilizar algunas mejoras. Al navegar por la información de los empleados, a menudo se le solicita que regrese a la página de inicio del empleado después de salir de una pantalla, por lo que no puede saltar rápidamente de una página de información del empleado a otra.
In Betracht gezogene Alternativen
MariaDB
Gründe für den Wechsel zu QuickBooks Desktop Enterprise
QuickBooks Online es fácil de aprender y usar. Pensé que me llevaría mucho tiempo aprender a usar la aplicación, pero para mi sorpresa fue muy fácil. Con QuickBooks Online se puede hacer mucho, y con la capacidad de tener varios usuarios en una cuenta, los miembros de su organización podrán completar partes de su proceso de contabilidad.
Branche: Anwaltskanzlei
Unternehmensgröße: 11-50 Mitarbeiter

Täglich

für

Mehr als 2 Jahre

genutzt
Quelle der Bewertung
Preis-Leistungs-Verhältnis
5
---
Data Corruption Issues Spoiling a Great Product
I know Quickbooks Enterprise Desktop and it does everything I need to do and more. That part of it is outstanding. The strength, that it is compatible with so many other pieces of software, could also be the weakness, as I think other software accessing my Quickbooks data could be causing the corruption issues I am experiencing.
Vorteile
I love that Quickbooks is intuitive, works with many other software integrations, every accountant understands it, it is priced well, and easy to use. There is no other accounting software that works with so many different pieces of software. When it is working, it is the best!
Nachteile
We have had constant data corruption issues for over a year, despite using the Enterprise version of the Quickbooks. Our file size is around 250 MB, which shouldn't be a problem for Enterprise. Many times when I open the program, there are problems with the data. Oddly, I can just close the file and reopen it until my data verification shows no problems with my data. This means every time I open the software I have to check for problems with my data and every time I close the software I have to save a backup, in case I cannot solve the data corruption issues when opening. The only reason I am still using quickbooks, is that I also have an integrated software solution called Scanwriter, that inputs data to quickbooks for me. I have hundreds of invoices and payments on those invoices to enter every month, so I really don't want to lose the automation factor.
There is a Quickbooks file doctor, that you can use to fix your files, but it really shouldn't be needed on a daily basis. The corruption is such that I will occasionally open Quickbooks to find that none of my customers are there. Then I close and reopen the file a few times and everything is fine. Unfortunately, until I figured that out I went about my usual day entering data, only to find the corruption later and have to restore from a backup and re-enter all of that data. When I contacted support, the problem was not evident, so they couldn't do anything to help.
Antwort von

Intuit

We appreciate you leaving a review, Denise. To help solve some of the issues you can turn off the preference that requires a backup and a verification if you don't want it to run every time you open the file. This can be found under File> Backup company> Create local backup. In the Create Backup window select "Options". Here you can select to remind you to make a backup as well as if it runs a verification when it does backup. Should you open the file and see your info is missing we recommend contacting the QuickBooks Desktop Team to help look into resolving the issue. You can find all the methods to contact them here: https://quickbooks.intuit.com/learn-support/en-us/help-article/account-management/contact-quickbooks-desktop-support/L9d0ZUCrC_US_en_US Hope this helps. -Kristina, The QuickBooks Team

Beantwortet am 8.4.2022
Branche: Baumaterial
Unternehmensgröße: 11-50 Mitarbeiter

Täglich

für

Mehr als 2 Jahre

genutzt
Quelle der Bewertung
Preis-Leistungs-Verhältnis
5
---
Quivk Books desktop Review
Quickbooks has helped me keep track of my account books in one place therefore reducing confusion. I have intergrated the software with my other softwares like hubspot. The software enables me send my clients more professional and easy to understand quotations. However i have had problems with their phone support team, they are not easily accessible when there is emergency on the software. In a nutshell quickbooks software is a must get especially if you want to scale your small business up.
Vorteile
QuickBooks has a variety of features that supports small and medium businesses and it allows up to 25 users.
The software can intergrate with more than 500 business apps and softwares.
QuickBooks has a friendly user interface which makes it easy to navigate through its dashboard.
QuickBooks gives a 30 day free trial version which gives you a test drive of the software before deciding to subscribe.
Enables you to keep all your books of accounts in one place.
Nachteile
The price has been increasing throughout the years.
Less automated as compared to online version which takes more time.
Their phone support is not efficient and sometimes they do not assist by phone hence forced to migrate to online version which facilitate a quick live bookkeeping.
Does not facilitate split transactions and auto sales report hence need to migrate from desktop to online version.
Gründe für den Wechsel zu QuickBooks Desktop Enterprise
The simple looking dashboard of freshbooks looked too simple and unprofessional to me so psychologically i assumed QuickBooks was the best choice. I can safely say i do not regret the choice.
Branche: Konsumgüter
Unternehmensgröße: 2-10 Mitarbeiter

Wöchentlich

für

Mehr als 2 Jahre

genutzt
Quelle der Bewertung
Preis-Leistungs-Verhältnis
5
---
Very Good Accounting Software for Small Businesses
It is a good business tool that helped me get a handle on mostly all of my expenses. It has a few buggy integrations which was frustrating. And I really disliked the non batch tagging system. Other than that, I have found it very useful and have used QB for the past 3 years for my taxes. I do not use it to file taxes any longer, as I now have an accountant and I prepare everything in QB first and then work with my accountant to file the taxes. Great for small businesses.
Vorteile
I like that QB is easy to use and that I can connect mostly all of my accounts to it. However, I was unable to connect my Home Depot credit card for some reason. I have used QB to prepare a profit and loss statement for my accountant. I have painstakingly used this software. I have used it almost on a daily basis, as it helps to give me a clear financial picture of my small business. I can't see myself managing my e-commerce business any other way, since I have many transactions.
Nachteile
The fact that I cannot group tag transactions. In a business like mine that has thousands of transactions throughout the year, the biggest gripe I have with QB is that I cannot batch select and change the tags. The tags are so important, especially if running multiple businesses, which I was. Since then, I have closed two of those businesses for the very reason that I cannot properly manage it all with one quickbooks account. I thought it would be easy to tag things, however, it truly sucks to have to go one by one. Also, I dislike the "rules" it auto creates because for any new transaction type, it pops up and really slowed me down when I was already having trouble with my tagging and categorizing.
Gründe für den Wechsel zu QuickBooks Desktop Enterprise
QB is simply the most comprehensive and overall the easiest product to use to account for my small business. I didn't like the other options that I explored and felt that for the money, it was a good way to do all of my business and personal accounting.