Über QuickBooks Desktop Enterprise
QuickBooks Enterprise ist eine Buchhaltungslösung für KMU in verschiedenen Branchen wie Bauwesen, gemeinnütziger Vertrieb, Fertigung und Einzelhandel. Mit der QB-Enterprise-Lösung können alle Geschäftsinhabende ihren Geschäftsbetrieb durch fortschrittliche Inventar-, Berichterstattungs- und Rechnungstools erweitern sowie Premium-Support von den Kundenbetreuungs- und Gehaltsabrechnungsteams von Enterprise erhalten. QuickBooks umfasst Multi-User-, Gehaltsabrechnungs- und Inventarmanagement, Inventar- und Ausgabenverfolgung, Rechnungsstellung, erweiterte Berichterstattungstools und mehr. QuickBooks Enterprise bietet anpassbare Berichterstattungstools, mit denen Nutzer Daten analysieren und fundierte Geschäftsentscheidungen treffen können. Mit über 200 automatisch ausgefüllten Vorlagen und 70 branchenspezifischen Berichten hilft diese Buchhaltungssoftware von QuickBooks Unternehmen, QuickBooks-Daten zu finden, um jedes Geschäftsproblem zu lösen. Mit den fortschrittlichen Inventartools von QuickBooks können Unternehmen den Inventarmanagementprozess einsehen und kontrollieren, indem sie Inventarbewegungen verfolgen, Inventarartikel automatisch scannen und aktualisieren, Bestellungen/Verkaufsaufträge von einem Dashboard aus verwalten und vieles mehr. Mit QuickBooks Enterprise können Unternehmen Finanztransaktionen mit Auftragskalkulationstools, Batchfakturierung, Rechnungsverfolgung, Cashflow-Management, Sachanlagen- und Verkaufsverfolgung, Zahlungsabwicklung und anderen Funktionen steuern, anpassen und automatisieren. Unternehmen können auch mehrere Dokumente scannen und anhängen, einschließlich Belegen und Angeboten für mehrere Buchhaltungsaufgaben. Das Tool ermöglicht es Unternehmen, Dokumente in Kategorien einzuteilen und wichtige Buchhaltungsdateien zu verfolgen. Diese Lösung führt auch ein Änderungsprotokoll, um Änderungen in jedem Dokument mit dem richtigen Datum und Zeitstempel aufzuzeichnen. QB bietet auch verschiedene QuickBooks-Software wie QuickBooks Premier und QuickBooks Pro an, die verschiedene Funktionen enthalten.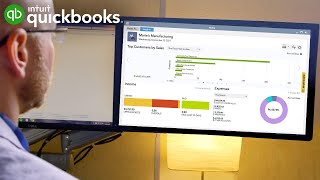 QuickBooks Desktop Enterprise Preis
QuickBooks Desktop Enterprise bietet keine Gratisversion, aber eine kostenlose Testversion.
Startpreis:
Nicht vom Anbieter bereitgestellt
Kostenlose Testversion:
Ja
Alternativen für QuickBooks Desktop Enterprise
QuickBooks Desktop Enterprise Erfahrungen
Branche: Medizinische Praxis
Unternehmensgröße: 2–10 Mitarbeiter

Wöchentlich

für

Mehr als 2 Jahre

genutzt
Quelle der Bewertung
Preis-Leistungs-Verhältnis
5
---
Big improvement over the desktop version
The newer online version is two thumbs up. I had a CPA that recommended I go back to the program and very glad that I took his advice. The new streamlined format is exactly what I need for my business.
Vorteile
I love the fact that I can check out, update and work all my financials from my ipad, phone and computer. I used to use the older Quickbooks desktop version years ago. I dumped it because it was really hard to use. I am a Chiropractor and not a CPA. The past couple of years we have been using the online version and it is exactly what I wanted/needed for the finances and my Chiropractic office.
Nachteile
The only problem that I had was, setting up the original accounts and Paypal. I did not set the original accounts up correctly. My bookkeeper fixed all this and explained it to me. From there everything worked out great. Except for the PayPal app. I am happy that I do not do much business through PayPal because it is the only account that I need to spend some real time with to reconcile and make sure I do not have duplicate transactions.
Branche: Internet
Unternehmensgröße: 11–50 Mitarbeiter

Täglich

für

Mehr als 1 Jahr

genutzt
Quelle der Bewertung
Preis-Leistungs-Verhältnis
5
---
Great Value for the Price
Overall, my company has been happy with our switch to QuickBooks. We previously used Netsuite for our accounting software, but the subscription fees were outrageous and the features were difficult to manage and execute. QuickBooks offers what we need for a very reasonable price on a user-friendly format. I would definitely recommend this to small businesses who do not need a lot of advanced functionality.
Vorteile
The QuickBooks software is very affordable with lots of good out-of-box features. AR and AP functions are very easy to use for novice users of the software. There are a lot of templated reports that are very helpful for weekly and monthly accounting tasks (Payroll, Vendor Payments, Sales, etc.). The software also allows you to add on a variety of additional features through plug-ins, which you can access for a nominal monthly fee. For example, the BIll.com integration is excellent for paying your vendors online, eliminating the need for mailing out checks each month.
Nachteile
The biggest issue with QuickBooks is their customer service department. Whenever we have issues that cannot be resolved by an internal administrator, it takes days and sometimes weeks before an Intuit rep returns our messages. We've been using the software a little over a year and have already been passed around to several different account reps. At one point, their response time was so poor I had to request a different rep. The other thing I find cumbersome with the software is the sales reporting. While the templates are helpful, I often end up with a lot of superfluous information, and the reports are not very malleable, even once exported to Xcel. This is an area I feel could be greatly improved with minimal effort from Intuit.
Branche: Bildungsmanagement
Unternehmensgröße: 11–50 Mitarbeiter

Täglich

für

Mehr als 2 Jahre

genutzt
Quelle der Bewertung
Preis-Leistungs-Verhältnis
2
---
Still riding market share for over 20 years
Bank transaction downloads, account reconciliation, payment and invoice recording, tax reporting.
The experience has been fraught with frustration, loads of rework, arcane and unexplained entry rules, dead end data experiences, all punctuated by frequent Intuit attempts to reach for more money out of my pocket.
Vorteile
Basic functions of creating payments, invoices, bills, checks, etc are workable and fairly intuitive.
Banking Center makes initially downloading bank transactions fairly simple.
Once you modify a report to the point where it is useful, QB can memorize it for ongoing use.
As soon as you get beyond those, best to get prepared with an accounting degree, lots of time to do google searches, and some antacid or aspirin.
Nachteile
1) if you want to do any interaction with exported files or bank downloads, be prepared to be gouged for the price of a new license every 3 years.
2) for that repurchase, you get very little to nothing improved except more ways Intuit can offer add-ons (for a price).
3) reports are available mostly in standard accounting formats. Detailed custom listings are hard to get at best via the transaction lists. For line items you took the time to enter into a Bill, it's literally impossible.
4) Bank Feeds transaction approval screens are an abomination. Modifying/adding columns: not possible. Finding a rule that auto modifies your entry: good luck. Figuring out how to make a new rule: better google it. Figuring out how to reverse an accidental entry: get out the antacid and aspirin. If that downloaded tran should have been a bill pmt, get stronger antacid.
5) transaction lists: hope you only want to see either ALL, Current Period, Last Period or Next Period. Else get used to a boatload of sorting and scrolling, because there's no way to bracket your data within custom dates.
6) Home screen: want a clean simple Home to find your functions quickly? Too bad; Intuit would rather hit you with marketing. Want to see only a few Account Balances and hide those you never use? Sorry!
7) Support: virtually non-existent outside of the QB User forums, so hope that someone else has asked your question already.
Has any developer at Intuit ever held a user focus group or been a user?
Branche: Computer-Software
Unternehmensgröße: 2–10 Mitarbeiter

Täglich

für

Mehr als 1 Jahr

genutzt
Quelle der Bewertung
Preis-Leistungs-Verhältnis
4
---
A robust accounting tool for businesses of all sizes
QuickBooks Desktop Enterprise is a powerful accounting and financial management solution for large companies with complex financial management needs.
Vorteile
Project management functionality: QuickBooks Desktop Enterprise allows users to track projects in real time, which can help companies effectively manage costs, deadlines and resources.
Nachteile
Incompatibility with other software: QuickBooks Desktop Enterprise may not be compatible with some other software that businesses use, which can cause integration problems.
Branche: Finanzdienstleistungen
Unternehmensgröße: 501–1 000 Mitarbeiter

Täglich

für

Mehr als 2 Jahre

genutzt
Quelle der Bewertung
Preis-Leistungs-Verhältnis
4
---
Complete Accounting Solution
Quickbooks Desktop Enterprise is cloud based software there user can work from anywhere getting real time accounting results. It is suitable for startups and small to medium size enterprises. Quickbooks simplify day to day accounting so a person who does not know more about accounting can use it with little help and get all accounting done including management of payroll, inventory, taxation, and more important financial statements. It enables user to effectively track underlying details and documents by just clicking particularly it empowers user to keep eyes on accruals, account payable, and account payable.
Vorteile
I love Quickbooks due to its simplicity for setup and using, where we get all accounting done. A straight forward way to automate day to day accounting. It generates all reports required by a user from an accounting software even allows customization. It facilitates to maintain multi organizational setups. On single click, it leads to underlying details, source documents, visualizing each entry.
Nachteile
Quickbooks do not restrict to edit, delete, or add an entry into back month therefore it may happen that one gets print out of financial statements for a particular month and then do any editing into previous month's transaction then print out will differ than software, even it does not maintain any log to track changes made by user. It does tax management itself but one cannot fully rely on it, user must monitor tax reports before forwarding. It can be works offline therefore at that scenario one cannot enjoy benefits of cloud-based software, further it supports only Windows operating system.