Über Time Doctor
Time Doctor ist eine cloudbasierte Zeiterfassungs- und Verwaltungslösung, die von Unternehmen zur Überwachung der Mitarbeiterproduktivität verwendet wird. Die Lösung bietet Tools für Zeiterfassung, Überwachung von Webaktivitäten, Gehaltsabrechnung und Berichterstattung.
Mit Time Doctor können Nutzer die für jedes Projekt aufgewendete Zeit eingeben und ihre abrechenbaren und nicht abrechenbaren Arbeitszeiten berechnen. Die Bildschirmüberwachungsfunktion berichtet über die Mitarbeiteraktivität mittels Screenshotaufnahmen. Die Lösung kann Nutzern auch dabei helfen, die aufgewendete Zeit für Chats, Besprechungen, Anrufe, Internetnutzung und andere Aktivitäten zu verfolgen. Die Gehaltsabrechnungsfunktion ermöglicht es Unternehmen, die Arbeitszeiten der Mitarbeitenden aufzuzeichnen und wöchentliche und monatliche Gehaltsabrechnungen zu erstellen.
Eine mobile App ist für Android- und iOS-Geräte verfügbar und die Plattform lässt sich auch in verschiedene Projektmanagement- und Buchhaltungssoftwares integrieren, einschließlich Jira, Salesforce, Basecamp und Slack.
Die Lösung ist pro Nutzer und Monat verfügbar und bietet mehrsprachige Kundenbetreuung per E-Mail, Telefon, Live-Chat und Online-Helpdesk.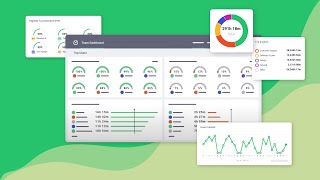 Time Doctor bietet keine Gratisversion, aber eine kostenlose Testversion. Die kostenpflichtige Version von Time Doctor ist ab $ 7,00/Monat verfügbar.
Kostenlose Testversion:
Ja
Alternativen für Time Doctor
Täglich

für

Mehr als 2 Jahre

genutzt
Quelle der Bewertung
Preis-Leistungs-Verhältnis
5
---
TD is a standard in All Forms of Productivity - Must Have for Professionals Who Wants to Do...
Super affordable and easy to use.
Vorteile
One of the very first sets of time tracker that I used . . . and still using at the very moment I'm writing this review. It perfectly fits with my internal processes. Very intuitive to use. Other time trackers try to reinvent the wheel as if mastering productivity is not hard enough. If you're using TD, you create a project, add a task, then just start doing it. No other hullabaloo.
Another advantage is the growing list of project management tool integration. Well, TD is a project maanagement tool already but if you're using other tools like Trello, you'll be happy to know that TD has you covered already.
Another advantage is the fact that TD has added the Client View feature. That means you can invite your client/s to log in to a panel and view all the screenshots and work you've billed them. That's a trust booster for you and your client especially if you're getting paid by the hour.
Nachteile
Hmm if there's something that I want TD to improve on is their mobile app. It lags from time to time. And you shouldn't let it compete with other apps unless you have a super high power smartphone. And if you're like me who's into quantified self, tracking other aspects of like aside from work is just an absolute must. And more often than not, it has to be done off your PC. That's why they have to improve their mobile app.
Antwort von

Time Doctor

Hi Monnel,

Thank you for using the app to manage your Team. I am glad the Client feature helps you as well.

We are working more on the mobile app now to be better at UI and functionality.

Beantwortet am 1.6.2018
Branche: Marketing & Werbung
Unternehmensgröße: 11–50 Mitarbeiter

Täglich

für

Mehr als 1 Jahr

genutzt
Quelle der Bewertung
Preis-Leistungs-Verhältnis
0
---
Effective remote management
Time Doctor has helped me understand my own work strengths and weaknesses by showing me how much time I put into each task, project and campaign. Excellent for time management at the user level, as well as the manager level. We have also solved our time capture for remote employees which has created more efficiencies in payroll and better pay period ending cycles.
Vorteile
The insights into staff performance, being able to pin time to specific projects or work types as well as the efficiency brought to time management and the payroll process is worth of high praise.
Nachteile
The biggest opportunity is that Time Doctor sometimes seems to be a resource hog and can be slow to load and prone to occasional crashes which means lost time capture. If the employee or manager does not catch this, may result in underpay. The user dashboard is nice but takes you out of your work environment; something more integrated into the workflow tools like a retractable side-panel drawer instead of a web URL you have to visit would be better.
Branche: Design
Unternehmensgröße: 11–50 Mitarbeiter

Täglich

für

6-12 Monate

genutzt
Quelle der Bewertung
Preis-Leistungs-Verhältnis
1
---
Unmitigated Disaster
We are in software development ourselves and this whole platform reeks of something that was built by cheap, overseas, outsourced development teams, OR it was something that has been rushed to market. You need to avoid Time Doctor and Staff.com like the plague. The two companies are linked and perhaps merging because recently Staff.com had a message on their website that said something to the effect of "A TimeDoctor Company." They also have identical logos.
Final thoughts: if you use Time Doctor to track work for your clients you are going to be in a world of hurt. You will overcharge and undercharge clients and when they figure it out (like ours did) they will be furious.
A quick update: I notified Time Doctor over a week ago to close our account and to the surprise of absolutely no one, they haven't honored the request. Just terrible.
Vorteile
Having to email their support to cancel my account...I'm joking that was just the last annoying thing I was forced to do with this company. Nothing...I like absolutely nothing about it.
Nachteile
Absolutely terrible piece of software. I cannot for the life of me understand why this software has such high ratings. We used it for about six months and had nothing but problems with it. Some of the issues were:
1. Time not syncing between mobile, desktop, and web clients.
2. Time not accurately being tracked.
3. Unable to archive old project-tasks or projects.
4. Tasks and projects not syncing between mobile, desktop, and web clients.
5. Time is missing. In other words, time would be tracked and then disappear.
6. Employees who worked on sensitive areas like finance had their accounts set to blur screenshots. This never worked. They were completely in the clear which could have been a huge problem.
This has been a disaster from start to finish. We've had to manually fix tracked-time, re-bill customers, refund customers, and start all over again with an much better alternative called HubStaff--whom I highly recommend.
The biggest problem with Time Doctor is that we were working with their "support team" for over a month and supposedly they were working on fixing our problems...This turned out to be a lie. Nothing ever got fixed. The support team would never proactively give us any information regarding what they were working on and we always had to reach out to them for an update; the updates contained no actual progress information of any kind...So in other words: we were being blown off.
Antwort von

Time Doctor

The customer has some genuine problems. We put the full attention of our team on these problems and they are all now solved.

However they are very unhappy and have been posting the same negative review on multiple review sites. I think the review is unfair given that 99%+ of our customers are very happy and give us great reviews, and very few people had the problems that this customer had with the app. Our support was very attentive to them and the customer did not respond to all of our emails and requests. They are also promoting a competitor in the review, but that¿s fine we encourage you to try all competitors and see which app you like the best.

So we¿re really sorry but can say for sure that other customer will not experience the same problems as most of them were unique to that customer and are also now all solved.

Beantwortet am 17.10.2018
Branche: Versicherung
Unternehmensgröße: 2–10 Mitarbeiter

Täglich

für

Mehr als 1 Jahr

genutzt
Quelle der Bewertung
Preis-Leistungs-Verhältnis
4
---
"Maximizing Your Time: A Comprehensive Guide to Using Time Doctor"
By and large, Time Specialist is a valuable instrument for organizations and people who need to successfully deal with their time more. It offers a scope of highlights to assist you with following your time, further develop efficiency, and incorporate with different instruments. Be that as it may, it's not without its restrictions, and clients ought to know about the protection concerns and possible errors in time following.
Vorteile
Simple to utilize: Time Specialist is easy to understand and natural, in any event, for non-educated clients. The point of interaction is basic and clear, making it simple to explore.Numerous stages: Time Specialist upholds Windows, Macintosh, and Linux, and has versatile applications for iOS and Android gadgets, making it available across various gadgets and working frameworks.Far reaching time following: Time Specialist tracks both billable and non-billable time, so you can perceive how long you spend on various undertakings and tasks.Efficiency highlights: Time Specialist incorporates a scope of efficiency highlights, for example, the capacity to impede diverting sites and applications, inactive time location, and customary breaks updates.Incorporations: Time Specialist coordinates with a scope of different instruments, including project the executives programming, finance and invoicing programming, and specialized devices like Leeway and Skype.
Nachteile
Restricted free arrangement: Time Specialist offers a 14-day free preliminary, however from that point onward, you'll have to pay for a membership to keep utilizing the product. The free arrangement is restricted to just a single client and offers fundamental elements.Security concerns: A few clients have raised protection worries no time like the present Specialist, as it tracks not just the time spent on business related errands yet in addition the URLs and titles of the sites visited during that time.Restricted customization: While Time Specialist offers a scope of highlights, there is restricted extension for customization past what is accessible in the settings.Announcing restrictions: While Time Specialist offers nitty gritty reports, a few clients have found the detailing capacities restricted contrasted with other time following devices.Erroneous time following: A few clients have revealed mistakes in time following, especially with respect to following inactive time and movement on non-PC gadgets
Branche: Geschäftsbedarf & -einrichtung
Unternehmensgröße: 11–50 Mitarbeiter

Täglich

für

Mehr als 2 Jahre

genutzt
Quelle der Bewertung
Preis-Leistungs-Verhältnis
4
---
Does what is needed
Vorteile
When Time Doctor works, it's great. Each employee can be set to different schedules/requirements. It is a great system in the background that allows us to hold our employees accountable if necessary.
Nachteile
Time Doctor is constantly being updated and if you don't know to update the application, or it doesn't happen automatically, the app will not work as intended. The usual give away is that the app will often stop tracking automatically when starting computer use. Additionally, the admin view is limited. It would be helpful to view the same report/information for multiple employees at the same time. A lot of things have to be done individually.