Über Xactly Incent
Xactly ist eine cloudbasierte Lösung, mit der Unternehmen Prozesse im Zusammenhang mit der Provisionskostenabrechnung verwalten können. Zu den wichtigsten Funktionen gehören Statusverfolgung, Workflow-Konfiguration, Prozessautomatisierung, Compliance-Management und anpassbare Berichterstattung.  Die Xactly-Plattform ermöglicht es Administratoren, Provisionstilgungspläne in Übereinstimmung mit ASC 606 zu erstellen und Änderungen basierend auf Mitarbeiterstatusänderung, Vertragsanpassung und Kundenabwanderung vorzunehmen. Die Plattform beinhaltet ein Reporting-Dashboard, mit dem Teams Profitabilitäts-Statements, einen Überblick über gruppenweise Einführungen und Vergleiche von Abrechnungsmodellen anzeigen können. Darüber hinaus können Manager das System in bereits bestehende CRIM-, HRIS-, CLM- und CPQ-Systeme integrieren.  Xactly hilft Unternehmen dabei, Provisionsdaten mit Einblicken auf der Kunden-, Produkt- oder Vertragsebene zu pflegen, wodurch die Audit-Bewertung optimiert wird. Die Lösung ist über ein monatliches Abonnement verfügbar und Support wird per Telefon und einen Online-Helpdesk bereitgestellt.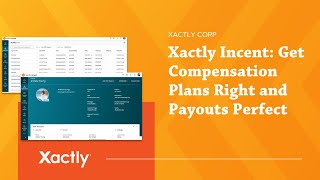 Xactly Incent bietet keine Gratisversion.
Startpreis:
Nicht vom Anbieter bereitgestellt
Kostenlose Testversion:
Nein
Alternativen für Xactly Incent
Xactly Incent Erfahrungen
Branche: Pharmazeutika
Unternehmensgröße: 5 001–10 000 Mitarbeiter

Täglich

für

Mehr als 1 Jahr

genutzt
Quelle der Bewertung
Preis-Leistungs-Verhältnis
4
---
Xactly - The tool which can be handy for day-to-day SPM handling and reporting.
Xactly is among the leading players in the world market for their ease in Incentive Compensation Implementation and reporting. It reduces the time and effort for both the comp administrator and the users with a very minimal but elaborative reporting features. While working with Xactly for the past few years, it has significantly improved its user experience along with the effort required to implement the plans into the system. If you are currently managing your sales incentives via the primitive methods (i.e. excel and other software), you should definitely switch too Xactly to save time and money.
Vorteile
1.) Intuitive Software to deal with the complex of situations
2.) Easy to maintain interface
3.) Value for money if you have a large sales force
4.) Clear insights to sales reps for their sales and payouts
5.) Ver handy mobile application saving lots of time
Nachteile
1.) Use of flash for some of the internal functions which are being updated in 2020
2.) Server response a bit slow
Branche: Telekommunikation
Unternehmensgröße: 1 001–5 000 Mitarbeiter

Täglich

für

Mehr als 2 Jahre

genutzt
Quelle der Bewertung
Preis-Leistungs-Verhältnis
3
---
Good Product
Overall, it has been good. There is a learning curve with this software but once you take all the classes and learn that, it is pretty easy going. It has been nice to have one system for comp and eliminate human error when calculating via excel sheets.
Vorteile
Being able to calculate and house all compensation (variable comp, comp plans) in one system
Nachteile
Responce time - when you need to open a support ticket it can take 24-72 hours to get an answer back.
Branche: Bau
Unternehmensgröße: 51–200 Mitarbeiter

Täglich

für

Mehr als 1 Jahr

genutzt
Quelle der Bewertung
Preis-Leistungs-Verhältnis
2
---
Xactly is the best in the market, but the market deserves better
I originally did my company's commission in excel spreadsheets before we migrated to Xactly. Since then, there have always been errors in people's calculations. Was it worth the money and saved time? Not Really.
I joined a new company and decided to replicate Xactly Express to continually stamp in SFDC. It worked well and didn't have all the diagnosis issues that Incent had.
Vorteile
Commission Calculations - Ability to make changes to plans, quotas, and release documents on the fly. I liked that reps were able to log in and see the breakdown of their payments and see their attainment
Nachteile
Cost, Implementation Time and Fee, Bugs, cannot self diagnose.
Xactly Incent is supposedly the better version and upgrade from Xactly Express. In order to make it work with your organization, you will need to pay an implementation fee. Xactly then flys in trainers to configure your commission plan with their software.
Once they leave, if anything breaks, you'll have to contact Xactly support. From our experience, we realize that their software is like a big black box. If anything goes wrong you keep have to run to them.
They have just purchased a new software to add to their Xactly suite. This makes self diagnosis an set up super easy, but whats the worst part? Well, even though the software connects to SFDC, someone has to log into their standalone product and click REFRESH in order to sync the days commission.
If your company uses daily exchange rates that pipe in from netsuite or other sources into Xactly, make sure that integration is tight, cause Xactly can mess it up.
Branche: Computer-Software
Unternehmensgröße: 1 001–5 000 Mitarbeiter

Wöchentlich

für

Mehr als 2 Jahre

genutzt
Quelle der Bewertung
Preis-Leistungs-Verhältnis
3
---
Xactly has been a great tool for our company to automate our sales commission process.
The automation of the calculation process and the ability for the sales team to review their calculations.
Vorteile
The ability to load in our sales data and have the calculations completed in minutes each month has cut down on the manual time it takes to calculate commissions. The reporting feature that each sales rep has to be able to review their sales for that month and provide questions for corrections allow for the final payments to be accurate and on time.
Nachteile
The setup of a calculation within Xactly does take quite a bit amount of time. There are a number of different plans, rules, tables, etc that you have to setup for the calculation to work and then if you need to make adjustments you have to track back through all of these in order to understand what to change.
Branche: Sicherheit & Untersuchungen
Unternehmensgröße: 201–500 Mitarbeiter

Täglich

für

Mehr als 2 Jahre

genutzt
Quelle der Bewertung
Preis-Leistungs-Verhältnis
5
---
Great commissions engine!
I've been an Xactly administrator for the last 5 years and I love the tool! It was easy to learn the navigation and has been a great fit for our commission needs.
Vorteile
I like the flexibility of setting up commission rules and plans for multiple people with ease.
Nachteile
I would like to see the pre-built pods on the home page contain more flexibility instead of being as "canned".