Über Zoho Sprints
Zoho Sprints ist eine cloudbasierte Produkt-Roadmap-Lösung für Unternehmen jeder Größe. Die Lösung wurde für agile Teams entwickelt und bietet Funktionen wie Nutzerdashboards, Berichterstattung, Scrum-Boards, Timer und Arbeitszeittabellen. Das Tool kann auch über native mobile Apps für Android- und iOS-Geräte abgerufen werden. Zoho Sprints enthält ein Drag-and-Drop-Center, das die Planung durch Aufgabenpriorisierung und das Festlegen von Erinnerungen für jeden Sprint ermöglicht. Das Dashboard bietet Nutzern einen Überblick über wichtige Projektkennzahlen und wöchentliche Projektstatusaktualisierungen. Es können verschiedene Berichte wie Burn-up- und Burn-down-Berichte sowie Geschwindigkeitsdiagramme erstellt werden, um den Fortschritt zu verfolgen und Engpässe zu identifizieren. Arbeitszeittabellen ermöglichen es Nutzern, abrechenbare und nicht abrechenbare Stunden zu verfolgen und die tatsächliche Zeit für alle Arbeiten zu berechnen. Das Scrum-Board ermöglicht die Visualisierung des Arbeitsstatus für jeden Sprint auf der Grundlage seiner Abschlussphase. Die Lösung ist im Rahmen eines Monatsabonnements verfügbar und bietet Support per E-Mail sowie über eine Wissensdatenbank, eine Nutzercommunity und ein Onlinehilfeformular.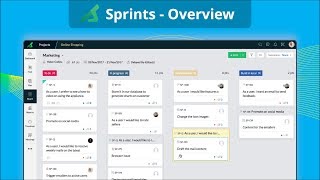 Zoho Sprints bietet eine Gratisversion und eine kostenlose Testversion. Die kostenpflichtige Version von Zoho Sprints ist ab € 1,00/Monat verfügbar.
Kostenlose Testversion:
Ja
Alternativen für Zoho Sprints
Wöchentlich

für

Mehr als 1 Jahr

genutzt
Quelle der Bewertung
Preis-Leistungs-Verhältnis
0
---
it had never been so easy, carry projects!!
Vorteile
pros:
-easy to use
-Fast
-the best communication
My work team regularly applies a set of good practices to work collaboratively, on a team, and to obtain the best possible result of a project.
Zoo has helped me to understand more with my project partners
Nachteile
I would like you to have some type of score with stars, who had a good performance on the project that I worked
Branche: Industrieautomation
Unternehmensgröße: 11–50 Mitarbeiter

Täglich

für

Mehr als 1 Jahr

genutzt
Quelle der Bewertung
Preis-Leistungs-Verhältnis
5
---
My review for zoho sprints
Vorteile
Its time tracking and user point systems
Nachteile
Ui can be better more flat system or material ui
In Betracht gezogene Alternativen
Jira
Warum Zoho Sprints gewählt wurde
its just made for project management and information flow is controlled Notion is very open and confidential information cannot be managed.
Zuvor genutzte Software
Notion
Branche: Informationstechnologie & -dienste
Unternehmensgröße: 11–50 Mitarbeiter

Täglich

für

1-5 Monate

genutzt
Quelle der Bewertung
Preis-Leistungs-Verhältnis
1
---
User Experience is more than slapping together hodge-podge of few screens!! Zoho Sprints...
TWO THUMBS DOWN!! Who is such an idiot that came up with a concept of a "Global View" concept - an Icon that you have to click simply to access your completed sprints/workitems - that too ungrouped dumped in front of you??? Honestly, Zoho - being such a large corporation, I put so much value into your brand when I picked your Sprints. Your CEO should read and try creating and managing one project himself/herself - NOT WATCH A DEMO as a passive audience member - I would be curious to see how many in the senior leadership of this product called Zoho Sprints remain in their job at end of that experience of creating and managing a single project with multiple sprints! How hard can be creation of a user interface that guides user through...
- Creation and management of EPICs, associate work items and sprints, and print meaningful reports for a given EPIC?
- Listing all sprints together - and marking completed/canceled/upcoming/active sprints as such? And allow user to click through and access all of the details of that selected sprint? And allow user to generate a meaningful summary and detailed reports for that sprint?
- Allowing you to generate a project-level report that includes all Epics, Sprints, Work Items reflected in there at summary or detailed level based on who the user is.
Also, I don't think permissions work correctly: I have someone in my team as "Manager" but he can't see any of the completed items in the "Global View", but I can as an Admin??????
Vorteile
Positive First impression is the only positive note I can make on this software. During my free trial, I got carried away with pretty look of this application and charts/dashboards etc., and signed up for a year long Professional contract. BIG MISTAKE!
Nachteile
These developers are like a fresh kids out of some d-School, who have no clue that people need to be able to access their data efficiently at a later point after data was entered into this thing that leads it to ABYSS of no-where land! There are plenty of pretty looking charts that DO NOT ALLOW click-throughs for further details. AND Literally, there are no printable reports in the system - a chart is not a report! And exported Excel spreadsheet with hodge-podge of my data slapped together is not a report either, my friend!
There is literally NO CONSISTENT WAY of creating/accessing your Sprints.
Antwort von

Zoho

We're really sorry to see that our product did not meet your expectations. This is certainly not a situation we want to see our customers in. Thank you for sharing what you went through in great detail. We read your feedback carefully and feel we can address them. Let us take them one by one.

1. Purpose of Global View
All the info we show in the beginning is just a starting point. You can filter, search, and sort within this to drill down to the information you want. The enterprise plan also has a custom-view-tab where you can customise based on one or more criteria. You can then save these custom views you created for quick access later.

2. User interface that guides through Epics module
There is indeed such an interface. Through six different steps, it takes you through all you can do with epics. And it fires up just after you create your first epic. If this is disabled, you can view it any time by clicking the 'help tour' icon at the bottom right bar. The same option is available not just in this module but across the product.

3. List all sprints
We are working on making the sprint counters in the dashboard clickable, which would let you view this. An update we are planning for the custom view should show you the same info here also.

4. Detailed reports
Please check if you've seen all these reports. In the reports module, burn up and burn down are shown by default for sprints. However, this can be changed to show the same info for epics. Additionally, we also have an epic progress report. You can view a sprint level dashboard, by clicking the 'view details' button next to the sprint name on the board module. Custom sprint-wise reports and dashboards are 'work in progress' and we can let you know as soon as they are ready. All our existing reports are, and future reports will be, printable.

5. Project level report of all sub-items
As mentioned in point 1, you can drill down to this by filtering from the global view. And you need not do this everytime - you can save this view to get to it quickly.

6. Manager not able to see all info in global view
The manager is probably looking under the 'My View' tab in the default view. The purpose of this view is to see just his or her own items. The manager can see all items in all the sprints he or she is part of by choosing the appropriate criteria in the custom view.

7. Click through reports
We do provide click throughs wherever applicable. However, some reports aggregate info from several views, so we cannot provide a click through here. In reports that show past activity, again, we cannot provide click throughs as the underlying data may have changed over time. If you feel we have missed a clickthrough where it is possible, do let us know the specific case and we will add it ASAP.

I would like to share that the team that built this product also built Zoho Projects, a project management platform that has been around for over 10 years. They have spent these years developing domain expertise, honing the product and improving everything that adds to the customer experience.

So it follows that the experience you had is something we are determined to change. We would like to speak with you on a call to learn more from you, walk you through these features and do our best to meet your needs. Please get in touch with us by mailing to [email protected].

Beantwortet am 16.4.2019
Branche: Unterhaltung
Unternehmensgröße: 2–10 Mitarbeiter

Täglich

für

Kostenlose Testversion

genutzt
Quelle der Bewertung
Preis-Leistungs-Verhältnis
5
---
Good Project Management Tool
Vorteile
Zoho sprint is good for agile approach best part it's UI
Nachteile
it will be better if it will work like azure devops I can able to use repo and pipline UI in the same platform
Branche: Informationstechnologie & -dienste
Unternehmensgröße: 11–50 Mitarbeiter

Täglich

für

Kostenlose Testversion

genutzt
Quelle der Bewertung
Preis-Leistungs-Verhältnis
4
---
Best way to Replace Jira and Reduce the cost without even missing Jira.
It's a final and total replacement of Jira and that's more than enough for us.
Vorteile
It has everything an agile software development team needs. It coherently works with the onboarding and attendance of employees along with project management, which is a plus. And its less complex and less expensive than Jira, which we previously used.
Nachteile
If they can develop resource management or something of that sort that can provide us at a glance view of who is free in our team even for an hour then that would increase our productivity multifold, not to mention reduce idle time.
Warum Zoho Sprints gewählt wurde
It was difficult to handle multiple systems and the interface of Jira was difficult to use.
Gründe für den Wechsel zu Zoho Sprints
Prices compared to features.