Über Workday HCM
Workday HCM ist eine cloudbasierte Human-Capital-Management-Lösung der Enterprise-Klasse, die alle Vorgänge in den Bereichen Personalverwaltung, Personalbeschaffung, Talentmanagement, Vergütung/Nebenleistungen, Gehaltsabrechnung und Lernmanagement in einer einzigen Plattform zentralisiert.
Wie funktioniert Workday HCM?
Mit Workday können HR-Teams und -Manager neue Teams aufbauen, indem sie qualifizierte Arbeitskräfte über integrierte Talentsuche und Stellenprofile finden. Die integrierte HR-Software ermöglicht Nutzern außerdem die Verwaltung von Freistellungen und Abwesenheiten über eine Self-Service-Mitarbeiterschnittstelle, die Freistellungsanträge und -berichte, Zeiterfassung und Richtlinienautomatisierung umfasst. Nutzer können auch Organisationsstrukturen visualisieren, Voll- und Teilzeitkräfte verwalten, Workflows konfigurieren und durchgängige Geschäftsprozesse definieren.
Wie viel kostet Workday HCM?
Workday gibt keine Preisdetails öffentlich bekannt. Bitte kontaktiere Workday, um Informationen über den Einstiegspreis und verfügbare Pläne oder Stufen zu erhalten.
Wer benutzt Workday HCM?
Workday HCM wird hauptsächlich von CHROs (Chief Human Resources Officers) in mittelständischen bis großen Unternehmen in den Branchen Telekommunikation, Bildung, Finanzdienstleistungen, Gesundheitswesen, Fertigung, gemeinnützige Organisationen, Einzelhandel und Technologie eingesetzt.
Bietet Workday HCM eine App an?
Workday HCM ist als App für iOS- und Android-Geräte verfügbar.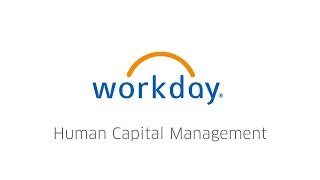 Workday HCM bietet keine Gratisversion und keine kostenlose Testversion.
Startpreis:
Nicht vom Anbieter bereitgestellt
Kostenlose Testversion:
Nein
Alternativen für Workday HCM
Branche: E-Learning
Unternehmensgröße: 11–50 Mitarbeiter

Täglich

für

Mehr als 1 Jahr

genutzt
Quelle der Bewertung
Preis-Leistungs-Verhältnis
5
---
Why Workday HCM is the Future of HR Management
Overall, Workday HCM is a powerful HR management solution that offers a wide range of functionality and integration with other business systems. While there are some challenges associated with using the software, it is an excellent choice for businesses that require a comprehensive HR management tool.
Vorteile
Workday HCM is an enterprise-level human capital management software that provides various HR services. As an admin user of the software, I found several advantages to using it. First and foremost, it offers a user-friendly interface that is easy to navigate. This makes it simple to access and manage HR functions such as payroll, benefits, and performance management. Additionally, the software has strong reporting capabilities, providing access to data on everything from employee demographics to compliance data. Another major advantage of Workday HCM is its integration with other business systems, such as accounting software and time tracking applications. This integration makes it possible to streamline HR processes and reduce the need for manual data entry. The software also has a comprehensive mobile app, allowing users to manage HR functions on the go.
Nachteile
However, there are also some drawbacks to using Workday HCM. One of the biggest concerns is the complexity of the system. While it offers a lot of functionality, it can be overwhelming for new users.
Branche: Bekleidung & Mode
Unternehmensgröße: Selbstständig

Täglich

für

Mehr als 1 Jahr

genutzt
Quelle der Bewertung
Preis-Leistungs-Verhältnis
0
---
As an employee at save-on-foods
Vorteile
I can check my schedule. Also i get the notification if there are any changes in my schedule.
Nachteile
It would be more better if i could contact my manager or my co-workers through this app only.
Branche: Krankenhausversorgung & Gesundheitswesen
Unternehmensgröße: 501–1 000 Mitarbeiter

Täglich

für

Mehr als 2 Jahre

genutzt
Quelle der Bewertung
Preis-Leistungs-Verhältnis
2
---
Half-Baked Cake
I've used the Recruiting module for three years now, I can't help but wonder if the development team has involved an experienced recruiter when developing the module. I honestly don't think that Workday is ready to roll out to the market. If you are the decision maker consider buying this application, you really should include your recruiters' opinions.
Vorteile
The look and layout of the worklets are the only things I can praise about.
Nachteile
The business processes are too disconnected to count. The security level is so high up that a small change requires the product admin. (or whoever has the security level) to configure it at the backend. Pre-screening questionnaires must be pre-defined and pre-populated in the system - you can't adjust the questions according to the requirements of each job at the time of Job Requisition creation. Trying to find a Job Requisition associated with a Position requires the skills of Sherlock Holmes. Recruiter receives many useless notifications and hiring managers receive many emails to a point of hysteria. Workday refreshes itself so frequently that recruiter can never leave their My Recruiting Jobs report on the screen longer than half-an-hour. Moreover, as soon as you click on any link on the My Recruiting Jobs report, any sorting/filtering will be lost. Customizing the columns of the Candidate Grid does not mean you can export it to Excel the same way you've arranged the columns. You can't write comments as you read the resumes in the Candidate Grid - you have to go to individual application and write in the Activity Stream. Hiring managers can't select and move multiple candidates at the Candidate Grid - can only move 1. You can't use simple AND/OR with the filter feature at the Candidate Grid – can only search 1 word. When you search a specific name (i.e., Patel) in the Search Box, it spit out a list of names with no particular order; importantly, no filtering tools.
Branche: Bau
Unternehmensgröße: 10 000+ Mitarbeiter

Monatlich

für

1-5 Monate

genutzt
Quelle der Bewertung
Preis-Leistungs-Verhältnis
5
---
First time Workday user
Overall, as a Finance Lead, it helps me check and manage my teams' individual goals as well as my goals. It helps check their progress and set up a follow up when needed. I think soon, we will fully utilize it.
Vorteile
Workday has been introduced to us in 2021 by our company but we did not get to use it until recently, April 2023. I think they are working on some mapping, hence the delay. We started using the Workday for our Employee Performance Management and I can say first-hand that it is easy to use. At first, during our training, we thought it's a bit complicated but doing in actually is not. Can easily input goals and track progress.
Nachteile
So far, none because we are just starting to use it.
Branche: Finanzdienstleistungen
Unternehmensgröße: 5 001–10 000 Mitarbeiter

Wöchentlich

für

Mehr als 1 Jahr

genutzt
Quelle der Bewertung
Preis-Leistungs-Verhältnis
0
---
Workday HCM Review - Marketing exec from financial service industry
Overall I am very happy with Workday, very easy to use and efficient to book leaves.
Vorteile
I like Workday's very simple visualization. It allows us to easily look at your holiday / leave plans, any upcoming bank holiday / events, and make any changes if needed very easily.
Nachteile
It is a little bit difficult to check the remaining days of your leave as it shows the remaining as of that day you are selecting rather than your total remaining. However, this can be easily navigated once you get used to it and know that it doesn't show the total holiday allowance.