Über Birdview PSA
Birdview PSA bringt Teams durch erhöhte Transparenz und eine zentrale Informationsquelle für Projekte, Ressourcen und Finanzen zusammen. Birdview bietet Dienstleistungsunternehmen ein umfassendes Toolset für die Verwaltung und Ausführung von Projekten, die Ressourcenoptimierung und die Projektbuchhaltung. Dashboards und Business-Intelligence-Berichterstattung ermöglichen es Teams, auf Erkenntnissen gestützte Entscheidungen zu treffen und Prozesse für eine höhere Produktivität und Rentabilität zu optimieren. Birdview PSA lässt sich in Tausende von Anwendungen integrieren, darunter: CRMs, Buchhaltungssoftware, Ticketingsysteme, E-Mail-Clients, ERPs (Enterprise Resource Planning) und vieles mehr. Mit dem schnellen Implementierungsprozess und der einfach zu bedienenden Oberfläche von Birdview PSA sind Unternehmen schneller auf dem Laufenden und profitieren schneller von den Vorteilen.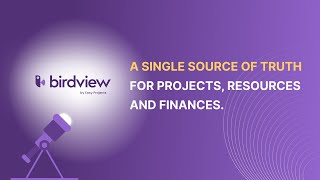 Birdview PSA bietet eine kostenlose Testversion. Die kostenpflichtige Version von Birdview PSA ist ab $ 13,50/einmalig verfügbar.
Alternativen für Birdview PSA
Branche: Hochschulbildung
Unternehmensgröße: 501–1 000 Mitarbeiter

Täglich

für

6-12 Monate

genutzt
Quelle der Bewertung
Preis-Leistungs-Verhältnis
5
---
Easy Projects has proven to be a great way to bring all of the assets of a project together.
All conversations, assets and proofing is done in one easily accessible place. We can more easily assign team members, switch designers working on a project and freelance projects to outside designers.
Vorteile
1. It's easily tweakable to fit our workflow.
2. We've had great, responsive customer service.
3. There's auto notifications to keep projects on track that can be set up according to the licensed user's preferences.
4. We can finally keep all conversations about projects in one place and they are archived to be reinitiated in the same way the next year.
5. It fit the budget well. It wasn't the most expensive nor the cheapest but had all of the options we were looking for in an online project management system-online proofing, forms that convert to projects, tweakable workflow, ability to have free guest users and automatic notifications.
Nachteile
1. The guest user experience isn't as strong.
2. We'd like to tweak the notifications for guest users per project but can't. There is a universal notification for all guest users that works well. Sometimes bugs the guest user too much though.
3. If 2 people are on a task and one clicks that they're done, they will still get notifications until the other person clicks done. It would be great if the notifications could stop for the person that completed their portion of the task once they click that they're done.
4. I really liked the Outlook integration option but wish it was available for Mac users. Over 50% of our office is on a Mac.
Branche: Bankwesen
Unternehmensgröße: 1 001–5 000 Mitarbeiter

Täglich

für

Mehr als 1 Jahr

genutzt
Quelle der Bewertung
Preis-Leistungs-Verhältnis
0
---
Very efffective & useful, aside from search functions
The accountability of each person on the projects has significantly improved for my job functions. I found that it is easier to keep track of tasks/projects without spending too much time hunting them down. You can see what tasks you're waiting on.
Vorteile
I like how easy it is to jump between projects and tasks. I also like how the tasks are set up under each project, showing you any dependencies you may need to keep in mind. I rarely use the gant view to see timelines, but I like the idea of it being there.
Nachteile
The user experience could use some improving. It would be nice to see some more details on the projects that applies specifically to your department or business. I would also like to see a better messaging interface.
It is also frustrating to try and find past projects that have been worked on-
Often times I will search a project by the number its titled, and it never shows up in the search function.
The searching for projects is the most frustrating part of the software.
Branche: Marketing & Werbung
Unternehmensgröße: 10 000+ Mitarbeiter

Wöchentlich

für

Mehr als 2 Jahre

genutzt
Quelle der Bewertung
Preis-Leistungs-Verhältnis
0
---
I use the system to request design and development of creative assets and materials.
Vorteile
Organized manner to assign and keep track of work development. Good record of projects, resources and timing. Good theory for integrated collaborative vehicle. Need to promote mobile app (I need to take time to see how I might use this) and encourage clients on best practices for mobile usage.
Nachteile
I don't use it enough and the way we use it internally rquires access to our server for design files instead of providing files in easy projects. This isn't convenient - particularly since many of us are mobile/on the go and not at a PC. I also can never easily find stuff in there without searching for it. Would be great if there was an automated dashboard and user home screen that was personalized according to usage.
Branche: Computer- & Netzwerksicherheit
Unternehmensgröße: 2–10 Mitarbeiter

Täglich

für

Mehr als 1 Jahr

genutzt
Quelle der Bewertung
Preis-Leistungs-Verhältnis
5
---
Best and recommended Software for Project management
It's been an amazing experience using Easy Projects..it has helped me to create projects and finish them up in real time and least time i could ever imagine
Vorteile
Easy Projects has alot of Amazing stuffs in it in that..it has great project templates for customization which can help for fast development of projects and also has an amazing user interface which is simple and easy to go along with
Nachteile
Using Easy Projects has been a great experience.i haven't really come across anything which is unlikely to be negative about It
Branche: Computer-Software
Unternehmensgröße: 11–50 Mitarbeiter

Täglich

für

6-12 Monate

genutzt
Quelle der Bewertung
Preis-Leistungs-Verhältnis
4
---
Great Software, really turns Project Plans into live, interactive tools.
Increased Productivity and better full Project Management from my PM's. Raised awareness for Clients on Project Progress via the Email Notifications. It just needs to offer the Guest User the full Project and Gantt view as seen in the Activity center and this tool is unbeatable!
Vorteile
The configurability and what is offered to the PM in functionality use. The Notifications are also great. The whole tool really offer exceled value for a PM. If the Project Plan and Gantt view as the PM sees it in the Activity Center could be offered to the Guest Users as well in a View Mode this would become the Ultimate PM tool, there just isn't another like it!
Nachteile
The look and feel of the Reporting as it is not that presentable for Clients. And Particularly that you can't offer the same amazing Project and Gantt view that the PM gets to the client. The Guest license is a fantastic idea for the clients but it would be revolutionary if you can add a full "View" of the project and Gantt, exactly as the PM sees it in the Activity Center. this view is the most valuable with a client but unfortunately it is only available to the PM.