Über Kinetic
Kinetic (der neue Name von Epicor ERP) ist eine Cloud-ERP-Lösung (Enterprise Resource Planning), die mit Fertigungsunternehmen für Fertigungsunternehmen entwickelt wurde. Epicor bietet eine Cloud-ERP-Plattform mit Bereitstellungsflexibilität (Cloud, on premise, hybrid), die Fertigungsunternehmen robuste Funktionen für Auftragskalkulation, Lieferkette, Bestandskontrolle, Vorproduktionsmaterialplanung und ein MES (Manufacturing Execution System) bietet und sie so bei profitablen Entscheidungen in der Fertigungsumgebung unterstützt. Kinetic unterstützt diskrete Fertigungsunternehmen mit einem Jahresumsatz von mehr als einer Million US-Dollar. Unternehmen mit präziseren Anforderungen und Bedarf nach Anpassung können sich für die zusätzlichen Module des Systems entscheiden, um Lieferkettenmanagement, Finanzmanagement, PLM (Product Lifecycle Management), BPM (Business Performance Management), CRM, HCM (Human Capital Management) oder PM (Projektmanagement) zu erhalten. Diese Epicor-Lösung kann an einem einzigen Standort oder an verschiedenen Standorten multinationaler Unternehmen bereitgestellt werden.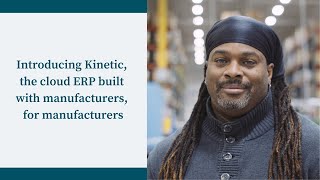 Kinetic bietet keine Gratisversion.
Startpreis:
Nicht vom Anbieter bereitgestellt
Kostenlose Testversion:
Nein
Branche: Informationstechnologie & -dienste
Unternehmensgröße: 51–200 Mitarbeiter

Monatlich

für

6-12 Monate

genutzt
Quelle der Bewertung
Preis-Leistungs-Verhältnis
4
---
Manage your data with all-in-one tools.
I intuitively improve our own services with a large proportion of work, according to acquisitions, general accounting of our business establishment, forecasts of each product made for loyal and powerful customers, who are interested and in the production that we carry out daily, highlighting before this software, we used multiple databases with a particular platform, which caused us many constant delays and serious administrative problems, that Epicor ERP, solved these problems on a large scale, causing satisfaction, thanks to its integrated functions.
Vorteile
Epicor ERP has incredible functionality for supply chain management, which is acquired by an entire organization, in order to maintain proper control, to classify appropriate use, that is, to know precisely where these will be used digital products, in the different departments that we acquire in executive disposition, mentioning that it allows us to modify their visual aspects, to establish them in our most conducive environment, being one of the tools that most attracts my attention, as it is one of the ones that I use for adequate familiarization, when executing the pending work to be done.
Nachteile
It is important to note that many of the functions that most companies use must be added by users, which allows the process at work to be slower and delays the qualities in productivity, being a significant problem, since these working parts must be integrated. by the same software, for a majority management in the performance and profitability of the time, which requires an update in these sectors of the system.
Antwort von

Epicor Software

Hello Isabella, thank you for your feedback about Epicor ERP. We're glad to hear the integration functionality is working well for you and simplifying how you work. Your feedback is invaluable. Please email us at [email protected] to share additional comments and learn about our customer reference program.

Beantwortet am 18.11.2020
Branche: Möbel
Unternehmensgröße: 51–200 Mitarbeiter

Täglich

für

Mehr als 2 Jahre

genutzt
Quelle der Bewertung
Preis-Leistungs-Verhältnis
5
---
ERP for Medium-sized manufacturers
Epicor ERP is the lifeblood of our company. It has all the transactional records and ensures items are produced, delivered, and invoiced efficiently.
Requires a large up-front investment of time and energy to get set up, but once it has gone LIVE, you won't be able to imagine running your business without it.
Vorteile
Epicor ERP is an all-in-one solution for medium-sized manufacturers. It covers everything needed and has lots of optional modules.
We use it for:
Quoting
Orders
Jobs/BOMs
Product Configurator
Dashboards
Reports
Purchasing
Inventory
Production
AP & AR invoicing
The Epicor team has worked hard to improve the software over the years, and it is now 100% Microsoft Stack. The SQL database can be queried from within the software using reports and dashboards, or externally using Business Intelligence software such as Power BI or Tableau.
The price point is better compared to some of its larger competitors in the ERP space. If you have less than 200 users, Epicor will be a much more cost-effective ERP than the ERP leaders.
The opportunities for customisation and personalisation are very high.
Nachteile
Earlier versions of Epicor ERP were slow and clunky, but the new version is really fast. Also, you need experts to help you implement the software, and a dedicated team to maintain it.
This is not an "out of the box" solution. It requires you to map your business processes and then implement the software carefully to suit the way your business works. You can customise almost anything you want in the system, but greater customisation brings with it added complexity and possible issues when upgrading point releases and versions.
Branche: Landwirtschaft
Unternehmensgröße: 11–50 Mitarbeiter

Täglich

für

Mehr als 1 Jahr

genutzt
Quelle der Bewertung
Preis-Leistungs-Verhältnis
1
---
Do not buy this program!!!!!
My company thought we were moving up in the world. Our last system only did half what we needed and had a lot of bugs, but it was cheap. The sales team at Epicor really sold us on what this will do, told me I would not spend nearly as much time in the office and could be out running my company more. HA! I spend 3 times as much time in the office and still can't work this program half the time despite months of expensive training. And this program doesn't do half what the sales team said. We used to have hand written invoices we manually entered into QuickBooks. I would take that again over Epicor in a heartbeat. I don't even want my money back. I just want to convince my business partners to ditch this mistake! I wish I read more reviews. I have never reviewed ANYTHING online before but I had to for this.
Vorteile
Written for hardware stores.
Sales people really do their job well.
Nachteile
I am not a hardware store. This program is a nightmare. If you make a mistake be prepared to spend hours fixing it. Epicor's own help pages have fixes that do not exist in the program. This program has been overwritten so many times it makes no sense to use. Not at all intuitive. Incredibly expensive monthly support for absolute garbage!
Branche: Elektrische/elektronische Fertigung
Unternehmensgröße: 51–200 Mitarbeiter

Täglich

für

Mehr als 2 Jahre

genutzt
Quelle der Bewertung
Preis-Leistungs-Verhältnis
4
---
Epicor ERP
Vast improvements in improving business speed and communication between different business units. User interface easily allows jumping to other areas quickly to enable improved speed in business decisions and customer service.
Vorteile
Very flexible and powerful user interface. Software modules have extensive flexible options to tailor the configuration to work as desired. Most modules very integrated, allowing powerful user capability. User personalization is powerful and easy to administer.
Nachteile
Customization is often too complex. Need C# programmer and still can be complicated. In V9 to V10 customization languages changed which required rewrite of previous customizations. This is very costly rather than tools being available to effectively migrate existing customizations. Upgrades of software modules is too complex and is being worked on to improve and focus more on ease, allowing companies to keep on the current release without seeming like a new implementation. More work than it should be. Several modules are included for improving requirements and are very weak. Example: Integration to Salesforce.
Branche: Maschinenbau oder Wirtschaftsingenieurwesen
Unternehmensgröße: 51–200 Mitarbeiter

Täglich

für

Mehr als 2 Jahre

genutzt
Quelle der Bewertung
Preis-Leistungs-Verhältnis
4
---
We use Epicor to run our whole business.
The customizability of this software is the key advantage for this compared to other ERP systems. They approach the company has is "we can't make it perfect for everyone, so we will let you make the changes you need for you".
Vorteile
We like that it's incredibly flexible. Epicor has put a lot of work into tools to help customize the product. Each tool has a different level of complexity, and some take more knowledge than others to use, but it will get as advanced as your skill set.
Nachteile
Out of the box it's fairly clunky to use. One record at a time is usually how things are done. That makes initial acceptance from users a bit of a challenge. But if you have users that are creative and can convey what they want, you usually can find a way to make things easier for them. If they just whine, not so much.