Über SendPulse
SendPulse ist eine cloudbasierte Marketinglösung, mit der Nutzer E-Mails, Textnachrichten und Push-Benachrichtigungen über eine einzige Plattform verwalten können. Die Lösung eignet sich für kleine und mittelgroße Unternehmen. Mit den E-Mail-Funktionen von SendPulse können Nutzer E-Mails mit einem Drag-and-Drop-Editor und vorgefertigten Vorlagen einrichten. Nutzer können die Leistung ihrer E-Mail-Kampagnen mit A/B-Testtools überprüfen. SendPulse bietet auch E-Mail-Server mit bekannten IP-Adressen, um die E-Mail-Zustellung sicherzustellen. Mithilfe der Push-Benachrichtigungsfunktion von SendPulse können Nutzer sofortige und personalisierte Benachrichtigungen an Kundengeräte senden. Mit dem SMS-Dienst von SendPulse können Nutzer Nachrichten in mehr als 200 Länder senden. Der Messaging-Dienst kann Texte automatisch basierend auf einem nutzerdefinierten Zeitplan senden. Mithilfe von Vorhersage-Analysetools kannst du bestimmen, wann Kunden Nachrichten gesendet werden sollen. Support wird über eine Online-Wissensdatenbank, über das Telefon und per E-Mail bereitgestellt. SendPulse ist als monatliches Abonnement verfügbar oder zum Pay-as-you-go-Preis.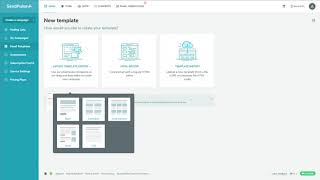 SendPulse bietet eine Gratisversion und eine kostenlose Testversion. Die kostenpflichtige Version von SendPulse ist ab € 7,00/Monat verfügbar.
Alternativen für SendPulse
Weitere

für

Mehr als 1 Jahr

genutzt
Quelle der Bewertung
Preis-Leistungs-Verhältnis
4
---
SendPulse fits our needs for bulk mailing to our many thousands of readers of our magazine.
The ability to send thousands of emails in one go. It helps manage campaigns to all our subscribers readers.
We also get to use it to send messages to select smaller subgroups of our readers and subscribers or even our advertisers (in some cases).
Vorteile
The User Interface UI is fairly neat and tidy. The buttons and controls are fairly easy to figure out even without a walkthrough or guide.
The software allows you to send a huge number of emails (to clean email addresses) with ease.
They maintain a high level of integrity with regard to not sending spam (to protect themselves and yourself).
Their support staff are polite and pretty prompt in dealing with queries and complaints. They tend to offer solutions where possible.
(For example, we had a mailing list that we had built over several years which had older addresses which had lapsed and expired and changed. When we tried to launch a campaign to those addresses many bounced back and they shut down the campaign midway. Initially, we were disappointed and irritated but after getting to chat with the support team we were offered good advice on cleaning our list. )
Nachteile
It would be good to have an email cleaner built into the software rather than having to use an external service.
I hate to pay for anything but sometimes you have to. In the case of SendPulse i got a good deal on a special and am happy with the price i pay. Those using the software can control their budget and choose packages that suit their pocket but be aware that there are cos
Branche: Marketing & Werbung
Unternehmensgröße: Selbstständig

Täglich

für

Mehr als 1 Jahr

genutzt
Quelle der Bewertung
Preis-Leistungs-Verhältnis
5
---
Best newsletter service
I have switched over to SendPulse about a year ago or so. Before I was using another software doing similar functions. I never regretted the switch and have switch or newly signed up my customers to it too. I highly recommend.
Vorteile
This is one of the easiest software to use from all the newsletter software I have been using in the past. This is also one of the cheapest.
Nachteile
There are a few parts which needs a bit more polishing. The newsletter building part could be more user friendly.
Warum SendPulse gewählt wurde
Mailchimp became much more expensive and also harder to use.
Gründe für den Wechsel zu SendPulse
Faster customer support.
Branche: Computer-Software
Unternehmensgröße: 11–50 Mitarbeiter

Täglich

für

1-5 Monate

genutzt
Quelle der Bewertung
Preis-Leistungs-Verhältnis
1
---
CAUTION! Worst customer service in the industry
I've been working with email marketing platforms for over 15 years and by far, SendPulse is the worst customer service I've ever experienced. For almost 2 weeks I have been trying to solve a problem that is preventing me from sending emails and they are not making the slightest effort to understand and solve it. The service is grumpy and extremely slow, totally below the level of competitors I've used before.
I bitterly regret having chosen this company and I just haven't changed it yet because the automations were too much work to set up.
Vorteile
- it'scheap
- nothing else to praise so far
Nachteile
- slow software
- slow customer service (if any)
- they moderate the emails manually, which can slow down the process a lot, and they don't have a criterion (I had emails approved that were later disapproved, with no difference between them)
Warum SendPulse gewählt wurde
lower price
Gründe für den Wechsel zu SendPulse
lower price
Branche: Computer-Software
Unternehmensgröße: Selbstständig

Wöchentlich

für

Mehr als 1 Jahr

genutzt
Quelle der Bewertung
Preis-Leistungs-Verhältnis
3
---
Send Pulse: Email Marketing made easy
I really like the app and it got me by for quite some time. There is no drag and drop builder like most never platforms so I've already moved on to a new product.
Vorteile
I really liked using Send Pulse for my email marketing. They have a generous free tier so you can easily get started and use it for quite sometime before having to pay for it. The HTML editor is good and I can easily create custom templates and it is easy to add an unsubscribe button. The product has great domain options to brand your emails, easy to hookup your domains, and manage your email templates.
Nachteile
I am not to happy about the transactional mail services requiring a double opt-in to get approved. Sometimes informational emails are sent when you signup for services. They couldn't approve it even though it's assumed the opt-in is when you signup for an account and check a box to opt-in. Other services like mail gun allow you to have a single opt-in then automatic opt-out system. It's way easier and I would use another product for transactional emails.
Branche: Marketing & Werbung
Unternehmensgröße: 201–500 Mitarbeiter

Wöchentlich

für

Mehr als 1 Jahr

genutzt
Quelle der Bewertung
Preis-Leistungs-Verhältnis
5
---
SENDPULSE REVIEW
IT IS GOOD AND I WILL START USING MY OWN NEW DOMAIN AND I WILL START PAYING A PLAN FROM YOU GUYS EVERY WEEK
I HAD REFERRED YOUR COMPANY TO OVER 300 NEW USERS FOR THE LAST 2 YEARS
Vorteile
IT IS USER FRIENDLY AND FAST AND YOUR CUSTOMER SERVICE IS GOOD AND THEY ANSWER FAST WITH A GOOD HELP ALWAYS...
I LIKE YOUR SYSTEM BECAUSE YOU ARE NOT PUTTING TOO ISSUES IN ORDER TO SEND E-MAILS AS THE OTHER COMPANIES
Nachteile
WELL WHEN I PUT ALL MY CONTACTS FROM MY LIST
YOU ALWAYS BLOCK MANY OF THEM AND YOU PUT IT AS ERROR
BUT ALL OF MY CONTACTS THEY SUBSDRIBED IN OUR WEBSITE AND THEY ARE INTERESTED ON GEETING OUR E-MAILS
Warum SendPulse gewählt wurde
THEY PUT TOO MANY ISSUES WHEN SENDING E-MAILS AND TOO MANY PROBLEMS WITH THE SPAM THING
Gründe für den Wechsel zu SendPulse
IT IS FASTER AND EASIER AND YOUR CUSTOMER SERVICE HELPS VERY SOON AND YOUR CUSTOMER SERVICE REALLY UNDERSTAND AND HELP US WHEN WE NEED IT