Über BambooHR
BambooHR bietet kleinen und wachsenden Unternehmen ein HRIS (Human Resource Information System), das ein Bewerber-Trackingsystem, Zeiterfassung, Gehaltsabrechnung, Tools für Mitarbeiterengagement und Mitarbeiterzufriedenheit, automatisierte Erinnerungen und Personaldatenanalysen umfasst, um alle Aspekte des Mitarbeiterlebenszyklus zu verwalten. Mit BambooHR kann jedes Personalteam oder jede Personalabteilung den Einstellungsprozess verbessern, neue Angestellte einarbeiten, die Vergütung verwalten, die Daten von Angestellten pflegen und analysieren und die Unternehmenskultur weiterentwickeln. Mit einem integrierten Bewerber-Trackingsystem und Onboarding-Tools rationalisiert BambooHR den gesamten Rekrutierungsprozess von der Bewerbung bis zur Einweisung am ersten Tag. Die Lösung bietet auch Anpassungsdienste, mehrere Administratorrollen, Nutzerunterstützung und Management für inaktive Mitarbeitende. BambooHR ist im Rahmen eines Abonnements verfügbar, dessen Preis von der Anzahl der Mitarbeitenden abhängt und eine einmalige Einrichtungsgebühr umfasst.
Was ist BambooHR?
BambooHR ist eine All-in-one-HR-Lösung, die ein integriertes HRIS zur Optimierung von HR-Datenerfassung, Onboarding, Einstellung, Gehaltsabrechnung und Mitarbeitermanagementprozessen bietet.
Wie wird BambooHR verwendet?
Mit BambooHR können HR-Führungskräfte alle Mitarbeiterinformationen an einem zentralen Ort speichern und Personaldaten mithilfe integrierter Berichterstattungs- und Bearbeitungstools verwalten. Mit dem integrierten Bewerber-Trackingsystem von Bamboo verfolgen Nutzer Einstellungsbewertungen für alle sich bewerbenden Personen, senden in jeder Phase des Prozesses Benachrichtigungen an diese und arbeiten bei Einstellungsentscheidungen mit anderen zusammen. Nutzer können zudem Arbeitszeiten, Urlaubsanträge und bezahlten Urlaub erfassen und nachverfolgen, um eine korrekte Gehaltsabrechnung für alle Mitarbeitenden zu gewährleisten.
Wer verwendet BambooHR?
BambooHR wird hauptsächlich von HR-Führungskräften, Rekrutierungsteams und Geschäftsführern in kleinen und mittelständischen Unternehmen eingesetzt.
Wie viel kostet BambooHR?
BambooHR gibt keine Preisdetails öffentlich bekannt. Kontaktiere BambooHR, um Informationen über den Einstiegspreis und verfügbare Pläne oder Stufen zu erhalten.
Verfügt BambooHR über eine App?
Für die mobile Rekrutierung und Einstellung bietet BambooHR eine mobile App für iOS- und Android-Geräte.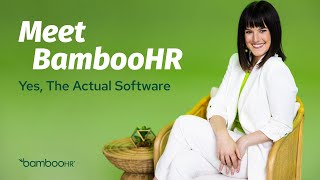 BambooHR bietet keine Gratisversion, aber eine kostenlose Testversion.
Startpreis:
Nicht vom Anbieter bereitgestellt
Kostenlose Testversion:
Ja
Alternativen für BambooHR
Branche: Einzelhandel
Unternehmensgröße: 51–200 Mitarbeiter

Täglich

für

Mehr als 1 Jahr

genutzt
Quelle der Bewertung
Preis-Leistungs-Verhältnis
5
---
Easy to Use HRIS
I love Bamboo! Very happy with it, and excited to see what the future holds.
Vorteile
The product is very easy to use. The customer support is incredible. The system is aesthetically pleasing. Bamboo listens to feedback and is always updating and releasing new features based on customer feedback.
Nachteile
Some features are not the most robust. Time tracking and reporting specifically. Bamboo does not have built-in scheduling. The employee notes feature could be more like applicant notes (replies, attachments, email notifications).
Gründe für den Wechsel zu BambooHR
Ease of use, better customer support, better features.
Branche: Gesundheit, Wellness & Fitness
Unternehmensgröße: 51–200 Mitarbeiter

Täglich

für

Mehr als 2 Jahre

genutzt
Quelle der Bewertung
Preis-Leistungs-Verhältnis
3
---
Bamboo HR, a slick but severely limited recruiting software
As stated, the BHR system is a recruiters dream and makes the talent acquisition process easier for those businesses that are only using the job boards to get applicants. Just don't expect much more after that.
Vorteile
The look an feel of BambooHR (BHR) is amazing! Its almost like Facebook for recruiting. It is very intuitive for what it does and offers to the administrator and end user. The applicant tracking system is very easy to use and goes the extra mile with automation and thoughtfulness concerning on-boarding and then " flowing" into the core HRIS. The BHR system was chosen by a previous HR professional that clearly had a recruiting bias. Although important, more vetting should have been done to make a sound choice for long term success regarding the needs of a small to mid-size business.
Nachteile
Beyond what I described above there is limited functionality without also purchasing and integrating other systems through a "bolt-on" approach. By "Bolt-on" I mean that BHR will not automate between the core HR system of BHR and a timekeeping system, a payroll system, benefits administration system, leave administration system. The ability to have a robust system is possible but is not practical or cost effective with BambooHR. In order to get a full platform, covering the full life cycle of and employee, through BHR, a business would have to pay upwards of 30-40 dollars per employee per month. Simply put other options are available and far more robust with better long term results for less money- See my review of APS Payroll for an example.
Gründe für den Wechsel zu BambooHR
Price and lack of proper education as to the actual functionality and potential cost of the system beyond on-boarding.
Branche: Verbraucherdienste
Unternehmensgröße: Selbstständig

Täglich

für

6-12 Monate

genutzt
Quelle der Bewertung
Preis-Leistungs-Verhältnis
5
---
As businesses grow, they often find themselves requiring more HR functionality.
User reviews and testimonials are an important aspect of any software solution, and BambooHR is no exception. Reading reviews and testimonials helps you understand the actual user experience of the software, highlighting the strengths and weaknesses of the product.BambooHR has a strong reputation for its user-friendly interface, which is reflected in the positive reviews left by users. Many users praise the software's ease of use, saying that they were able to get up and running with BambooHR quickly and easily. Others appreciate the software's flexibility, which allows them to customize the system to fit their specific needs.Another common theme that emerges from user reviews is BambooHR's top-notch customer support. Many users praise the support team's responsiveness and willingness to go above and beyond to solve any issues that arise.Of course, no software is perfect, and BambooHR does have its fair share of negative reviews. Some users report experiencing bugs or glitches within the system, while others find the reporting features to be lacking. However, these negative reviews are generally outweighed by the positive ones, and BambooHR's overall user rating remains high.In addition to user reviews, it's also worth noting that BambooHR has received several industry awards and recognitions. For example, the software was named a "Leader" in the G2 Grid for HR Management Suites in 2021, and a "High Performer" in the same category in 2020.
Vorteile
BambooHR is a great online HR software that allows for quick and easy employee management. It has many features that make it a great choice for small businesses. Here are the top five features of BambooHR that make it a top choice for small businesses.1. BambooHR is easy to use.2. It is affordable.3. It has a wide range of features.4. It is secure.5. It is adaptable.BambooHR is a great HR software that offers many features to its users. In this article, we will take a look at the most and least important features of bamboo.The most important features of bamboo are its ability to manage employee records, its ability to connect to various systems, and its ability to generate reports.The least important features of bamboo HR are its ability to integrate with other HR software, its lack of a digital signature feature, and its inability to export data.
Nachteile
Most bamboo HR features are designed to make your job easier. Whether it's the ability to access your information from any device, the ability to share documents easily, or just the sheer convenience of being able to access your information from anywhere.One of the least bamboo HR features is the fact that bamboo HR doesn't allow for remote access. While this may not be an issue for some, for others it could be a life-or-death situation. If you are ever out of the office or unable to log in for some reason, you may be out of luck.One of the most bamboo HR features is the fact that bamboo HR is completely secure. Whether you are working on the go or at your desk, your information is always safe and secure.BambooHR offers many features that are useful for employers and employees. However, not all features are universally useful, so it is important to understand what features are most important to you before signing up for BambooHR.BambooHR offers a variety of features that are helpful for employers and employees. Here are the top three features that are most important to employers:1. Employee Management: This feature allows employers to manage employee records, including wages, benefits, and leave information.2. Employee Communications: This feature allows employers to send messages to employees and track their replies.3. Time Tracking: This feature allows employers to track the time employees spend working on specific tasks.
Branche: Restaurants
Unternehmensgröße: 201–500 Mitarbeiter

Wöchentlich

für

Mehr als 2 Jahre

genutzt
Quelle der Bewertung
Preis-Leistungs-Verhältnis
0
---
Great tool of you're an company that doesn't have any visibility into the org
Vorteile
- easy tool to navigate- easy tool to get a sense of the scale of the organization and reporting lines
Nachteile
- difficult tool to use to understand headcount movements- difficult tool to understand promotions- difficult tool to consolidate relevant information in one central location (docusigns, signing offers etc)
Branche: Eventservice
Unternehmensgröße: 51–200 Mitarbeiter

Täglich

für

Mehr als 1 Jahr

genutzt
Quelle der Bewertung
Preis-Leistungs-Verhältnis
5
---
BambooHR makes our work easier!
I overall loved the whole experience, from the introduction, sales/acquisition of the software, to the onboarding and data transfer. The Salesperson and Project Manager of our account made us feel decided about Bamboo from the very first approach. We feel candidate onboarding and administration of our personnel in the Company has become much more manageable.
Vorteile
What I like the most about Bamboo is that tracking PTO, benefits, and celebrations is much easier compared to other software we've used before. This unique "social network" design has made it user-friendly for our employees regardless of their age.
Nachteile
What I didn't love is that we couldn't find integration with LinkedIn for job postings. We had to use LinkedIn externally for recruiting.
In Betracht gezogene Alternativen
Lattice
Warum BambooHR gewählt wurde
We needed a more accurate / visible PTO tracking.
Gründe für den Wechsel zu BambooHR
Price, features