Über Jolt
Jolt ist eine von Intuiplan bereitgestellte HR-Plattform. Das System ist skalierbar und für Unternehmen unterschiedlicher Größe geeignet. Unternehmen in der Lebensmittel- und Getränkeindustrie, im Gastgewerbe und Einzelhandel sowie Reisebüros und andere Unternehmen können das Programm nutzen und anpassen, um ihre Anforderungen zu erfüllen. Zu den Kernfunktionen gehören Personalverfolgung, Audit-, Ziel- und Lernmanagement, Leistungsüberprüfung, Zeit- und Anwesenheitserfassung sowie Mitarbeitereinsatzplanung, die in einer integrierten Suite angeboten werden. Mitarbeitereinsatzplanung sowie Zeit und Anwesenheit können auch als eigenständige Anwendungen erworben werden. Nutzer haben auch Zugriff auf eine Checkliste mit täglichen Aufgaben, die Angestellte während ihrer Schicht erledigen müssen. Für das Management können Inspektionsformulare erstellt werden, um Standards zu überprüfen. Schulungsinformationen, Mitarbeiterankündigungen und HR-Probleme können auch über Jolt verwaltet werden. Jolt ist browserunabhängig und kann auch auf private Server heruntergeladen werden. Auf die Software kann über mobile Geräte und Desktop-PCs zugegriffen werden, um einzelne oder mehrere Geschäftsstandorte zu verwalten.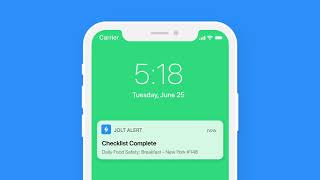 Jolt bietet keine Gratisversion.
Startpreis:
Nicht vom Anbieter bereitgestellt
Kostenlose Testversion:
Nein
Täglich

für

Mehr als 2 Jahre

genutzt
Quelle der Bewertung
Preis-Leistungs-Verhältnis
5
---
Jolt transforms our workforce into an efficient well-oiled, agile machine
Massive operational efficiency.
Vorteile
Jolt has given us visibility into our day-to-day operations. It allows us to see where we exceed and where we fall short. Jolt provides the mechanism for operational efficiencies which can't be achieved with paper checklists. We love that we can organize every day in advance and ensure we're in compliance with food safety practices using checklists, food labels, and temperature probes. Jolt is our future manual for franchisees to perform their day-to-day operations.
Nachteile
Bluetooth label printers don't always connect but this is more of a hardware issue than Jolt's issue.
Branche: Krankenhausversorgung & Gesundheitswesen
Unternehmensgröße: 11–50 Mitarbeiter

Täglich

für

1-5 Monate

genutzt
Quelle der Bewertung
Preis-Leistungs-Verhältnis
5
---
Pretty good for the cost.
Overall, I am happy with the experience. There are some options that I would like to have added, but it is saving me some time.
Vorteile
The cost and the function that allows team members to edit their own punches. Huge time saver for me.
Nachteile
I would like to see integration of Paid Time Off / Vacation hours. We have a set schedule in our clinic, so the scheduling function is a little cumbersome. I understand this approach for restaurants or other types of businesses, but the ability to track / enter Paid time off would be very helpful. I also would like the report option to be different. I would like a report that gave daily, weekly and pay period totals per employee. I have to manually adjust the excel sheet to figure overtime hours.
Branche: E-Learning
Unternehmensgröße: 1 001–5 000 Mitarbeiter

Wöchentlich

für

6-12 Monate

genutzt
Quelle der Bewertung
Preis-Leistungs-Verhältnis
4
---
Streamline Your Workflows and Boost Productivity
Overall, using Jolt can be a positive experience for businesses looking to streamline their work processes and boost productivity. The platform's easy-to-use interface, improved collaboration and communication features, and customizable templates can help teams save time and achieve better results. However, like any technology solution, Jolt may have a learning curve for some users and may not be suitable for businesses with complex or specialized project management needs. Before investing in Jolt, it's important to thoroughly evaluate the benefits and drawbacks to ensure that it meets your specific requirements and expectations.
Vorteile
Jolt offers several benefits to businesses looking to streamline their work processes and boost productivity. Some of the key advantages of using Jolt include: Easy to use and intuitive interfaceImproved collaboration and communication between team membersReal-time tracking and reporting of tasks and projectsCustomizable templates and integrations with popular toolsEnhanced visibility into team performance and progress.By simplifying workflows and improving collaboration and communication, Jolt helps teams achieve better results in less time. Whether you're looking to manage small projects or large-scale initiatives, Jolt is a versatile and powerful solution that can help you meet your goals.
Nachteile
One potential drawback is that it may have a learning curve for users unfamiliar with project management tools. Additionally, the platform's features and capabilities may be limited for businesses with highly complex or specialized project management needs. Finally, some users may find the cost of Jolt to be a concern, especially for smaller or cost-conscious organizations. Before making a decision on whether Jolt is the right solution for your business, it's important to thoroughly evaluate the benefits and drawbacks to ensure that it meets your specific needs and requirements.
Antwort von

Jolt

Thank you for taking the time to review Jolt, Sarfaraz! We appreciate your honest feedback and are glad to hear that you find Jolt to be an easy to use and intuitive solution. We understand that it may take some time for teams to get used to any new system, but we are committed to making that process as seamless as possible, and confident that once they do, Jolt will help them achieve better results every time.

Beantwortet am 14.2.2023
Branche: Sport
Unternehmensgröße: 51–200 Mitarbeiter

Täglich

für

Mehr als 1 Jahr

genutzt
Quelle der Bewertung
Preis-Leistungs-Verhältnis
4
---
A great resource for achieving your business goals.
Jolt makes it easy to create and manage tasks. The customer support is also very helpful and responsive, always answering any questions I have in a timely manner. I love the ability to assign tasks and set deadlines to team members, which makes for a much more organized workflow. I like that it allows Jolt to track progress and communicate with other members of the team. All in all, Jolt has been a great tool for managing projects and tasks.
Vorteile
Jolt is the perfect software for businesses that want to increase the efficiency of their operations. It provides a comprehensive suite of features that enable businesses to streamline their workflows, track data, and analyze performance. The software can be used to manage employee performance, track project progress, and automate processes. Additionally, it offers customizable reporting, analytics, and insights to help businesses make informed decisions. Jolt is easy to use, secure, and reliable, making it the perfect choice for businesses that want to take their operations to the next level.
Nachteile
It's a tedious process as software can be difficult to learn and require a significant amount of time and effort to become proficient.
Antwort von

Jolt

Thank you so much for your review, Claudia! We strive to make our software as easy as possible for our customers to use. We are very happy that you have found success with Jolt and we look forward to continuing to help you and your business reach your goals.

Beantwortet am 30.1.2023
Branche: Restaurants
Unternehmensgröße: 51–200 Mitarbeiter

Täglich

für

Mehr als 1 Jahr

genutzt
Quelle der Bewertung
Preis-Leistungs-Verhältnis
5
---
Amazing for Restaurant Operations
We're using it for our three locations for three separate schedules and tons of checklists. We have multiple users every shift, every day using the software. I absolutely love the program and am continuing to take advantage of different features as we grow.
Vorteile
Pretty easy to use once you've gone through the training. The biggest pro for me compared to other softwares is the access to support all the time. It has been so helpful to be able to reach out to my contact for help and schedule calls for training--either for myself or other new team members. Another huge pro is how customizable the checklists are. I love how many different formats you can do. We've been able to customize it to our business model really well.We've also been using the Jolt sensors for all our freezers, which has literally been a savior time and time again! It's so easy to use and I love the reports you can access so you can catch a failing freezer before it's too late.
Nachteile
I wish we could customize our scheduling platform more to cater to our business.
Antwort von

Jolt

Thank you so much for your review, Alyssa! We are so glad to hear that you find Jolt easy to use after the training, and that our support team has been so helpful. We are also thrilled that you have been able to customize Jolt to your business model. Thank you for your feedback!

Beantwortet am 30.1.2023