Über Paymo
Paymo ist eine cloudbasierte Lösung für das Arbeits- und Projektmanagement für kleine und mittlere kundenorientierte Unternehmen. Diese Lösung unterstützt Remote-Arbeit und bietet Teamkollaboration, Ressourcenplanung, Zeiterfassung und Projektbuchhaltung in einer einzigen Suite.
Mit den Projektmanagementfunktionen kannst du Projekte erstellen, Aufgaben mit mehreren Empfängern hinzufügen und diese zur späteren Verwendung als Vorlage speichern. Was bleibt, ist die Überwachung des Projektfortschritts (erfasste Zeit versus ursprüngliche Budgets) und die Verwaltung der Arbeit über eine der vier verschiedenen Aufgabenansichten: Liste, Tabelle, Board und Gantt-Diagramm.
Paymo bietet dir außerdem einen integrierten Timer, Desktop-Anwendungen und mobile Apps sowie genaue Arbeitszeittabellen, die Einblicke in deine Produktivität bieten. Daten können später auch als Zeitberichte exportiert und mit deinen Kunden geteilt werden, was für ein zusätzliches Maß an Transparenz sorgt.
Die Projektbuchhaltungsfunktionalität zur Verfolgung von Ausgaben, zur Erstellung automatisierter Kundenrechnungen und zur Umwandlung von Vorschlägen in Projekte wird die dabei helfen, deine Finanzen im Griff zu behalten und sicherzustellen, dass du pünktlich bezahlt wirst.
Paymo bietet zwei kostenpflichtige Pläne und einen kostenlosen Plan für Einzelpersonen und Freiberufler.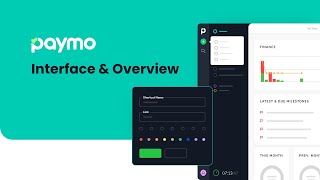 Paymo bietet eine Gratisversion und eine kostenlose Testversion. Die kostenpflichtige Version von Paymo ist ab $ 5,95/Monat verfügbar.
Kostenlose Testversion:
Ja
Branche: Grafikdesign
Unternehmensgröße: 2–10 Mitarbeiter

Täglich

für

Mehr als 2 Jahre

genutzt
Quelle der Bewertung
Preis-Leistungs-Verhältnis
5
---
Paymo has grown, evolved, and expanded alongside of the needs of our business.
Seriously, everything! I mentioned time tracking earlier but Paymo also does project management, client management, invoicing, estimation, Zapier integration, scheduling, team tasking...and the list goes on and on.
Vorteile
Time tracking is seamlessly integrated into our current designer workflow. This allows us to calculate the actual time spent on the job so clients understand where their money is being spent. It also allows us to identify where we need to increase project costs (9/10 times it's with 'customer correspondence').
Nachteile
We've been with Paymo for over 10 years so it was a bit of a kick when they started charging for functionality like Gant Charts. We've always loved the complete 'soup-to-nuts' service that Paymo offered so when certain items were put behind another paywall it definitely stung a bit. ¯\_(ツ)_/¯
Warum Paymo gewählt wurde
As we expanded our business to include larger, quick-turn clients, we needed a better way to track time spent on projects. We found Paymo and started to implement time tracking and project management. It wasn't long before we were using it for estimating, invoicing, and reporting payroll. Almost a decade later, the platform continues to amaze us with updates and support that we never would have received from other services. We've even had folks join our team from Nike/adidas that say Paymo is something they wish they had at their previous jobs.
Gründe für den Wechsel zu Paymo
It comes down to 'bread and butter' of time tracking and project management. We've since added Slack and Trello to our ranks, but have never found a better, more cost-effective way of managing our day-to-day operations than Paymo.
Antwort von

Paymo

Loved the "(9/10 times it's with customer correspondence)" part, Neal :)

Besides Gantt Charts, the Business plan also comes with a Team Scheduling module, 100 GB of storage, and priority support.

We found this plan to be more appealing to larger teams, that's why we've decided to include it in a separate plan.

What specifically do you need from Gantt Charts, the ability to set dependencies or see task deadlines on a calendar?

If it's the latter one, then I have some good news: we're going to launch a task calendar view in the near future, so stay tuned!

Beantwortet am 25.6.2020
Branche: Informationstechnologie & -dienste
Unternehmensgröße: Selbstständig

Täglich

für

Mehr als 2 Jahre

genutzt
Quelle der Bewertung
Preis-Leistungs-Verhältnis
5
---
My time and sanity saver!
I've increased my productivity with Paymo's Kanban board view, combined with Table view, and saved TONS of hours on admin, invoicing, timesheets, client and project management.
Just this time saving alone pays off the monthly subscription.
Sanity and nerves saving is the bonus! :)
Why? Because Paymo helped me maintain good client relationships, timesheet transparency and great records&data representation for a client. So when a client comes up with a random question about a specific task, Paymo's records make finding (and presenting) a specific information or record so much easier, transparent and more reliable.
Vorteile
Paymo has been a lifesaver in many business management areas: project management, client management, time tracking, accounting.
With built-in budgeting, time tracking, expense tracking, estimate calculations, professional invoicing and getting paid online (and on time!), different project 'views' (list, table, board for kanban, gantt), extensive filters, dashboard and insights, resource scheduling, live time reports, client portal - and all that in one app - it's a sanity saver!
One of the things I also personally quite appreciate is the professional and clean look of the invoices (and how easy it is for clients to pay them online). With a click of a button, you can add the unbilled time/fees for a specific time period and/or projects to an invoice. Paymo does all that heavy admin stuff for you and it has saved me a lot of time!
Cherry on the top: all invoice items are presented so neatly and professionally, so that my clients can see exactly everything I've worked on for them and what I'm billing them for, as well as how much time is tracked for each project and task.
And Payoneer, in addition to PayPal/Stripe/Authorize.Net payment gateways is a big plus!
It's brilliant.
The moment I first tried it, I could immediately feel that Paymo is the tool designed for actual freelancers in mind, whether you work on a project basis, or a pay-as-you-go basis.
It's not complex, and all the features it has are just *right*. Exactly what I need.
And it's getting even better!
Nachteile
I wish the app was just a little bit faster, but I read somewhere that they already have this improvement on their roadmap.
Still, if you ask me, it's totally worth the wait for every new feature and improvement their team is cooking for us :)
Antwort von

Paymo

Thank you, Jelena <3

Speed improvements are already something that we're addressing. Stay tuned for more goodies such as a task calendar view, improved mobile app with team collaboration features and guest access.

Cheers,
Marcel

Beantwortet am 10.7.2020
Branche: Museen & Institutionen
Unternehmensgröße: Selbstständig

Täglich

für

Mehr als 2 Jahre

genutzt
Quelle der Bewertung
Preis-Leistungs-Verhältnis
4
---
Excellent for small companies
Has made a huge difference in streamlining administrative functions and improving productivity. The VERY accessible live-person support makes all the difference
Vorteile
Time tracker is most impactful. I can truly keep track of hours on different projects seamlessly.
Nachteile
Some of the features were hard for me to understand on my own. BUT the strong and timely customer support helped me find my way.
Branche: Informationstechnologie & -dienste
Unternehmensgröße: Selbstständig

Täglich

für

1-5 Monate

genutzt
Quelle der Bewertung
Preis-Leistungs-Verhältnis
3
---
Project and task management without surprises
overall sufficient experience. It does not create particular problems for you, nor does it give you particular satisfaction. to work in a group it's fine, as long as you don't have high customization requirements
Vorteile
Paymo's ease of use is disarming: it allows you to configure your project and your tasks in an instinctive, fast and reliable way
Nachteile
Working in Paymo I often feel the need to represent my projects in alternative ways, such as a mind map, or generally a graphic board .. but this is not possible in Paymo
Branche: Marketing & Werbung
Unternehmensgröße: 2–10 Mitarbeiter

Täglich

für

1-5 Monate

genutzt
Quelle der Bewertung
Preis-Leistungs-Verhältnis
5
---
Paymo is the easiest project/billing/payment platform I've ever used and their support is...
I spend half as much time getting things done in Paymo compared to my last system (Bonsai). My old solution wasn't horrible, it's just that Paymo is so much better.I'm spending less time in the software because everything's seamless, and that's with my number of projects more than doubling right around the time I was onboarding. Seriously, the support has been fantastic.
Vorteile
Before I talk about my experience with individual features, it's super important to me to say how incredibly responsive and helpful Paymo's support team is. Throughout my onboarding process, we ran into a few issues (some my fault, and a couple small glitches on Paymo's side), but their support team is the best I've ever had. They're fast, helpful, and are serious about taking care of me. Shout out to [sensitive content hidden], who have both been so helpful! The entire reason I switched to Paymo (from Bonsai) was because my old solution was so frustrating in locking me into dumb processes from Project > Tasks > Estimate > Complete Tasks > Invoicing, it was a nightmare. I have retainer clients that will send us a set of small 1 or 2 hour quick tasks, but billing against them was a nightmare because of how Bonsai locked you into their Step 1, step 2, step 3 process.Paymo doesn't get in my way like Bonsai did, it's soooo much easier to track time, capture a subset of timesheet hours into an invoice, and send it on. No kidding, Paymo saves me about 15 minutes on every invoice I sent and probably saves at least 30 minutes for each estimates/quotes.The Paymo macOS app is phenomenally convenient for tracking time on projects. I will never again be without a time tracking app like Paymo, I've recaptured so many lost billable hours by using it.Their Paymo Payments system has worked great for me. I don't have all that much to comment on because it's just seamless for the client.
Nachteile
I ran into some issues when signing up for their payments system (their payment system works great, this is just the sign-up process). At the time, I was a sole proprietorship and I don't think their processes were tuned that well for my type of business because I had to send in a lot of documentation to get approved (I think it was for fraud prevention measures).BUT, I want to say [sensitive content hidden] was so helpful, and really made it her mission to handle it and get it pushed through, which she did. And she's also lovely and friendly to talk to.There have been one or two other small glitches I ran into that were both handled by support immediately. Neither of them were mission-critical or blocked anything I had to get done. Bpgo
Gründe für den Wechsel zu Paymo
It did everything I needed it to and then some, but it was still simple and well thought out. Every feature is a real feature, there's nothing that's been shoehorned in or half-baked. Also, the workflows are really flexible, so I'm not stuck in "their process", I can use my own preferences and workflows.