Über SimplyBook.me
SimplyBook.me ist eine cloudbasierte Planungslösung für Dienstleistungsunternehmen in verschiedenen Branchen. Die Anwendung bietet eine Buchungsseite, mit der Nutzer Online-Buchungen akzeptieren und Kunden-Feedback erfassen können, um die Einnahmen- und Serviceleistung zu optimieren und E-Mail- und SMS-Terminerinnerungen an Dienstleister und Kunden zu senden.
Das Tool ermöglicht es Nutzern, Werbeaktionen zu versenden, wiederkehrende Dienste einzurichten, Dienstleister zu verknüpfen oder Dienstleistungen auszuwählen und Optionen für die Buchungsseite anzupassen. Zur Anpassung gehört das Hinzufügen des Buchungssystems als iFrame oder das Hinzufügen einer Buchungsschaltfläche zu einer Website oder Facebook-Seite.
Kunden können von mehreren Geräten aus auf die Buchungsseite zugreifen, Buchungen vornehmen und Buchungen bei Bedarf stornieren.
Dienstleister können ihre persönlichen Google- oder Outlook-Kalender mit ihrem SimplyBook.me-Buchungskalender synchronisieren. Die Lösung bietet Buchungs-Widgets für Facebook, WordPress und andere CMS-Systeme. Die Preise basieren auf einer Anzahl von Buchungen und einer Anzahl von ausgewählten kundenspezifischen Funktionen.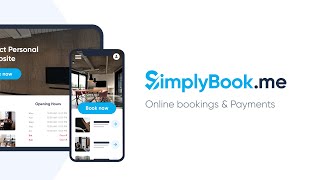 SimplyBook.me bietet eine Gratisversion und eine kostenlose Testversion. Die kostenpflichtige Version von SimplyBook.me ist ab 10,00 $/Monat verfügbar.
Startpreis:
10,00 $/Monat
Alternativen für SimplyBook.me
SimplyBook.me Erfahrungen
Branche: Marketing & Werbung
Unternehmensgröße: Selbstständig
Verwendet:

Täglich

für

6-12 Monate

Quelle der Bewertung
Preis-Leistungs-Verhältnis
5
---
Affordable and Powerful Booking Software
This software works very well for booking. We had complicated requirements for customer support and coaching and this software handled both well.
Vorteile
I loved the features included with the base package and the ability to add extra features alacarte to keep costs low. Customers can self-cancel and outgoing emails can be customized. Zapier included!
Nachteile
The moment you need an extra feature after your first three alacarte ones, the price jumps up into the next alacarte tier. Also, you cannot create booking "buffers" or delays for different departments. For example, if you want customer service customers to wait at least 1 hour before booking a customer service call, but want coaching customers to wait 24 hours before booking a call, it cannot accommodate those different delays in different departments. The entire company must be either a 1 hour delay, or a 24 hour delay.
Branche: Kunst & Handwerk
Unternehmensgröße: 2-10 Mitarbeiter
Verwendet:

Weitere

für

1-5 Monate

Quelle der Bewertung
Preis-Leistungs-Verhältnis
5
---
Just what we needed.
I looked very hard for a better affordable service for my needs, but I kept coming back to Simply Book Me.
Vorteile
I like that you can add on features and that it integrates with WordPress. Also, we took a pretty long break due to the pandemic, but when I logged in five months later, all of my data was there, waiting for me. We have multiple income streams from finished pottery and bisque ceramics, as well as from instruction and studio rental. We use Simply Book Me for booking studio sessions. It is nice because we can control how many sessions can be booked at the same time and the customer can choose to pay via the booking site or at the session. I am excited to see that we can promote related products as well.
Nachteile
One downside is paying a monthly or yearly fee for something you may only use intermittently. However, the price is affordable enough that it is painless to absorb the cost into product pricing and much cheaper for us and the customer than other scheduling and/or event services.
The flow and feel of this platform, for both the administrator as well as the user, is a bit awkward. I would prefer a more modern polish to the interface, similar to other event and scheduling software. The user interface is styled similar to WordPress, but it is less intuitive. The same goes for making appointments. It takes a bit to really understand how to use it. I find that I have to do a little hand-holding with my customers. This fits with our brand, so it isn't a deal-breaker, but nonetheless worth noting.
Antwort von

SimplyBook.me

Dear Dianne,

Thank you so much for taking the time to leave us your feedback, we truly appreciate it!

We are just about to start redoing the design for admin interface, so gradually you should see some improvements there. If you are finding the booking flow of your booking website cumbersome, please reach out to our Live Chat and ask them to suggest changes to make it more intuative for your clients.

All the best
The SimplyBook.me team

Beantwortet am 30.9.2020
Branche: Sport
Unternehmensgröße: 2-10 Mitarbeiter
Verwendet:

Täglich

für

Mehr als 1 Jahr

Quelle der Bewertung
Preis-Leistungs-Verhältnis
5
---
Great simple solution
Gave us the solution we needed for club members to book facilities quickly and easily.
Vorteile
Simple to set up, easy to use and does everything we need it to. Really good customer service.
Nachteile
Would be good to have more options for sending emails
Antwort von

SimplyBook.me

Thank you so much Sarah for leaving us this fantastic review, we appreciate it greatly!

We just launched a new feature today where you can easily create and customise your own beautiful emails. Take a look at our blog about it https://news.simplybook.me/custom-email-designs-for-your-business-messaging-with-simplybook-me/

All the best
The SimplyBook.me team

Beantwortet am 26.5.2021
Branche: Verbraucherdienste
Unternehmensgröße: Selbstständig
Verwendet:

Täglich

für

1-5 Monate

Quelle der Bewertung
Preis-Leistungs-Verhältnis
1
---
Overpriced and under spec'd
IF I could find another system that had the functionality I need I would move to that one.
The cost would not be an issue if it had a better base product.
If you only need basic then stick with some of the free options out their.
I have made about 20 suggestions with zero idea of when or IF they will even be considered.
After trying or looking at around 50 systems I feel it is the lesser evil of what is out their.
I am not asking for much but they think they know better what people want/need.
Vorteile
Allows for a degree of automation to my business.
I can show images and descriptions for my categories and services which a lot of other systems do not.
Like the drag a slot function in calendar.
Like the SMS and email reminder system (but could be better!)
It adapts to most types of business which many others do not.
Nachteile
Very expensive for what it offers.
It costs a lot of money to get a reasonably functional system by paying for all the add ons and extras.
If the core was better then I would be happy to pay for my business specific add ons.
Customer service is more of a cut and paste script routine.
There is no place other than sending via customer service to place suggestions. It needs a dedicated place to post suggestions so that all other users can vote on them.
The company just say that they look at all suggestions. The problem with that is no one else gets to see those suggestions and thing Oh thats a great idea.
Plus it does not provide real life feedback doing it their way.
I made these in the very first day of use
Suggestions /Requirements for SimplyBook.me
1) Email templates should have a WYSIWYG editor
2) There should be a Block Out option when making a booking on the calendar (admin only)
3) Emails should be sent in HTML not plain text. At least an option should be available.
4) There needs to be a "Pending Booking" email template.
5) It should be possible to switch on and off any email or SMS rather than all on or all off.
6) This booking software really would benefit from and APP the website as it stands doe not even work/view properly on mobile.
7) There should be multi buy option. Customers may want to book 1 or 10 or 100 of the same service. It should be easy to add a figure for quantity required.
8) There should be a multi cart function
Antwort von

SimplyBook.me

Dear John,

Thank you for taking the time to give us your valuable feedback, we appreciate that.

FIrst of all I am glad to hear that out of 50 systems investigated you did find that we were the most flexible one.

But of course we can not solve everything 100% for every single company we have as we have tens of thousands of clients. Our goal is that our system solves everything for 90% of users, but some users may have so specific demands that only a system, developed especially for them will fully resolve the needs.

Until you have someone that creates such a system for you, We are happy to have you as user of our system and hope the system easily pays for itself as we believe it does for most of our users.

Kind regards
The SimplyBook.me team

Beantwortet am 25.2.2019
Branche: Einzelhandel
Unternehmensgröße: 2-10 Mitarbeiter
Verwendet:

Täglich

für

Kostenlose Testversion

Quelle der Bewertung
Preis-Leistungs-Verhältnis
0
---
Going past the trial will invest.
I am excited to be able to make booking easier for my clients and on social media.
Vorteile
The ease of implementation to outside apps. The facebook and website integration ease is well done.
Nachteile
Editing the booking landing page. Fortunately, I have web builder knowledge and that is helping but your system is not user friendly nor provide helpful items such as best size of banner image for templates.