Über The Asset Guardian (TAG)
TAG (The Asset Guardian) ist eine Wartungsmanagementlösung, die in der Cloud und vor Ort bereitgestellt werden kann. Wichtige Funktionen sind Arbeitsauftragsmanagement, Asset- und Ausrüstungsmanagement, Bestandsverwaltung und Berichterstattung. Mit dem Arbeitsauftragsverwaltungsmodul von TAG können Nutzer Arbeitsaufträge erstellen, präventive Wartungsarbeitsaufträge bewerten und verwalten sowie die Leistung analysieren. Nutzer können auch Sicherheitsverfahren, Arbeitsverfahren und andere damit verbundene Anforderungen automatisch oder manuell erstellen. Die Geräteaufzeichnungen von TAG zeigen alle Assets in den Datenbanken von Nutzern an. Nutzer können Arbeitsaufträge für jedes Asset erstellen und Wartungsaktivitäten verfolgen. Die Lösung verfügt auch über Funktionen für das Inventarmanagement und die Berichterstellung sowie über eine persönliche Datenbank. Nutzer können Profile erstellen und Informationen zum Personal anzeigen, das an Wartungsarbeiten beteiligt ist. Schulungspakete umfassen Kurse und Präsentationen sowie einen technischen Support, der während der Arbeitszeit verfügbar ist. Support ist per Telefon und E-Mail verfügbar.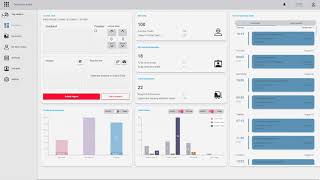 The Asset Guardian (TAG) Preis
The Asset Guardian (TAG) bietet eine Gratisversion.
Kostenlose Testversion:
Nicht verfügbar
Alternativen für The Asset Guardian (TAG)
The Asset Guardian (TAG) Erfahrungen
Branche: Informationstechnologie & -dienste
Unternehmensgröße: 2-10 Mitarbeiter

Wöchentlich

für

Mehr als 2 Jahre

genutzt
Quelle der Bewertung
Preis-Leistungs-Verhältnis
4
---
Above & Beyond - Tool to Cut Down Unnecessary Costs resulting from Reactive Maintenance!
OEM partner highly professional, highly supportive and responsive, and easy to work with.
Vorteile
Date meter policy and Preventive Maintenance features, as they bring along massive cost savings on reactive maintenance, which could be sometimes outrageously expensive to deal with.
Highly modular, intuitive and easy to use software.
Sets a standard for industry best-practises, as it streamlines and simplifies maintenance procedures and operations to a great extent, increasing insight levels, control and productivity.
Provides clear, all-encompassing view of equipment hierarchy, especially for large plants that use a massive number of equipment/parts/etc...
Nachteile
Could benefit from some integration with the standard Fixed Assets module.
Could use a slightly better integration with standard item consumption within TAG work order processing.
Some features still desired for outsourced maintenance, where third party companies are contracted to provide equipment replacement/repair.
Branche: Chemikalien
Unternehmensgröße: 201-500 Mitarbeiter

Täglich

für

Mehr als 2 Jahre

genutzt
Quelle der Bewertung
Preis-Leistungs-Verhältnis
4
---
Solid product with very knowledgeable support staff
Vorteile
NAV integration
Web and client software interfaces
Ability to add related requirements to WOs for warehouse to process
Nachteile
Lacks some desired reporting/KPIs
Inability to create more than one PWO for recurring tasks (must complete first one to generate the next one)
Branche: Kunststoffe
Unternehmensgröße: 51-200 Mitarbeiter

Täglich

für

Mehr als 1 Jahr

genutzt
Quelle der Bewertung
Preis-Leistungs-Verhältnis
4
---
My View of TAG
TAG has given Garner Industries a great way to track the activates of our Maintenance Department and to schedule out our technicians time throughout the day. TAG is also a common place for our technicians to document equipment problems, conditions and any preventive maintenance performed for all to see.
Vorteile
TAG is a very useful way to track all maintenance activities on equipment/assets. From the way it keeps track of any up-coming machine maintenance, producing work orders or to tracking past maintenance activities/machine break downs.
Nachteile
TAG is not as easy to use as some other CMMS software....there is a learning curve to TAG, especially if a new user has never used NAV before.
Branche: Elektrische/elektronische Fertigung
Unternehmensgröße: 51-200 Mitarbeiter

Täglich

für

Mehr als 1 Jahr

genutzt
Quelle der Bewertung
Preis-Leistungs-Verhältnis
5
---
TAG Maintenance software
The process to get the system loaded and the training were outstanding. The biggest benefit to our team was that the training was conducted by someone with extensive knowledge of how to use the software and not just a software expert. This was invaluable as this is a new concept for us and enabled us to better think about how to setup and use the software based on practical user experience.
Vorteile
The software provided us with an effective means of organizing and managing our equipment maintenance. It integrates well with our core ERP system (Microsoft Dynamics NAV 2017) and that was a critical interface in our selection of a CMMS system.
Nachteile
I'm not a user, but I haven't heard user complaints - so nothing specific that I can point out.
Branche: Papier & forstwirtschaftliche Erzeugnisse
Unternehmensgröße: 51-200 Mitarbeiter

Täglich

für

Mehr als 1 Jahr

genutzt
Quelle der Bewertung
Preis-Leistungs-Verhältnis
5
---
TAG product and support is awesome!!!
We now have a successful work order process. The maintenance folk are using this daily. Support when needed was always available throughout the whole process
Vorteile
We love how easy it is to use and we had buy in from all of our end users because of how easy and quick it is to get what you. Red from the program.
Nachteile
You have to do a little leg work to have it set up the way you want it. But put the time in at the beginning and it will be easy once you go live.