Über ChannelAdvisor
ChannelAdvisor (NYSE: ECOM) ist eine führende E-Commerce-Cloud-Plattform, deren Aufgabe es ist, den weltweiten Handel zu verbinden und zu optimieren. Seit zwei Jahrzehnten hilft ChannelAdvisor Marken und Einzelhändlern, ihre Online-Leistung zu verbessern, indem sie ihre Vertriebskanäle erweitern, mit den Verbrauchern in Kontakt treten, ihren Betrieb für Spitzenleistungen optimieren und aussagekräftige Analysen zur Verbesserung der Wettbewerbsfähigkeit bereitstellen. Tausende von Kunden verlassen sich auf ChannelAdvisor, wenn es darum geht, ihre Verkäufe sicher zu machen und die Abwicklung auf Kanälen wie Amazon, eBay, Google, Facebook, Walmart und Hunderten anderen zu optimieren. Weitere Informationen findest du auf der Website des Anbieters.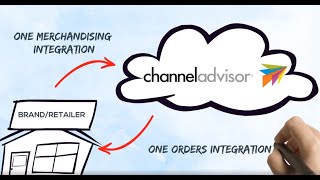 ChannelAdvisor bietet keine Gratisversion und keine kostenlose Testversion.
Startpreis:
Nicht vom Anbieter bereitgestellt
Kostenlose Testversion:
Nein
Alternativen für ChannelAdvisor
ChannelAdvisor Erfahrungen
Branche: Unterhaltungselektronik
Unternehmensgröße: 51-200 Mitarbeiter

Täglich

für

6-12 Monate

genutzt
Quelle der Bewertung
Preis-Leistungs-Verhältnis
5
---
BlueBoard = Love
Overall, I've had nothing but an awesome experience with BB, it's made my morning so much easier and more reliable and I've gotten so many new people at our company using it now, thanks to the CES visit we had from you this year. Thank you all, so much!
Vorteile
BlueBoard has not only changed the way I monitor MAP pricing online, but has also reinvented the way our Marketing Team can see product reviews from customers and allows our sales guys to see whether product are well stocked enough. It's amazing!
Nachteile
There are quite a few updates that happen, which is great, but I wish that there was a pop-up mini tutorial each time something changed to show me how to manage my page the new way. For example, I spoke with customer rep. this morning (he's the best!) and had to ask him where to find a group of filtered products I had set up because the filter aspect of BB had changed.
Antwort von

BlueBoard.io

Hello Kristyn, thank you for your super nice comment!
We're glad we could steer your workflow towards more productivity.
We'll strive to better communicate about our frequent updates to make sure no one gets lost!

Beantwortet am 28.8.2018
Branche: Einzelhandel
Unternehmensgröße: 11-50 Mitarbeiter

Täglich

für

Mehr als 1 Jahr

genutzt
Quelle der Bewertung
Preis-Leistungs-Verhältnis
4
---
Powerful software but Expensive and hard to learn
The software is built with a long term vision but they should make it more affordable by offering it at a lower price to more customers. They also need to provide more guidance in the best way to implement the software
Vorteile
Very customizable, has a beautiful interface, and is built with powerful features including rules, look up lists, limitless product attributes, data mapping, and more. Also has great features for each marketplace, including Amazon Advertising with automatic bidding and rules, repricing, a price gird which shows your price and competitors offer and your sales history which is great for monitoring your competitors in one dashboard
Nachteile
TONS of setup work. I spent almost a year setting up all the different features and rules for my business. Zero guidance is provided on best way to setup your system. support is slow, sometimes taking 3 days to respond to a ticket. help pages are not detailed. product is way more expensive then cheaper alternatives such as Ecomdash.
They dont have an easy way to integrate with quickbooks or other accounting software, SellerCloud does.
Gründe für den Wechsel zu ChannelAdvisor
They have the longest track record as an enterprise level software and only they will create products in Amazon from scratch (the others will only match to existing detail pages)
Antwort von

ChannelAdvisor

Moshe,
Thank you for this valuable feedback. We're glad to hear that you found a solution with ChannelAdvisor that allowed your business to excel. We know you have a choice, and we want you to know we appreciate the chance to work with you.

Beantwortet am 25.9.2019
Branche: Einzelhandel
Unternehmensgröße: 2-10 Mitarbeiter

Täglich

für

Mehr als 2 Jahre

genutzt
Quelle der Bewertung
Preis-Leistungs-Verhältnis
4
---
ChannelAdvisor is a wonderful choice for multi channel sales
Overall ChannelAdvisor has been a game changer for the positive. Because it is highly customizable, I can do lots of things that would have been far more tedious or impossible in other similar systems.
Vorteile
We converted from an old system to ChannelAdvisor a few years ago. Biggest benefit was the power it had to allow many options selling in multiple online marketplaces. One of the best features is to bring in data feeds from various places and map them the way I want them.
Nachteile
Many of the routine tasks such as receiving inventory and updating inventory counts are tedious. We've built other tools that integrate with ChannelAdvisor that are more efficient.
Branche: Möbel
Unternehmensgröße: Selbstständig

Täglich

für

Mehr als 2 Jahre

genutzt
Quelle der Bewertung
Preis-Leistungs-Verhältnis
2
---
Good software but not the best company
All in all it is good software but not the best company to work with.
Vorteile
CA is probably the best solution in the marketplace for sellers wanting to offer goods on multiple marketplaces. The software is comprehensive and relatively easy to learn and use. It is also stable with few day-to-day problems.
Nachteile
It is also the most expensive solution out there (by far) and they require a one year contract. In addition, they are not easy to break away from when the contract expires. They continued to charge us even after our contract expired and forced us to go through our bank and credit card company to recover the extra charges. We also found them very inflexible. You pretty much have to accept it is their way or the highway.
Branche: Konsumgüter
Unternehmensgröße: 11-50 Mitarbeiter

Täglich

für

6-12 Monate

genutzt
Quelle der Bewertung
Preis-Leistungs-Verhältnis
3
---
Seems like a great product but project support is abysmal
The tool seems great and works well once properly configured. Lots of room to grow the business on to new platforms easily once properly configured, You will still need a lot of focus on the process and business logic required to create your initial feed, particularly where it comes to product pricing.
Vorteile
It allows us to get onboarded onto multiple market places easily with a single data feed and powerful rules engine. We can grow into solution as well.
Nachteile
The project and onboarding support has been dreadful. You are on your own. But that might be for the best as most of the good staff seem overworked and the rest don't seem to care. Make no effort to understand you business and ensure the tool is properly configured so you might as well just take the basic onboarding package and do it all yourself.
Antwort von

ChannelAdvisor

Dear Martin,
Thank you for bringing your concerns to our attention. We've made a note of your message and shared your concerns internally. Please know, we are always looking for ways to improve our Services and our customers' experience, so we appreciate your feedback. We know sustaining an e-commerce business can be a challenge, which is why we strive to provide each customer with the best solution for their business needs. If you have additional concerns with cases you have submitted, please reach out to your Account Manager directly. On behalf of our entire team, thank you for being a ChannelAdvisor customer.

Beantwortet am 17.11.2020