Über Teamwork
Teamwork ist eine cloudbasierte Projektmanagementlösung, die Unternehmen Funktionen zur Verwaltung verschiedener Vorgänge eines Projekts bietet. Zu den Funktionen zählen Aufgabenlisten, Zeiterfassung, Datei-Uploads und Nachrichten. Teamwork hilft Teams bei der Verwaltung von Gruppenzielen, der Kommunikation und der Etablierung von Geschäftsprozessen. Mit der Projektplanungsfunktion von Teamwork kann das Projektmanagement Projektaufgaben definieren, sie Personen zuweisen und laufende Aufgaben verfolgen. Die Lösung bietet auch Dokumentenmanagement, mit dem Nutzer Dokumente innerhalb des Teams über ein Online-Portal freigeben können. Mit der Kundenabrechnungsfunktion können Nutzer Rechnungen basierend auf geleisteten Arbeitsstunden und angefallenen Ausgaben erstellen. Dashboards bieten Einblick in die Projektziele, während die Funktionen für die Projektkollaboration die Kommunikation über mobile Geräte ermöglichen, sodass Teammitglieder und das Projektmanagement die Projektausführung aus der Ferne überwachen können. Teamwork kann in Anwendungen wie FreshBooks, Dropbox, Google, Box und weitere integriert werden. Die Dienstleistungen werden auf monatlicher Abonnementbasis angeboten, einschließlich Support über Telefon, E-Mail und FAQs.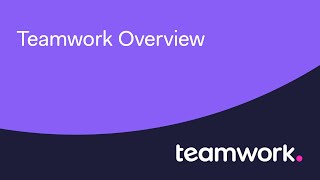 Teamwork bietet eine Gratisversion und eine kostenlose Testversion. Die kostenpflichtige Version von Teamwork ist ab $ 12,50/Monat verfügbar.
Startpreis:
$ 12,50/Monat
Kostenlose Testversion:
Ja
Alternativen für Teamwork
Branche: Gesundheit, Wellness & Fitness
Unternehmensgröße: 1 001–5 000 Mitarbeiter

Täglich

für

6-12 Monate

genutzt
Quelle der Bewertung
Preis-Leistungs-Verhältnis
4
---
Mein Arbeitsalltag mit Workflow
Teamwork macht intelligente Arbeotsabläufe möglich, so können sich alle Mitarbeiter auf das Wesentliche im Job konzentrieren
Vorteile
Mir gefällt an Teamwork am Besten, dass das Aufgabenmanagement sehr vereinfacht wird
Nachteile
Derzeit habe ich nichts negatives an Teamwork finden können
Branche: Computer-Software
Unternehmensgröße: 51–200 Mitarbeiter

Täglich

für

Mehr als 2 Jahre

genutzt
Quelle der Bewertung
Preis-Leistungs-Verhältnis
5
---
My favorite project management tool
I used this for over 2 years and loved how easy it made it to manage projects at work. It was easy, at a glance, to see exactly what I needed to do for that day and what I had coming up.
Overall, it was a wonderful experience
Vorteile
Teamwork Projects had a number of amazing features that took it above and beyond other tools like this.
The way projects were setup was incredible. You initially setup the project, then the milestones and then tasks against each milestone. Each task can be broken up into sub-tasks which will automatically create a dependency for the parent tasks. However, you can also set a dependency between tasks too.
If you have a series of repeating tasks you can actually create these as a template so you can quickly add this list to a project. When you add this list you get to set the assignments and dates which allows it to be customized to each project.
The collaboration is another feature that is top notch. Comments will automatically be sent via email but Teamwork takes it a step further. You can respond to these emails with specific replies that allow you to manage tasks (such as create new ones, add hours to them or even close/complete a task).
Teamwork also has a chat platform built in. This platform allows you to manage tasks as well.
Finally, Teamwork Projects also seamlessly integrates with a number of 3rd-party platforms (like Google Drive or Slack) to make your life easier.
Nachteile
The initial setup and learning curve can be a little steep.
The other thing that can quickly be a problem is the amount of space you have available. If you are uploading a number of files for each project that space quickly fills up.
It is minor but an extra thing you have to manage.
Antwort von

Teamwork.com

Hi there,

Thank you for the review of Teamwork Projects.

Kind regards,
Nancy at Teamwork.

Beantwortet am 22.5.2019
Branche: Unterhaltung
Unternehmensgröße: 11–50 Mitarbeiter

Täglich

für

6-12 Monate

genutzt
Quelle der Bewertung
Preis-Leistungs-Verhältnis
3
---
Teamwork review by Jen
Teamwork is an "in" if you don't have a lot of training or experience with project management. It's so easy to use that you won't be held back.
Vorteile
The product is very easy to customize during set up and very easy to use. Everything I needed was visible and well placed. Billing and invoicing are included which makes it a lot simpler to budget and track expenses, but it can be turned off if you don't need it. I like the project milestones too. They're helpful and keep us motivated. There is a free tier, called the "free forever" account. With it I can have two projects at once and four people collaborating with me.
Nachteile
As for the product as a whole, a built in PDF editor would make it better. The prices for each tier have continued to increase. They're still reasonable but that's important to know. The first paid tier is $12.50 per person per month but it requires a minimum of five team members. If your team is three or four people you'll have to pay for a ghost member. With the free forever account, I don't like the complete denial to project templates. I think it would be reasonable to grant access to a few basic templates. The file storage limit of 100 MB is very hard to work with. To access the free forever account I had to start a free trial and then cancel to downgrade.
Gründe für den Wechsel zu Teamwork
Considering the overall price and features, I chose Teamwork as the option that would work best for us.
Branche: Informationstechnologie & -dienste
Unternehmensgröße: 11–50 Mitarbeiter

Täglich

für

Mehr als 2 Jahre

genutzt
Quelle der Bewertung
Preis-Leistungs-Verhältnis
3
---
A great concept run by not great developers
My experience is that we are in the serious lookout of another product. If you are not an occasional user and want to do any serious work, this tool is not the right fit.
Vorteile
I like the fact that its integrated with other products such as Desk. Its relatively easy
Nachteile
Tons of errors when using it. They launch updates during business hours taking the system not saving actions, producing random errors ending up in losing your work without any prior notice - as in we will update the system, it will take X time and it will be down. Nothing like that they just shoot the update and if you are lucky and not doing something in the system you may get away with it.
Various functionalities of the system stop working out of the blue; we report them to their customer service and they never get solved, or get solved at a pace teamwork wants and not based on the actual criticality.
For example, the past two (yes you read correctly, 2) weeks, emails dont work. You can reply to a task and it simply gets lost. We've notified support, sent messages, they replied after 5 days that its fixed but guess what. They didnt even test the "fix" and as a result, second full week its not working and they evidently do not even reply to our ticket.
On top of all of the above, if you have many tasks in the system, the system becomes extremely slow to perform actions. You open a list and it takes ages which it has paging mechanisms.
Antwort von

Teamwork.com

Hey there,

Thank you for taking the time to leave us a review! I'm glad to hear that you have found Teamwork easy to use and benefited from our integrations.

I am really sorry to hear that you have been experiencing issues. I will be sure to pass your feedback around updates onto the team.

I can understand your frustration around the issues you have faced with our platform. We would love the opportunity to improve your experience with Teamwork. Please send us an email at [email protected] the team would be happy to work with you to help resolve these problems.

Kind regards,
Willow at Teamwork

Beantwortet am 22.9.2022
Branche: Informationstechnologie & -dienste
Unternehmensgröße: 10 000+ Mitarbeiter

Täglich

für

6-12 Monate

genutzt
Quelle der Bewertung
Preis-Leistungs-Verhältnis
5
---
Teamwork benefits business and project management
As a result of having access to the ideas and solutions of multiple people, projects completed more quickly and with higher quality results when teams work together. Knowing that you have the support of your teammates is a great confidence booster when working together to achieve a common goal.
Vorteile
What I enjoy most about working in a team is when we have a set plan for how to accomplish our goals. It encourages team members to work together toward a single objective, and it establishes some semblance of order and predictability in the process.
Nachteile
When I was originally introduced to the site, I discovered that there was a slight learning curve associated with finding one's way around it. I was able to make better use of the platform's features once I developed my own method for organizing projects.