Über ProWorkflow
ProWorkflow wurde 2002 gegründet und 2003 von ProActive Software Ltd übernommen. ProWorkflow ist eine cloudbasierte Projektmanagement- und Zeiterfassungssoftware, die Unternehmen jeder Größe bedient.
ProWorkflow umfasst alle Funktionen einer traditionellen Projektmanagementlösung. Darüber hinaus bietet die Lösung Aufgabenmanagement, Arbeitszeittabellen, Vorlagen, Benachrichtigungen und Warnungen, Dateifreigabe, Workflow-Management, Kontaktverwaltung, Berichterstattung und Ressourcenmanagement. ProWorkflow bietet auch ein Zeitplan- und Verfügbarkeitstool zur Unterstützung bei der Aufgabenplanung.
Das Projektmanagement-Dashboard von ProWorkflow zeigt die grafische Zusammenfassung laufender Projekte an. Die Kollaborationsfunktion ermöglicht es mehreren Mitgliedern gleichzeitig zu arbeiten. Mit der integrierten Messaging-Anwendung können Teams chatten, Benachrichtigungen senden, Dokumente teilen und vieles mehr.
Der Zugriff auf die Lösung ist auch über verschiedene mobile Geräte wie Laptops, Tablets und Smartphones (für Android-, Windows- und iOS-Telefone) möglich.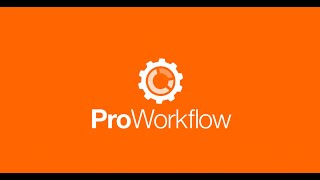 ProWorkflow bietet keine Gratisversion, aber eine kostenlose Testversion. Die kostenpflichtige Version von ProWorkflow ist ab $ 20,00/Monat verfügbar.
Startpreis:
$ 20,00/Monat
Kostenlose Testversion:
Ja
Alternativen für ProWorkflow
Branche: Grafikdesign
Unternehmensgröße: 2–10 Mitarbeiter

Täglich

für

Mehr als 2 Jahre

genutzt
Quelle der Bewertung
Preis-Leistungs-Verhältnis
4
---
Pays for itself many times over
So much easier to make sure all time is billed. I love when myself and staff can fill a solid day with tracked time — lets me know nothing has been left on the table before billing. Capturing all of the time we spend on projects pays for the monthly PWF licence many times over. We are simply more profitable with this tool.
Vorteile
Ability to organize projects any time from anywhere and delegate tasks effectively.
Nachteile
Xero integration could be improved. It's not possible to make any changes to an invoice after it is sent to Xero. It would also be great to be able to categorize line items into Xero's revenue accounts directly from PWF. Also, I find it takes too long to just add a quick task to a project while on the phone with a client — I always end up keeping notes in a text file because it's faster/easier, and then creating tasks in PWF later when I have more time.
Branche: Architektur & Planung
Unternehmensgröße: 2–10 Mitarbeiter

Täglich

für

Mehr als 1 Jahr

genutzt
Quelle der Bewertung
Preis-Leistungs-Verhältnis
5
---
Keeps Management Simple
Proworkflow has allowed me to grow my business to where I am now. Scheduling was predictable and I always had flexibity to shift my schedule around on the fly without a lot of pain. The work flow from quote to projects to invoicing has been seemless.
Vorteile
Proworkflow requires minimal effort to stay on top of your business. I think the importance of this gets overlooked too often. Setting Quotes and invoices are minutes at most, and setting projects and adding tasks can be done on the fly with little investment of your time. You can see the impact on resources scheduling before you even finish setting up your planning your tasks. I don't have enough words how valuable of a tool this has been without scrambling our brains to operate.
Nachteile
If you need a more sophisticated system for proposals and invoices Proworkflow is not there. It will give you just enough flexibility to customize a quote and send your invoices to quickbooks/Xero directly from a quote or proposal. But if you need quote/proposal templates for multi page terms and conditions, and percentage invoicing or progress billing, be prepared to do these manually.
Warum ProWorkflow gewählt wurde
Bqe had too many steps to start a project for our fast paced architectural busoness. We are a small firm, so we will not have a full time person dedicated to managing the system. We just needed to take changes that are thrown our way and get it into the project management system fast and capture all the time, and progress. Quotes should be able to get done in minutes to get a small project signed off on.
Gründe für den Wechsel zu ProWorkflow
Proworkflow had the least amount of on-boarding required while having the most features. Their support team was great at teaching us how to use it, at no cost.
Branche: Forschung
Unternehmensgröße: 51–200 Mitarbeiter

Täglich

für

Mehr als 2 Jahre

genutzt
Quelle der Bewertung
Preis-Leistungs-Verhältnis
4
---
A solid platform for the money
The experience has been fine but not great. I can't say it has done a lot to make our processes better outside of having job numbers that people can track to. That said, it hasn't been bad enough to change platforms and the team really relies on it.
Vorteile
We evaluated a lot of platforms and ultimately selected ProWorkFlow. We have been with the platform for over five years so it has worked solidly enough to continue on with it. It's functionality covers the basics and yet has some customization built into it. The best feature is the search function for finding archived projects.
The support team is excellent.
Nachteile
ProWorkFlow has been really slow to roll out new features. In many ways it feels like the platform was left behind by other more progressive platforms. The two biggest cons of the platform is that it is difficult for people to enter time sheets - ProWorkFlow has tried to provide lots of options for doing so but in the end it is overwhelming for employees to find a specific project and a specific task and then log their time. The second issue is that once you build schedules you can't export them in a client ready/friendly version with certain tasks hidden and all of it formatted nicely. We find ourselves rebuilding schedules in Excel for every project.
Branche: Grafikdesign
Unternehmensgröße: 2–10 Mitarbeiter

Täglich

für

Mehr als 2 Jahre

genutzt
Quelle der Bewertung
Preis-Leistungs-Verhältnis
5
---
Invaluable tool for our business, we love it!
We work with PWF multiple times a day, every day. We have seen continued commitment to always making the product better. We rely (without worry) on this tool, and it helps us manage and grow our business
Vorteile
Simple but robust, does everything we need from time tracking, project/task management and assignment to invoicing
Nachteile
Might not have been the coolest looking option to start with but has gotten steadily better, but regardless, the functionality is the key and it doesn't disappoint
Branche: Druck
Unternehmensgröße: 2–10 Mitarbeiter

Täglich

für

Mehr als 2 Jahre

genutzt
Quelle der Bewertung
Preis-Leistungs-Verhältnis
5
---
Customisable perfection
PWF is the most important management tool in our company.
Vorteile
I've been a subscriber since 2011.
In the last years the number of new functions skyrocketed.
I love that we can add custom fields, it is really helpful.
I am also happy with the quote and invoice module, the Xero integration is crucial for us.
I can't imagine my company without PWF.
Nachteile
Possible improvements:
- direct email import to projects
- a bit more fancy Fixed Cost Items list editor
- thumbnails for the pictures