Über EngageBay CRM
EngageBay ist eine integrierte Marketing-, Vertriebs-, Support- und CRM-Lösung, die kleinen und mittleren Unternehmen dabei helfen soll, Website-Besuchende zu akquirieren, zu binden und in Kunden zu konvertieren. Die cloudbasierte Plattform ermöglicht es Unternehmen, Marketing-Tools zum Aufbau von Kundenbeziehungen zu nutzen und diese Kunden ein Leben lang an sich zu binden. Zu den Funktionen von EngageBay gehören E-Mail-Marketing, Startseiten, Live-Chat/Helpdesk, Ticketing, Telefonie, Terminplanung, Kontaktverwaltung und mehr. Das Tool verfügt über ein integriertes CRM, mit dem Unternehmen alle Aktivitäten über Kunden, Leads und Geschäfte hinweg verwalten und verfolgen können, während sie die Pipelines durchlaufen. Zusätzlich bietet es Marketingfunktionen für Nutzer, um Leads durch automatisierte E-Mail-Vorlagen, anpassbare Formulare/Pop-ups, Engagement in sozialen Medien und vieles mehr zu generieren. EngageBay ermöglicht es Unternehmen, mithilfe der Zapier- und Xero-Integration die Plattform mit verschiedenen Anwendungen von Dritten wie Salesforce, Intercom, MailChimp, Hubspot und mehr zu verbinden. Die Preise verstehen sich als Monatsabonnement. Support wird über E-Mail, Telefon und Dokumentation geboten.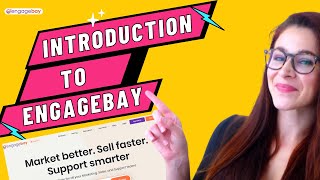 EngageBay CRM bietet eine Gratisversion und eine kostenlose Testversion. Die kostenpflichtige Version von EngageBay CRM ist ab $ 14,99/Monat verfügbar.
Startpreis:
$ 14,99/Monat
Kostenlose Testversion:
Ja
Alternativen für EngageBay CRM
EngageBay CRM Erfahrungen
Branche: Telekommunikation
Unternehmensgröße: 5 001–10 000 Mitarbeiter

Täglich

für

Mehr als 1 Jahr

genutzt
Quelle der Bewertung
Preis-Leistungs-Verhältnis
0
---
Complete package for marketing tool
Vorteile
We received a complete software package consisting of at least forty diverse modules, which would have cost thousands of bucks. Due to this software, we have ended a profusion of subscriptions. We contacted support with a simple message and got a response nearly immediately.
Nachteile
It costs a lot of money to buy more email space. Suppose there was a way to lower the cost of sending emails. Arranging a batch job to perform a sequence or automation at a predetermined time and day
Branche: Software für die Automobilindustrie
Unternehmensgröße: 10 000+ Mitarbeiter

Wöchentlich

für

6-12 Monate

genutzt
Quelle der Bewertung
Preis-Leistungs-Verhältnis
5
---
Pros and cons of EngageBay
Overall experience was quite good with EngageBay as it helped us with the tool that we needed for the priority basis other than average customer support everything was worth to chose EngageBay
Vorteile
There were 2 main features because of what we chose EngageBay over other CRMs i.e email marketing (bulk email management tool) and ticketing system (mainly for IT infrastructure issues).EngageBay was quite handy and smooth to operate in both of these features that fulfilled our current requirements.
Nachteile
The only con that we as a team experienced was the customer support was not that reliable as at times we were getting late responses from customer support team and taking more time as expected to resolve the issue.
Warum EngageBay CRM gewählt wurde
Based on the current requirements of our team they were not able to give reliable features support.
Gründe für den Wechsel zu EngageBay CRM
Financial team was not satisfied for the long run collaboration.
Branche: Professionelles Training & Coaching
Unternehmensgröße: Selbstständig

Wöchentlich

für

1-5 Monate

genutzt
Quelle der Bewertung
Preis-Leistungs-Verhältnis
5
---
Just started but planning on upgrading.
The little I have personally been involved with has been positive. I had a demo of the whole software the other day and was pleased with the agent being able to answer my questions and point me to what I wanted to know.
Vorteile
I am just starting to do the work. I had someone doing the work. Easy to send out email broadcast. I plan to expand to upgrade next. So far I like what I see.
Nachteile
Haven't used enough to comment on the negative yet. Haven't seen negative yet.
Gründe für den Wechsel zu EngageBay CRM
Mostly price and the recommendation from the person I was working with.
Branche: Computer-Software
Unternehmensgröße: 11–50 Mitarbeiter

Täglich

für

6-12 Monate

genutzt
Quelle der Bewertung
Preis-Leistungs-Verhältnis
3
---
Engagebay Review
Disappointing tbh! It's not my decision on whether we keep with it so I guess we'll see how it goes over the next couple of months and if some of the issues above can be fixed then that may help keep us onboard.
Vorteile
I've been told it's a lot cheaper than Hubspot and new features are being added all the time - so that's a positive I guess and the support team are helpful/responsive.
Nachteile
Just feels clunky - the synch between emails is hit and miss in terms of how long it takes for them to appear in Ebay - also the fact that against an individual, company, deal you can't just see a complete list of all emails or other updates (from anyone) in one simple date ordered list is really frustrating - I think this is what the "activity" tab is probably trying to do but certainly isn't there yet.It could really do with some quick exports too for where you have got a groups of contacts, companies or deals that you just need to quickly get out into a csv for some other work - perhaps you can do this but it's not obvious Also colleagues have told me the campaigns/broadcast elements are no way near as good as hubspot and also the calendar/task list element needs more work.
Branche: Marketing & Werbung
Unternehmensgröße: 2–10 Mitarbeiter

Täglich

für

1-5 Monate

genutzt
Quelle der Bewertung
Preis-Leistungs-Verhältnis
5
---
The BEST All-In-One CRM Sales + Marketing for the value
The Team is fantastic to work with. it's very easy to set up an on-boarding call to dive into a specific automation and get on-on-one help and the support for quick questions is great too. There is always someone there at a moment's notice to talk to.
Vorteile
It has an excellent interface, easy to use and the support is fantastic. I've had Hubspot for almost a year, and it's nice, but it's super expensive. It was $750 per month; then if i wanted to add workflows it was yet another monthly add-on fee.So after almost a year of that, I decided to start looking for an alternative that had a similar sales/marketing function without the crazy price tag. I looked at practically every option out there and started free trials but didn't like the layout, functionality, features, and cost.Until…. I discovered Engagebay. I had everything I needed on the marketing side with forms, automation, email marketing, text messaging, tagging, and all the sales stuff I needed to close the job, like one-to-one emails, appointments, and workflows. Plus it has a great user interface, and it's very intuitive to work with.I checked all the boxes, plus the value was incredible! I could purchase 2 years for the price I was getting for just a couple of months with Hubspot. So I got all the features I needed and a great user interface at a fraction of the cost.However, I understand CRMs & automation but I'm not a marketing expert. So having some level of support and onboarding was really important to me. Virtually ever option out there, including HubSpot has you either go through endless documentation, or you have to wait and chat with some for onboarding or questions.With Engagebay, they literally walked me through everything on a series of one-to-o
Nachteile
I think there could be some improvements to the UI and design options for the appointment setting. I've been using Calendly, and it's tough to transition from Calendly to anythigng else because it's so perfect, easy, and flexible. My main recommendation is model the calendar off the design, function and ease of use of Calendly and the appointment part would be excellent.
Warum EngageBay CRM gewählt wurde
Hubspot was just way too expensive month after month
Gründe für den Wechsel zu EngageBay CRM
It was easy to use, had a good interface, had the major things I needed in automation and sales, and the service was really great.