Über SolarWinds Service Desk
SolarWinds Service Desk eignet sich für Unternehmen, die nach einer Helpdesklösung mit ITSM-Funktionen (IT Service Management) suchen. SolarWinds Service Desk enthält umfassende Service-Desk-Funktionen, mit denen Unternehmen zeitnah auf Serviceanfragen reagieren und so einen besseren Support bieten können. SolarWinds Service Desk ist eine cloudbasierte Software, die als Jahresabonnement angeboten wird. Im System können Nutzer Servicetickets und Unternehmensressourcen verwalten. Die Lösung funktioniert auch unterwegs von jedem Smartphone oder Tablet aus, das einen Webbrowser enthält. SolarWinds Service Desk lässt sich in andere Anwendungen integrieren, darunter Google Apps, Salesforce, OneLogin und über 140 andere Anwendungen. Nutzer können Servicetickets entweder per E-Mail oder über das integrierte Selfserviceportal einreichen. Das Portal ermöglicht es Nutzern, mithilfe der konfigurierbaren Wissensdatenbank des Systems selbst nach einer Lösung zu suchen. Kunden können auch eine neue Anfrage einreichen und den Status ausstehender Anfragen überprüfen.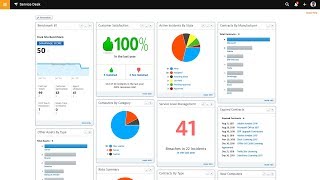 SolarWinds Service Desk Preis
SolarWinds Service Desk bietet keine Gratisversion, aber eine kostenlose Testversion. Die kostenpflichtige Version von SolarWinds Service Desk ist ab $ 19,00/Monat verfügbar.
Startpreis:
$ 19,00/Monat
Kostenlose Testversion:
Ja
Alternativen für SolarWinds Service Desk
SolarWinds Service Desk Erfahrungen
Branche: Biotechnologie
Unternehmensgröße: 51–200 Mitarbeiter

Täglich

für

Mehr als 2 Jahre

genutzt
Quelle der Bewertung
Preis-Leistungs-Verhältnis
5
---
Samanage is an easy to use solution that makes my life so much easier
We are in the pharmaceutical industry and have implemented samanage over 2 years ago. The system is perfect and easy to use which enables users to understand the problem and submit tickets!
Vorteile
The ease of use. The system allows the natural flow of tickets into problems, problems into changes and the audit trail is perfect for our validation/qa friends. We love that the API is easy to intergrate and have pulled in our sharepoint system with the API to automate tasks like account creation/separation.
Nachteile
The system could uses a few tweaks but I think this is just growing pains. The Samanage team has been straightforward with what they are implementing and changes are being released consistently. Over the past two years of having the system, I can say the updates are wonderful and truly address issues. Not purely cosmetic.
Branche: Umweltdienstleistungen
Unternehmensgröße: 501–1 000 Mitarbeiter

Täglich

für

6-12 Monate

genutzt
Quelle der Bewertung
Preis-Leistungs-Verhältnis
5
---
Huge Upgrade
Overall experience with this product have been great so far. Our employees use this platform more than our last and they have also been able to find their own solutions more. I really love the support from the customer support a lot. The support is always right on top of any issues and I have experience very quick responses when I do need to contact them. A+ on customer support.
Vorteile
I like how easy the GUI is, editing the categories and assigning the ticket to a support tech is all very simple right from the first view. I also like how there is a quick view option where you can view the ticket without having to leave the screen.
Nachteile
We have an issue with Tasks. They cannot be changed once a service catalog item is ran which has made us have to create work around or create extra tickets in order for multiple people to work on one catalog item.
Warum SolarWinds Service Desk gewählt wurde
We needed a friendlier GUI with more User integration.
Gründe für den Wechsel zu SolarWinds Service Desk
Cost to features were a big plus. We got everything out of the box with Service Desk that we need currently.
Branche: Lagerung
Unternehmensgröße: 1 001–5 000 Mitarbeiter

Täglich

für

Mehr als 1 Jahr

genutzt
Quelle der Bewertung
Preis-Leistungs-Verhältnis
4
---
Good Out-Of-Box product for small, scalable team
We were attempting to solve the issue of ticket management in the IT department. While it was a great out-of-the-box solution, it didn't offer the unique scalability we needed and the customer service wasn't helpful in growing the product with our needs. However, I still believe that, for a small shop, this product offers the best value for the price and is a great entry-level solution.
Vorteile
I like that, out-of-the-box, Samanage offers great core functionality with a stable product that ties neatly into a beautiful UI for the end users. The UI is where Samanage really knocks it out of the park though. It's modern, simplistic, "forum" layout is attractive and intuitive, and chat indicators on the tickets feels like your moving from a traditional email reply into a IM chat.
Nachteile
There's a lot to be desired when it comes to the fine details of the service. There are specific customization options for project management and ticket automation that aren't available that we wanted in our shop. When we reached out to our support member to discuss a possible addition/fix. They advised us to post our suggestion on their feedback board and if it received enough votes they would implement it. The same suggestion was found submitted over a year ago on the board (with over 300+ votes) yet no action was taken. I was hoping for a more, collaborative answer, instead of posting on a forum board in hopes that other members validate my need for them to implement it.
Branche: Marketing & Werbung
Unternehmensgröße: 51–200 Mitarbeiter

Täglich

für

Mehr als 2 Jahre

genutzt
Quelle der Bewertung
Preis-Leistungs-Verhältnis
4
---
Solarwinds Great Ticketing system
Vorteile
Ease of use
Able to create custom Workflows
Ability to build custom reports
Nachteile
Procurement module can use some improvement but does what it's intended to do.
Branche: Versorgungsunternehmen
Unternehmensgröße: 201–500 Mitarbeiter

Täglich

für

1-5 Monate

genutzt
Quelle der Bewertung
Preis-Leistungs-Verhältnis
5
---
New to SolarWinds Service Desk--Perfect fit for us!
I am Super Happy with this software. I am the administrator and I love having the ability to make changes and customization on the fly. The user friendliness of it is well above our previous software we used.
Vorteile
Efficiency--There are so many things that can be updated from the main page that lists your incidents. Very easy to learn and to use.
Nachteile
Integration with Active Directory. We were able to setup Single Sign-On, but it wasn't as smooth as I would've liked. But it does work, so it's not really a con, just the complexity of it was a little more than the rest of the setup.
Warum SolarWinds Service Desk gewählt wurde
The previous software was pretty clunky, having to go to several different screens to make different updates on the same ticket. With Service Desk, I can make many of those changes without even having to open the the ticket itself.
Gründe für den Wechsel zu SolarWinds Service Desk
Overall, the user interface just seemed easier to navigate. The price was also better than the alternatives. All around, I just had a really good feeling about this software from the beginning. I actually chose this over the software that I had recommended initially.