Über Freshsales
Freshsales ist eine cloudbasierte CRM-Lösung, die Unternehmen aus verschiedenen Branchen bei der Verwaltung ihrer Interaktionen mit bestehenden und potenziellen Kunden unterstützt. Zu den wichtigsten Funktionen gehören ein Telefon per Mausklick, Sales-Lead-Tracking, Vertriebsmanagement, Event-Tracking und vieles mehr. Nutzer können aus der Lösung heraus auch personalisierte Massen-E-Mails versenden und dann die Aktivitäten für diese E-Mails überwachen. Der Posteingang priorisiert automatisch E-Mails von Kontakten und Leads, die auf eine Antwort warten. Freshsales verfolgt die Webseiten, mit denen Interessenten interagieren, und segmentiert dann Kontakte basierend auf ihrem Verhalten. Eine Lead-Scoring-Funktion ordnet den Lead anhand dieser Daten ein und gibt denjenigen mit einer höheren Punktzahl Vorrang vor denjenigen, die betreut werden müssen. Die 360°-Kundenansicht bietet vollständige Details über bestehende und potenzielle Kunden, einschließlich Gesprächen, Berührungspunkten, Terminen und Aufgaben. Freshsales lässt sich in Freshdesk, Segment Event Tracking und Google Kalender integrieren. Die Dienste werden als Monatsabonnement angeboten und umfassen Support per Telefon und andere Online-Ressourcen.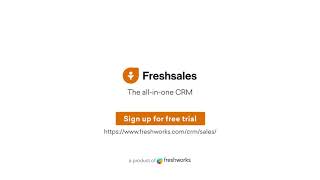 Freshsales bietet eine Gratisversion und eine kostenlose Testversion. Die kostenpflichtige Version von Freshsales ist ab $ 15,00/Monat verfügbar.
Startpreis:
$ 15,00/Monat
Kostenlose Testversion:
Ja
Alternativen für Freshsales
Branche: Computer-Software
Unternehmensgröße: 11–50 Mitarbeiter

Täglich

für

1-5 Monate

genutzt
Quelle der Bewertung
Preis-Leistungs-Verhältnis
5
---
Easy On-boarding and setup, fast support.
We are too big for no CRM, but not big enough to implement the HubSpot and Salesforce CRMs of the world. We tried those systems thinking we needed the features and analytics, but the spend and maintenance for those systems are too high. Freshsales, Freshchat, Freshmarketer, and Freshdesk make a seriously well priced and powerful system full of the features we need to produce the right results: a good relationship with customers.
Freshworks' customer support is spot on. It seems no matter when I need help, they are less than a few minutes away from a solution. Freshchat is king! We've even deployed the same support structure on our website (Freshchat) and lead conversion has gone way up. It's nice to see a company have a product good enough to use themselves. I also like being able to achieve the same results for my customers as Freshworks has produced for me without major customizations.
Vorteile
I was able to easily onboard to this system from HubSpot and Salesforce. The features in this system just work. You expect something to operate in a certain way, and it just does. Mail and calendar integration is super easy and really responsive (I used both Office 365 and Google Integrations). I love email templates and sales campaigns, they make working with leads and customers so easy and are not tucked away in a corner.
The UX is much better than other systems, which means my salespeople are more likely to use the CRM, which is a common problem among salespeople and CRM systems.
Nachteile
Freshsales is right-sized for us. It lacks some of the major enterprise features of bigger CRMs; but you also don't have too many features right in the way.
I'm not a huge fan of the field paging UI on leads, deals, accounts, and contacts. I get that it makes it so you can add as many fields as you want, but it's hard to navigate and organize my screen just the way I like it. I resorted to using the Edit screen though, even when I'm not necessarily editing and that works well enough. Definitely not a big deal compare to all the other awesome features.
Branche: Maschinerie
Unternehmensgröße: 11–50 Mitarbeiter

Täglich

für

Mehr als 2 Jahre

genutzt
Quelle der Bewertung
Preis-Leistungs-Verhältnis
5
---
Freshsales suite fulfills our needs
Overall experience is good. Now that we are on an enterprise plan, support is good. When we were not enterprise client, the support was often slow.
Vorteile
This product offers a lot of features and does offer a multi-touchpoint approach. Email journeys, Whatsapp integration, Chatbots, SMS...
Nachteile
I miss if/than functionality in workflows. That would greatly reduce the manual work when setting up the workflows and adding new conditions.
Another thing that I do not like is the policy and the pricing related to the marketing contacts. All plans have the limitation of 1000 marketing emails per month. This can be quickly exceeded especially if you are sending newsletters to your contacts. There is an option to upgrade, but that is way too expensive and completely unscalable when a business grows. We have overcome that with integrating CRM with SMTP service that takes over this part and is calculated on the number of emails sent.
Gründe für den Wechsel zu Freshsales
We were using Freshsales for 2 years now. We searched for alternatives, but we saw that Freshsales serves all our needs.
Branche: Computer-Hardware
Unternehmensgröße: 11–50 Mitarbeiter

Täglich

für

Mehr als 2 Jahre

genutzt
Quelle der Bewertung
Preis-Leistungs-Verhältnis
0
---
Missing things rivals do well
Not great. Customer service is excellent, though!
Things I think should be basic (or I used in Pipedrive) just don't exist or don't work in Freshsales.
Vorteile
What it has is pretty easy to use, and finally with the addition of timeline view, getting different views is good. Creating reports is not easy, although very powerful.
Nachteile
Mail integration is pointless for me. If set to 'auto', all emails from a client appear on all of their deals, rather than having intelligent algorithms that are deal-specific. Also, no search function on email page immediately makes have email sync pointless for me.
Sync is slow. I can add a deal, or a contact, but often won't appear in searches for a long time, so I can't start linking emails or creating new deals.
Branche: Restaurants
Unternehmensgröße: 51–200 Mitarbeiter

Täglich

für

Mehr als 2 Jahre

genutzt
Quelle der Bewertung
Preis-Leistungs-Verhältnis
5
---
Enhances our ability to respond to customer requests
Freshsales organizes our relationship with customers in the required manner, as any email from customers is answered by the responsible member in a timely manner, and we also ensure that our promotional campaign messages reach the targeted individuals and institutions within carefully studied time periods. Freshsales has also increased our organizational capabilities, as all files, messages and contact lists are easily accessible.
Vorteile
I really appreciate the simple, intuitive design of the dashboard, as it makes customization easy, and I can navigate between the different sections with ease. Freshsales is also good at how it sorts and classifies incoming mail, which helps us direct it to the responsible member directly, and this is reflected in the speed of response to customer requests. It is also good for the organizational capabilities that Freshsales provides, as we can create a file for each customer and we can save everything related to our relationship with him, including messages and invoices, and that they are saved on the cloud, which makes it easy to access them at any time. I greatly appreciate the scheduling capabilities that Freshsales provides, which allow us to organize the dates of sending emails or text messages to customers according to contact lists at appropriate times, and this is important so that we do not repeat messages in a random way that makes the customer feel bored. Freshsales is also great for the collaborative capabilities that it provides us as a team, where we can share updates on different tasks and also collaborate in preparing reports and marketing plans.
Nachteile
Freshsales is easy to use, and it does not require a lot of time to master its effective use, in addition to that the subscription prices are appropriate and are not considered an obstacle to the involvement of all team members.
Branche: Marketing & Werbung
Unternehmensgröße: 51–200 Mitarbeiter

Täglich

für

Mehr als 1 Jahr

genutzt
Quelle der Bewertung
Preis-Leistungs-Verhältnis
5
---
all most all the competing CRM providers cannot match the price and features that Freas sales...
Saved our company a lot of man hours, and now the company has issued 7.5 hour work day from the overall time saved using freshsales CRM
Vorteile
the one feature that caught my eye was the sales automation tool, which made my life and my team's life better in all ways; we saw a 10% growth through Freashsales alone; our team considers Freshsales CRMas a fellow employee who does Automations.
Nachteile
I would like more options in the sales sequence in the feature, like doing a trial run, getting custom dates on when it should run, etc.
Warum Freshsales gewählt wurde
November 2021
Gründe für den Wechsel zu Freshsales
The price vs. features compared to other providers was very competitive as we were a growing company.