Über QuickBooks Desktop Enterprise
QuickBooks Enterprise ist eine Buchhaltungslösung für KMU in verschiedenen Branchen wie Bauwesen, gemeinnütziger Vertrieb, Fertigung und Einzelhandel. Mit der QB-Enterprise-Lösung können alle Geschäftsinhabende ihren Geschäftsbetrieb durch fortschrittliche Inventar-, Berichterstattungs- und Rechnungstools erweitern sowie Premium-Support von den Kundenbetreuungs- und Gehaltsabrechnungsteams von Enterprise erhalten. QuickBooks umfasst Multi-User-, Gehaltsabrechnungs- und Inventarmanagement, Inventar- und Ausgabenverfolgung, Rechnungsstellung, erweiterte Berichterstattungstools und mehr. QuickBooks Enterprise bietet anpassbare Berichterstattungstools, mit denen Nutzer Daten analysieren und fundierte Geschäftsentscheidungen treffen können. Mit über 200 automatisch ausgefüllten Vorlagen und 70 branchenspezifischen Berichten hilft diese Buchhaltungssoftware von QuickBooks Unternehmen, QuickBooks-Daten zu finden, um jedes Geschäftsproblem zu lösen. Mit den fortschrittlichen Inventartools von QuickBooks können Unternehmen den Inventarmanagementprozess einsehen und kontrollieren, indem sie Inventarbewegungen verfolgen, Inventarartikel automatisch scannen und aktualisieren, Bestellungen/Verkaufsaufträge von einem Dashboard aus verwalten und vieles mehr. Mit QuickBooks Enterprise können Unternehmen Finanztransaktionen mit Auftragskalkulationstools, Batchfakturierung, Rechnungsverfolgung, Cashflow-Management, Sachanlagen- und Verkaufsverfolgung, Zahlungsabwicklung und anderen Funktionen steuern, anpassen und automatisieren. Unternehmen können auch mehrere Dokumente scannen und anhängen, einschließlich Belegen und Angeboten für mehrere Buchhaltungsaufgaben. Das Tool ermöglicht es Unternehmen, Dokumente in Kategorien einzuteilen und wichtige Buchhaltungsdateien zu verfolgen. Diese Lösung führt auch ein Änderungsprotokoll, um Änderungen in jedem Dokument mit dem richtigen Datum und Zeitstempel aufzuzeichnen. QB bietet auch verschiedene QuickBooks-Software wie QuickBooks Premier und QuickBooks Pro an, die verschiedene Funktionen enthalten.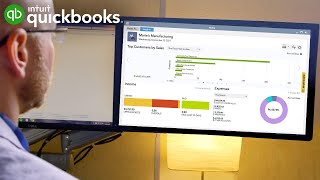 QuickBooks Desktop Enterprise Preis
QuickBooks Desktop Enterprise bietet keine Gratisversion, aber eine kostenlose Testversion.
Startpreis:
Nicht vom Anbieter bereitgestellt
Kostenlose Testversion:
Ja
Alternativen für QuickBooks Desktop Enterprise
QuickBooks Desktop Enterprise Erfahrungen
Branche: Buchhaltung
Unternehmensgröße: Selbstständig

Täglich

für

6-12 Monate

genutzt
Quelle der Bewertung
Preis-Leistungs-Verhältnis
5
---
Quickbooks is still the best for small business, despite its shortcomings
Overall, Quickbooks is great for small business, particularly those that have all employees on-site. If you have employees off-site or want a third-party (accountant, for example) to have access, you may want to plan ahead of time and determine if Quickbooks is a great fit. There are third-party apps (QBOX) that can help off-site employees access it, but there are limitations. Otherwise, you need IT to help you set up servers or pay higher prices to Intuit for their customized solutions. That issue aside, Quickbooks is a great product after you get past the learning curve.
Vorteile
Quickbooks is universally known, compatible with many banks and third-party apps, and can be quite helpful for small businesses. You can customize reports, memorize transactions, and make use of many other time-saving features. Once you get comfortable, you can very quickly manage your accounting and see where your business stands. Also, since it is so popular, there are numerous websites that share helpful tips and tricks.
Nachteile
There is a steep learning curve for most users. You will not feel comfortable with it for the first few months. Since it is so popular, however, you can search for nearly any task and find several websites that explain how to perform a task. As a CPA, sometimes I just wanted to see the transaction behind the curtain and it can be difficult to see that. Also, remote access for an external accountant or off-site employees is cumbersome and can require paid assistance.
Gründe für den Wechsel zu QuickBooks Desktop Enterprise
Quickbooks online is very limited in capabilities.
Branche: Vermögensverwaltung
Unternehmensgröße: 1 001-5 000 Mitarbeiter

Täglich

für

Mehr als 1 Jahr

genutzt
Quelle der Bewertung
Preis-Leistungs-Verhältnis
5
---
QuickBooks Desktop Enterprise
QuickBooks Desktop Enterprise provides me with the tools that my business need to streamline finances, inventory and other operations. Quick book has now made it easy for my business to adapt to the software in acheiving specific needs. QuickBooks Desktop Enterprise has also offered variety of exqusite features, including: financial reports, inventory management, order management, and customer and vendor tracking. This was the comprehensive solution that i was missing for my business. I highly recommend QuickBooks Desktop Enterprise for businesses of all sizes.
Vorteile
I like the software because it is very versatile and can be customized to fit the needs of my business. The software also has a lot of features that are very impactful, such as the ability to track inventory levels and sales trends.
Nachteile
Its robust customer relationship management (CRM) capabilities can help you keep track of your customers and their interactions with your business. However, I find its interface to be a little cumbersome.
Branche: Finanzdienstleistungen
Unternehmensgröße: 2-10 Mitarbeiter

Wöchentlich

für

Mehr als 2 Jahre

genutzt
Quelle der Bewertung
Preis-Leistungs-Verhältnis
2
---
Great Marketing, Not So Great Functionality
In order to provide your accountant with a copy that he can use to solve all of your issues, you need to provide him/her an Accountant's Copy. The CPA then has to fix your issues on that copy, update the copy, download it to a flash drive, give it to the client so they can take it an upload to their computer. This is 2022. WHY would you submit yourself to that?You need to make sure your CPA has the same version of QB as you or you won't be able to use another version to open a file. We need to keep a minimum of 5 years on our server and even then, sometimes we need to add another version when dealing with older clients.It's a great concept, but the execution is not very practical. There are tons of less expensive online options that you can use on any device WITHOUT so much trouble.
Vorteile
The marketing. They do a great job of getting ads in front of small business owners.
Nachteile
1) You have to purchase a new edition every year! 2022 the Silver edition sells for over $1,200 at Staples2) Installation is complicated and tech support is VERY impatient, especially with technologically challenged individuals.3) There is no training included. You either have to figure it out or pay an "Advisor" to train you.4) The system allows you to post entries anywhere, so if you don't know what you're doing the application is pretty worthless.
Branche: Tierarzt
Unternehmensgröße: 11-50 Mitarbeiter

Täglich

für

Mehr als 2 Jahre

genutzt
Quelle der Bewertung
Preis-Leistungs-Verhältnis
5
---
Mount Carmel Animal Hospital
Overall, Quickbooks is an amazing program. As someone who had no training in bookkeeping or business, it was very easy to navigate and utilize fairly quickly. The system is ultimately error proof, which is incredibly reassuring for someone who had no experience when starting out.
Vorteile
Quickbooks is very user friendly and easy to navigate while being incredibly detailed and accurate. Coming from a veterinary background with not training in bookkeeping or accounting, I was able to utilize the software with minimal training. The way the software is designed, it is virtually impossible for errors to go unnoticed. There are multiple checks systems in place to ensure everything is accurate and correctly accounted for.
Nachteile
Having multiple users can become a bit expensive. Remote access is also more difficult, requiring a third party to manage remote access. Quickbooks Online offers easy remote access, however, we found that the desktop version was better suited for our needs overall.
In Betracht gezogene Alternativen
Xero
Gründe für den Wechsel zu QuickBooks Desktop Enterprise
We considered switching when we switched away from a RDP system within our office for better access. We found that despite the lack of easy remote access, QB Desktop was still the best option for us overall.
Branche: Computer- & Netzwerksicherheit
Unternehmensgröße: 11-50 Mitarbeiter

Täglich

für

Mehr als 2 Jahre

genutzt
Quelle der Bewertung
Preis-Leistungs-Verhältnis
5
---
Quick books for better company financial management
Overall the system is amazing the features are easy to work through and would recommend it to any person with or without accounting knowledge
Vorteile
The ability to handle the whole counting practice from billing, invoicing creating estimates payments processing, generating client reports and bank transactions management all in one software is awesome and reduces the work load greatly this is all it takes to make it the best software i have used for accounting
Nachteile
Ability of users to delete and edit records and the system not having system logs to show who did it is quite a let down users should not be able do do so and in case of any changes a log history should be sent to admin to show who and what was edited or deleted
Gründe für den Wechsel zu QuickBooks Desktop Enterprise
easy interactive user interface with uncomplicated features and availability of tutorials all over the internet made it easy to implement