Über Hubstaff
Egal, ob Unternehmen ein neues Team gründen oder nach einer besseren Möglichkeit suchen, Mitarbeitende zu verwalten, Hubstaff hat alles, um Teams sicher zu führen. Mit der innovativen und robusten Lösung für die Zeiterfassung und Aufgabenmanagement können Unternehmen die Zeit ihres Teams mit detaillierten Arbeitszeittabellen, GPS-Tracking und Projektmanagement mithilfe des Aufgaben-Moduls verfolgen.
Da die Mitarbeitenden ihre Arbeitszeit mit den einfachen Desktop-, Web-, iOS- und Android-Anwendungen erfassen, können Unternehmen ihre Aktivitäten mit Zeiterfassung, optionalen Screenshots und App-Tracking, Maus- und Tastaturnutzung und sogar die Arbeitszeit vor Ort mit Geofences überwachen.
Hubstaff ermöglicht es der Teamleitung, detaillierte Berichte anzuzeigen, Kundenrechnungen zu versenden und sogar Mitarbeitende direkt basierend auf ihrer Arbeitszeit und anpassbaren Vergütungssätzen zu bezahlen.
Mit über 30 Anwendungsintegrationen wie Basecamp, Trello, Asana, GitHub und PayPal fügt sich Hubstaff bei zahlreichen Unternehmen nahtlos ein, sodass Nutzer ohne Beeinträchtigung ihres Tagesgeschäfts arbeiten können.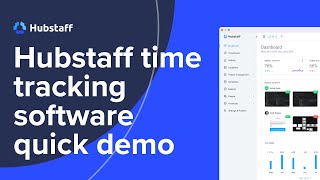 Hubstaff bietet eine Gratisversion und eine kostenlose Testversion. Die kostenpflichtige Version von Hubstaff ist ab $ 7,00/Monat verfügbar.
Kostenlose Testversion:
Ja
Alternativen für Hubstaff
Branche: Unterhaltung
Unternehmensgröße: 2-10 Mitarbeiter

Täglich

für

1-5 Monate

genutzt
Quelle der Bewertung
Preis-Leistungs-Verhältnis
5
---
The best solution for integrated task management and thorough time tracking and reporting.
Very happy I moved from Time Doctor to Hubstaff. Huge improvements on all areas and a satisfying product to use. The experience is so good that I find myself wanting to stay with Hubstaff regardless of whether my need for time tracking reduces.
Vorteile
- Integrated Task Management platform (Hubstaff Tasks) allows for agile style task management that feeds appropriate tasks to user's timers.
- Nice user interface
- Good reporting functions
- Thorough tracking options
- Client/project budgets
- Very good Customer Support
Nachteile
- I discovered some bugs during usage (which the developers have ironed out)
- Time off / holiday allowance policy function is a great addition, but doesn't allow enough granularity as decimals of hours (or minutes) can't be used.
Warum Hubstaff gewählt wurde
More accurate and granular control of task management needed. Also felt that Time Doctor was outdated from a UI perspective.
Gründe für den Wechsel zu Hubstaff
Combination of functionality (thorough time tracking and agile task/project management), pricing, user experience and reviews.
Antwort von

Hubstaff

Hey Ewan, hope all is well with you and thank you for the kind words. You can now request time off exactly down to the minute. Cheers!

Beantwortet am 31.1.2022
Branche: Design
Unternehmensgröße: 11-50 Mitarbeiter

Täglich

für

Mehr als 2 Jahre

genutzt
Quelle der Bewertung
Preis-Leistungs-Verhältnis
4
---
Using Hubstaff for 5 years more. Seem it has improved!
Really just fine. What more should I look for as a freelancer who just need to track time for a project. Then send a a simple invoice at the end. As far as I'm concerned, I have a good experience with the app. If I have to suggest, maybe as a UX/UI Designer, they can enhance the looks an feel of the software to make it more professional and appealing to users.
Vorteile
Straightforward. Just the thing you need, you'll find it. Pretty much like any other time tracking software - as freelancer it has screen capture, invoicing, offline tracking and all...
Nachteile
It's just straight forward. Maybe they can add quick chat for client. Instead of additional login to browser when you need to quick communicate with your client.
Antwort von

Hubstaff

Hey Roldan, thank you for submitting this review for Hubstaff! We are happy to hear that you are enjoying using Hubstaff for your time tracking needs.

We want to continually improve the platform and our offerings, so we do welcome all feedback onboard. Please feel free to go to https://roadmap.hubstaff.com/ and add any ideas for features to be implemented.

Beantwortet am 29.3.2022
Branche: Gesundheit, Wellness & Fitness
Unternehmensgröße: 501-1 000 Mitarbeiter

Täglich

für

Kostenlose Testversion

genutzt
Quelle der Bewertung
Preis-Leistungs-Verhältnis
4
---
Best software for keeping track of your Team
In terms of benefits, you get a clear idea of the amount of work that is being done and with this, you can plan your workforce accordingly to maximize profit. If you are deploying this inside office for a large number of employees it's hard to set up and configure directly on a server level. For WFH it's a good fit and in terms of pricing, it's slightly overpriced.
Vorteile
Interface and using the App is straightforward, Data is accurate and gives you data on what your team is doing so that you can plan the work accordingly. It is easy to use and deploy.
Nachteile
If you are looking for automatic time tracking this is not for you as the user has to start the app manually to capture the data every time
In Betracht gezogene Alternativen
DeskTime
Branche: Marketing & Werbung
Unternehmensgröße: 51-200 Mitarbeiter

Täglich

für

1-5 Monate

genutzt
Quelle der Bewertung
Preis-Leistungs-Verhältnis
0
---
Constantly Rated As Poor Productivity Even When Working Hard
My overall experience with this software is a very poor one. While I appreciate what you're trying to accomplish with the software, especially for remote employees such as myself, it just isn't working out for me personally. As I said earlier, it's going to wind up costing me my job because the software is telling my management that I'm not working when I am. The software also doesn't account for things like needing a lavatory break or taking our (legally required) paid time breaks. If I were to take my 30 minute paid time breaks every day, my productivity would just sink into the teens. There's also no way to account for meetings or times I am on the phone where I am still being productive and working but since I am not clicking anything or typing it thinks I am sitting doing nothing.
Vorteile
I like the way Hubstaff is designed. It's intelligent and user-friendly. It's sleek and very polished and up-to-date with modern design standards and as a user I am easily able to access the dashboard and different features and see the differences in productivity from minute to minute, see the screenshots, see the tracking points, etc. From the perspective of direct user experience, it's ace.
Nachteile
However, my qualms with Hubstaff far outweight its superior design structure. The program, to me, is broken. No matter how hard I work, I have never had a day above 40% productivity - and that only happened once. I am usually rate in the mid to high 20s, even on days when I am busting my butt to get work done. I don't know why I am having these problems with the software, because I know I am working, I know I am getting work done, but why am I being rated so poorly? This software is going to wind up costing me my job, and that makes me furious.
Antwort von

Hubstaff

Hey Diane,

Sorry you aren't having a good experience. Let me explain how Hubstaff tracks activity, and if you still think you should be getting a higher score, please contact our 24/7 support team at [email protected]

Your activity levels may be lower or higher depending on your responsibilities. Manual and mobile time tracking can also lower your productivity levels so include a note to your employer letting them know what you were working on. Here is a helpful article about how activity levels are tracked: https://support.hubstaff.com/how-are-activity-levels-calculated/

Beantwortet am 8.2.2019
Branche: Marketing & Werbung
Unternehmensgröße: 11-50 Mitarbeiter

Täglich

für

Mehr als 1 Jahr

genutzt
Quelle der Bewertung
Preis-Leistungs-Verhältnis
0
---
used it daily for 13 months for my remote job
Vorteile
i managed to work remotely with this app and my manager introduced this software for me and showed me how its amazing tracking for time and some screenshots being taken to assure to the boss that work is in progress
Nachteile
i would say alittle bit should include a warning to the employee that he is being tracked by some managers, lucky for me my manager told me the way it goes but you can be tracked with out your consent if you don't know this app and start using it
Antwort von

Hubstaff

Hello,

Thank you for taking the time to submit this review of Hubstaff. We are happy to hear that you have enjoyed your experience on the platform.

Please be advised that Hubstaff aims to provide transparency both for the person(s) tracking time, as well as to their organisation's management, about the information being tracked in displayed on Hubstaff as a result of the tracked time. This is why the same information is available to both parties on Hubstaff, so both are in the clear as to what information has been tracked and is available on Hubstaff.

Additionally, it is the case that the person tracking time has to manually start the time tracker on their computer, or other device, when the time time tracking is to be done, in order to it to happen.

Beantwortet am 6.12.2022