Über EZOfficeInventory
EZOfficeInventory ist eine dynamische Softwarelösung für das Asset- und Instandhaltungsmanagement, die auf Unternehmen aller Größen zugeschnitten ist. Die cloudbasierte Software ist nutzerfreundlich und ist von überall und zu jeder Zeit zugänglich.
Verfolge Artikel über Standorte und Abteilungen hinweg, scanne Barcodes direkt von deinem Handy aus, optimiere die Artikelpflege, um die Funktionalität zu erhöhen, pflege jederzeit optimierte Lagerbestände und verwalte alle deine Nutzer und Lieferanten mit einer Lösung. Das Inventarmanagementmodul ermöglicht es Nutzern, den Lagerbestand mit QR-Codes und Barcode-Tags zu verfolgen.
EZOfficeInventory verfügt über eine mobile App mit Barcode- und QR-Code-Scan-Funktionalität, sodass du dein Inventar verfolgen kannst, wo immer du auch bist. Die GPS-Ortung ermöglicht es Nutzern, die Position von Artikeln zu verfolgen, sodass Nutzer ihre Assets auf einer interaktiven Karte überwachen und verlorene oder verlegte Assets identifizieren können. Die Lösung bietet eine REST-basierte API, die sich in andere REST-basierte Systeme integriert. Individuelle Berichterstattung und Dashboards helfen den Nutzern bei der Verfolgung und Überwachung von Assets. Nutzer sind in der Lage, historische Inventardaten zu analysieren und Entscheidungen bezüglich ihrer Inventarmanagementvorgänge zu treffen. Die Lösung lässt sich auch in Anwendungen von Dritten wie Zendesk, Jira, Dropbox, Active Directory und OneLogin integrieren.
EZOfficeInventory bietet sowohl monatliche als auch jährliche Abonnements mit Support per Telefon, E-Mail und anhand einer Online-Wissensdatenbank.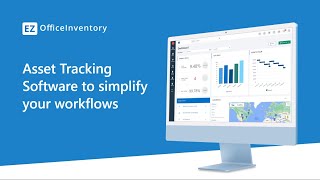 EZOfficeInventory bietet keine Gratisversion, aber eine kostenlose Testversion. Die kostenpflichtige Version von EZOfficeInventory ist ab $ 40,00/Monat verfügbar.
Alternativen für EZOfficeInventory
EZOfficeInventory Erfahrungen
Branche: Hochschulbildung
Unternehmensgröße: 51–200 Mitarbeiter

Wöchentlich

für

Mehr als 2 Jahre

genutzt
Quelle der Bewertung
Preis-Leistungs-Verhältnis
0
---
Changing the Game
EZ Office has allowed us to track our spending, use, and overall asset inventory on a whole new level. It gives us a centralized place to have old designs, quantities and use history stored. Our systems, procedures, and product has been able to evolve and live on past individuals with the help of EZ Office. Unless I'm mistaken, the biggest feature that's missing is simply the ability to purchase EZ for a company and then add different departments/teams. That would be wonderful for the different facets of a university and all that we collectively use in terms of materials and promotional items.
Vorteile
-Single sign on capability
-Non sign-in users
-Multiple locations for inventory
-Scanner integration
-Label maker template
Nachteile
-It can be a little hard to get lost in the advanced setting if you're not using many features.
-The inability to turn certain features/fields off
-Aesthetics on the user interface
-The lack of white papers/webinars that offer live and up to date case studies or example uses
-The mobile app isn't entirely user friendly and in some ways does not mirror the desktop version.
Antwort von

EZO

Hi Iliana,

Thank you for taking the time to review EZOfficeInventory.

- We are in the process of updating our UI/UX which will improve Aesthetics like you said.
- We have number of whitepapers/case studies that you can read. You can find them here
(https://faq.ezofficeinventory.com/white-papers/)
(https://www.ezofficeinventory.com/case-studies) moreover we are also initiating webinars, so we will keep you posted.
- I have forwarded your feedback regarding our mobile app and its UI/UX to our product team.

Beantwortet am 7.5.2019
Branche: Marketing & Werbung
Unternehmensgröße: 11–50 Mitarbeiter

Täglich

für

1-5 Monate

genutzt
Quelle der Bewertung
Preis-Leistungs-Verhältnis
0
---
Customizable inventory tracking for a wide range of applications
Knowing where things are, who has them, and when we can expect to get them back has helped streamline our working experience throughout the office.
Vorteile
I like how customized we've been able to make EZOfficeInventory, it's allowed us to add various types of gear and assets to be tracked by our entire team. Having a good mobile app has been important to us also.
Nachteile
Sometimes the hierarchy of things, like menus or placement of assets takes some getting used to. Thankfully our admin has been able to implement lots of useful changes through EZOffice's customizable UI to streamline our workflow.
Branche: Bürgerliche & soziale Einrichtungen
Unternehmensgröße: 501–1 000 Mitarbeiter

Täglich

für

6-12 Monate

genutzt
Quelle der Bewertung
Preis-Leistungs-Verhältnis
0
---
As a new user who has never used similar software, I have many criticisms
Vorteile
It is very helpful to be able to look up an asset by serial number, asset id, comments, etc.
Nachteile
I find it difficult to process multiple assets at once. For example, when printing tags if the batch is not easily filtered it is difficult to get everything on one download. If I want to print various tags that have nothing in common to filter by then I will have to print each one individually. It has created a situation where a missed asset number will just be abandoned and left in the retired state indefinitely. The function of check in and out has also been abandoned by my company due to the limits on members that can be added as well as the difficulty of keeping up with who should be added or deleted. It has made more sense to note in the comments who has checked out an asset because its far easier to implement and manage. Another note, we have assets that are IT related and non-IT related. It would be very helpful to be able to separate these into groups that may be associated with the admin account related to each department.
Antwort von

EZO

Hello Ashlee. Thank you for taking out the time to provide us detailed feedback. You can easily divide your IT and non IT assets on the basis of different groups and locations - the custom roles feature allows you to limit users to only their assigned groups which will in turn restrict non IT members from viewing your IT assets. There are multiple ways to pick assets from different pages but we would like to know more details as to how you are currently using it. We are currently evaluating checkouts against multiple people and we'd love to get your insights on it. We would like you to drop us an email at [email protected] and your assigned solutions consultant will set up a call with you to configure your account in a way that you don't have to face these troubles again.

Beantwortet am 4.8.2020
Branche: Krankenhausversorgung & Gesundheitswesen
Unternehmensgröße: 5 001–10 000 Mitarbeiter

Täglich

für

Mehr als 2 Jahre

genutzt
Quelle der Bewertung
Preis-Leistungs-Verhältnis
5
---
Inventory comes full circle
Vorteile
The ability to track assets at any given time across multiple locations. Ease of use when training new employees on the system. The over all user interface is simple and straightforward, you don't have to go looking all over to do one task.
Nachteile
The only con would be a better over all phone app and how some of the menus work. As for the pc side of the software there isn't anything to say about that
Branche: Elektrische/elektronische Fertigung
Unternehmensgröße: 1 001–5 000 Mitarbeiter

Monatlich

für

6-12 Monate

genutzt
Quelle der Bewertung
Preis-Leistungs-Verhältnis
5
---
Good tool in general. My company might miss some settings regarding microsoft login
Simple, good, does its job. If You do not have a password management SW, You will probably lose this eventually.
Vorteile
Most peaople does not see the inventory management as a value adding task. It is also not done frequently. Whenever an office tool is moving the employees are distracted from their original job, and have to learn the usage of this management tool. I saw some such tools, and they had a lot of misleading features, consuming 15-20 minutes. With this tool I was able to learn how to manage my inventory in 3-5 minutes, even if I made it for the first time.
Nachteile
This tool has a separate login password, which needs to be memorized. Given the infrequent use of this tool, the password is oftentimes forgotten. There is a possibility to integrate the login process with Microsoft, but for some reason it vannot be used in my case. Not sure if it is my company's fault, or the EZOfficeInventory as a tool.