Über Quickbase
Quick Base ist eine Low-Code-Anwendungsentwicklungsplattform, mit der Unternehmen Informationen, Personen und Workflows im Vertrieb auf einer einzigen, cloudbasierten Plattform vereinen können. Mit Quick Base kannst du Anwendungen erstellen, die deinen individuellen Prozessen entsprechen. Nutzer können Anwendungen in Quick Base erstellen, um nahezu jeden Prozess zu verwalten. Dabei können sie mit einer Vorlage beginnen oder mit grundlegenden Kenntnissen über Datenbanken und Point-and-Click-Funktionen neue erstellen. Mit Quick Base kannst du auch Daten und Informationen aus deinen kritischen Systemen – wie ERP (Enterprise Resource Planning) oder CRM – abrufen und dynamische Dashboards gestalten, die in Echtzeit aktualisiert werden. Quick Base bietet seinen Kunden die Möglichkeit, Anwendungen selbst mit grundlegen Kenntnissen über relationale Datenbanken zu erstellen. Organisationen können allerdings auch Quick-Base-Dienstleistungen verwenden, um bei der Anwendungserstellung zusammenzuarbeiten.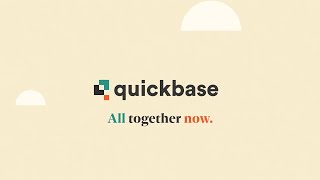 Quickbase bietet keine Gratisversion, aber eine kostenlose Testversion. Die kostenpflichtige Version von Quickbase ist ab $ 600,00/Jahr verfügbar.
Startpreis:
$ 600,00/Jahr
Kostenlose Testversion:
Ja
Alternativen für Quickbase
Branche: Halbleiter
Unternehmensgröße: 10 000+ Mitarbeiter

Täglich

für

Mehr als 2 Jahre

genutzt
Quelle der Bewertung
Preis-Leistungs-Verhältnis
4
---
Quickbase helped me improve team efficiency.
The benefits of Quickbase are numerous, from faster app creation and custom workflows to increased team efficiency. The ability to tailor the platform to our specific needs has allowed us to improve project management and make decisions based on real-time data. Process automation has reduced errors and waiting times, increasing customer satisfaction. In short, Quickbase has provided us with a solid platform to drive the success of our projects and facilitate innovation in our organization.
Vorteile
Quickbase has been a real game changer in my role as a Project Manager. The ease of building and customizing apps without the need for programming knowledge has allowed my team and I to develop custom solutions for our specific challenges. Real-time collaboration and change tracking improved our communication and productivity.
Nachteile
While Quickbase is a powerful tool, I've found that the subscription cost can be a hurdle for some organizations. Some advanced features may also require additional support from a platform expert, which can increase costs.
Branche: Informationstechnologie & -dienste
Unternehmensgröße: 10 000+ Mitarbeiter

Täglich

für

Mehr als 1 Jahr

genutzt
Quelle der Bewertung
Preis-Leistungs-Verhältnis
4
---
Fast, stable, and potent low-code platform
Using Quickbase, we were able to consolidate many formerly separate, time-consuming operations into a single, streamlined system. Our business unit residents are given the freedom to create solutions even if they lack development abilities. We can create solutions more quickly and cheaply than ever before.
Vorteile
Quickbase has been instrumental in simplifying and streamlining several of our previously tool-intensive business procedures. Quickbase provides a unified environment for teamwork and the creation of workflows, as well as the generation of reports and dashboards for monitoring progress.
Nachteile
A revamped user interface for the form building tool is long time. The full version has not yet been released, although it was showcased at Empower 2022. Quickbase on mobile devices should be on par with what's available on desktop. More customization options for mobile product displays are needed.
Branche: Finanzdienstleistungen
Unternehmensgröße: 11–50 Mitarbeiter

Täglich

für

Mehr als 2 Jahre

genutzt
Quelle der Bewertung
Preis-Leistungs-Verhältnis
1
---
Disturbing Relationship with a company that should be there for your success
In the begining, we started using the app. everything was great until about a year in. im not happy and for the investment, take my advise, SPEND the Extra money and just use Salesforce they arent the best platform for no good reasons. we have already started using Salesforce and have befitted from the switch Greatly.
Vorteile
This App is basically an excel sheet on steroids.
Nachteile
The app takes you through multiple steps to save, add or edit an app page. When it comes to process, this app will make you click "Edit" then once you enter your data you have to click "save". The "premier" users or platinum users is ok but when you try to speak to them, all you get is "good luck going else where" . The fact is, they will lure you in, but lets face it. once you move your database in, they count on you not moving it out.
Branche: Krankenhausversorgung & Gesundheitswesen
Unternehmensgröße: 5 001–10 000 Mitarbeiter

Täglich

für

Mehr als 1 Jahr

genutzt
Quelle der Bewertung
Preis-Leistungs-Verhältnis
4
---
It makes all relevant projects accessible to each group
The benefits of Quickbase are undeniable, however, the solution might be enhanced by being made more user-friendly. The data used to provide real-time business insights can be found in one central location thanks to Quickbase. Deliver solutions in weeks, not months, to your customers.
Vorteile
With Quickbase, you may easily and quickly build your own custom software. I think it's significant that anyone can use QuickBase, even if they don't have any prior experience with inventory tracking, project management, financial records, etc.
Nachteile
We experienced a huge setback when we discovered that you now needed to make bespoke code pages to do the identical process that JavaScript in formula URL buttons used to facilitate.
Branche: Computerspiele
Unternehmensgröße: 1 001–5 000 Mitarbeiter

Wöchentlich

für

Mehr als 1 Jahr

genutzt
Quelle der Bewertung
Preis-Leistungs-Verhältnis
5
---
Quickbase helps us design websites without coding
Quickbase is a useful tool for solving common business problems, such as inventory management, because it facilitates the rapid creation of applications that are compatible with all display and mobile device sizes.
Vorteile
All of our previous issues with program administration and data tracking have been eliminated by using Quickbase. Our operations and sales teams can now work together more effectively than ever before thanks to the applications we developed for them.
Nachteile
The sole drawback of Quickbase is that it requires you to use their own proprietary formulas. Finding what you're looking for and double-checking your UI usage is going to take a little more time. Having an in-house resource with coding experience has been a huge boon.